Last Updated on 27.07.2023 by Iliyan
Skazka Canyon, also known as the Fairy Tale Canyon, lies on the southern shore of Issyk Kul Lake in Kyrgyzstan. It is an amazing place with stunning rocky landscape, bizarre rock formations in ever changing colors. Actually the word "Skazka" means "fairy tale" in Russian. It was formed over millions of years of erosion. The rocky breathtaking landscape was sculptured by the wind and rain into some amazing sculptures and formations. Some of them resemble animals, people, dragons, castles and even The Great Wall of China. But for locals, the canyon holds a legend that was formed by a dragon turned into stone.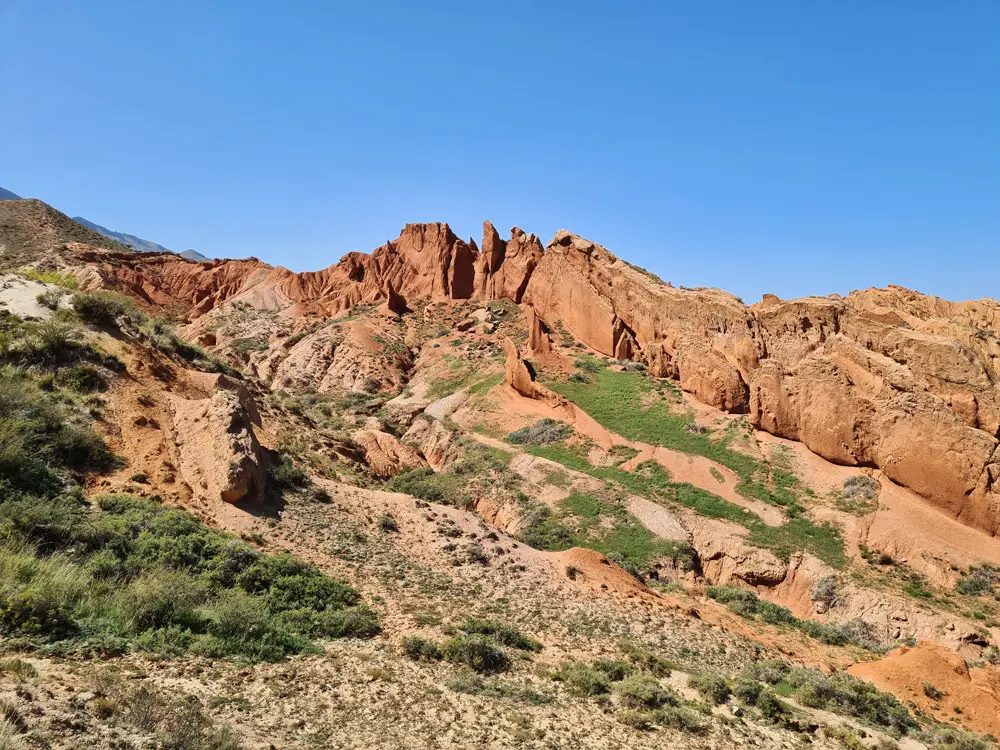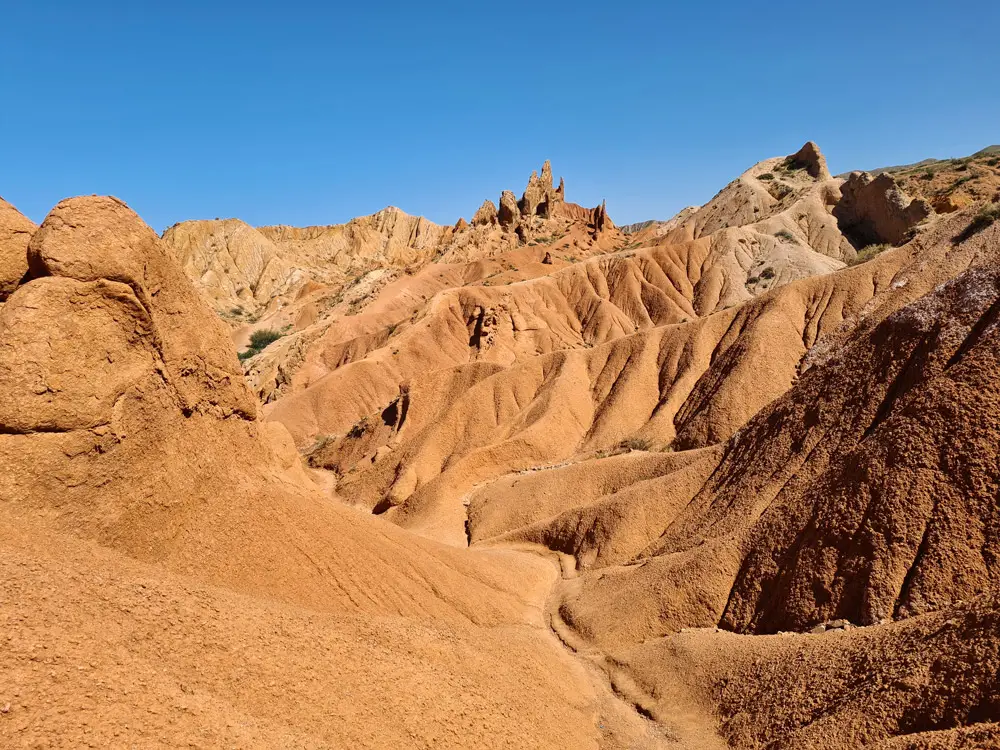 How to Get to Skazka (Fairy Tale) Canyon?
Visiting Skazka (Fairy Tale) Canyon can be challenging for some people who don't speak Russian and don't use Cyrillic. For me and my friends was very easy to get there as we use Cyrillic in Bulgaria. However, it is located about halfway between Karakol and Balykchy. It is easy to get to the canyon by both public transport or a private taxi.
If you are coming from Karakol, take a marshrutka (minibus) #315 or #310 from Southern Bus Station towards Bokonbayevo and tell the driver to drop you off at Skazka Canyon. It takes about 1,45 hours each way. The tickets costs 150 Kyrgyz Som (€1.5) each way. Alternatively, walk to the main road A363 and catch a shared taxi, and you can negotiate for the price.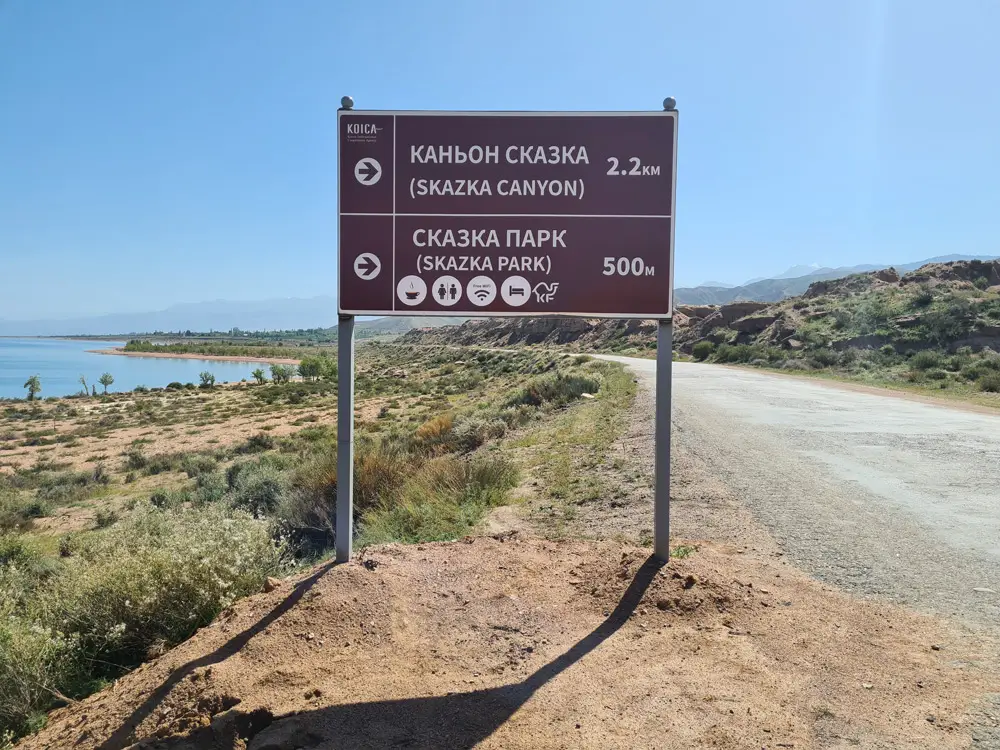 Once you get to the sign you will need to walk 2.2 kilometres along the dirt road to the actual canyon. The entrance fee is 50 Kyrgyz Som (€0.50), cash only.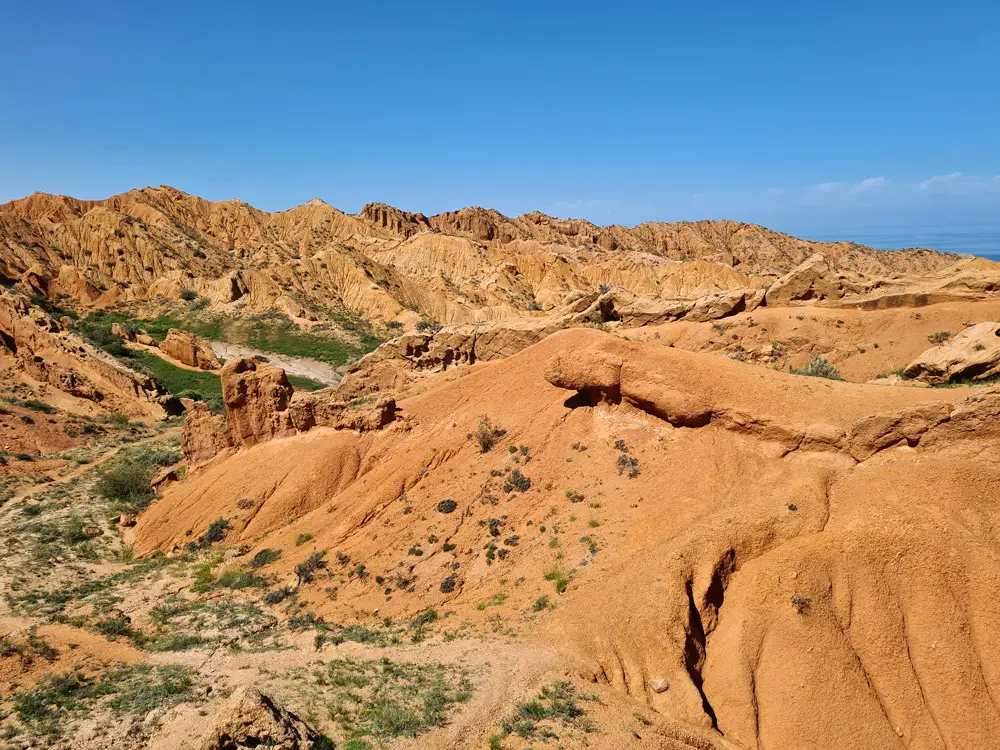 Exploring Skazka (Fairy Tale) Canyon
Exploring Skazka (Fairy Tale) Canyon was one of my favorite things to do in Kyrgyzstan. It is a perfect day trip destination from either Karakol, Bokonbayevo or Tosor. The canyon could be easily explored on foot in a couple of hours. We spent about 2,5-3 hours there, walking, climbing and taking pictures.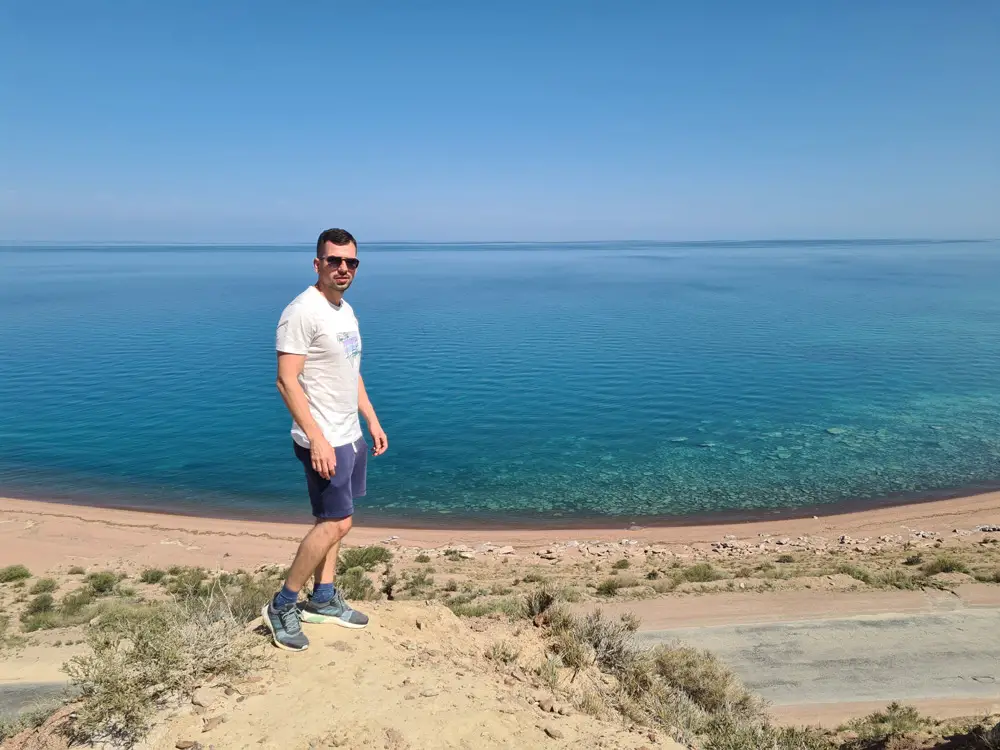 However, you can explore wherever you want, there are no signs or specific route. You will be absolutely amazed by the colorful, rocky landscape.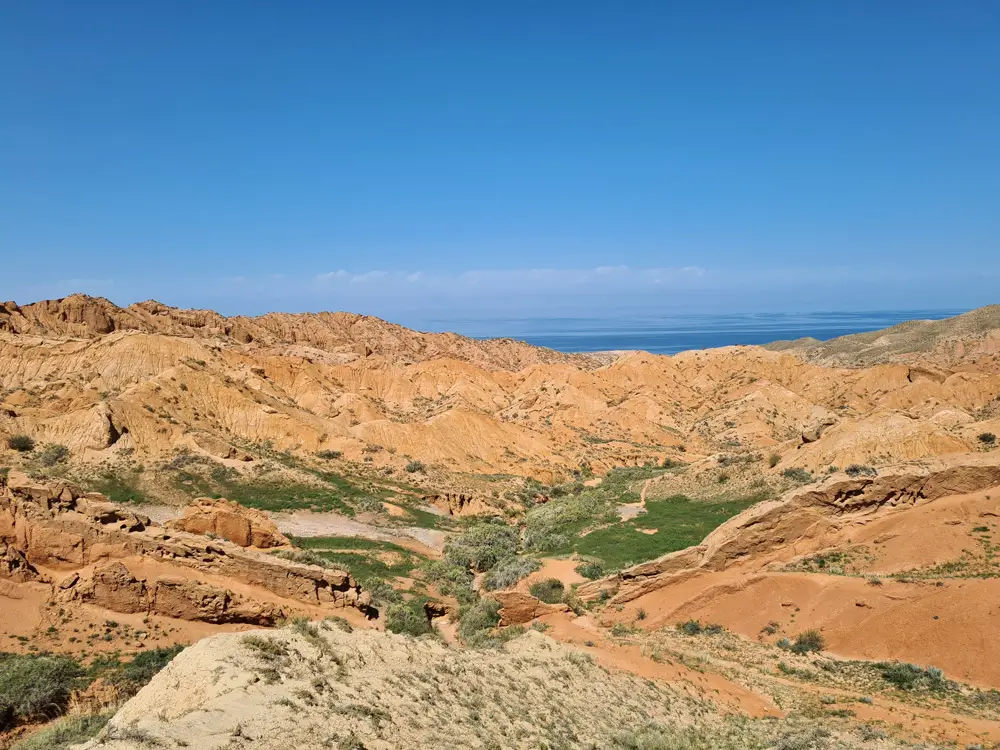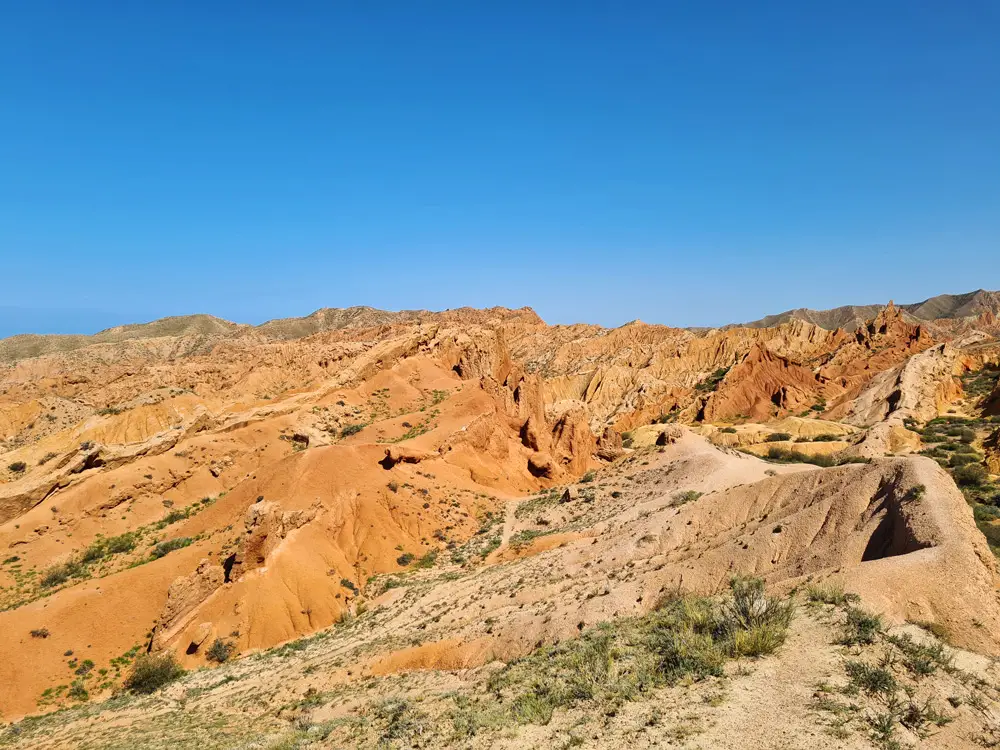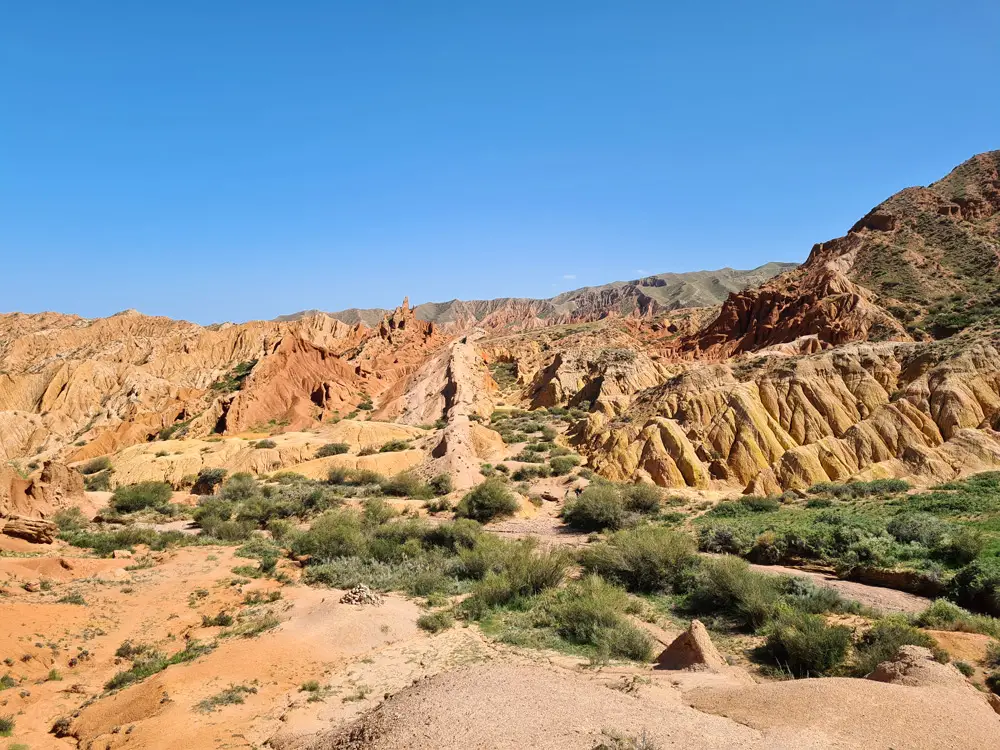 Best Time to Visit Skazka Canyon
It can be visited any time of the year. The best months to visit are May, June and September. The summer months are also a good option, but it can be very hot. We went there in the beginning of September and it was very hot and dry.
The Fairy Tale Canyon, together with Jeti Oguz, are must visit destinations when in Kyrgyzstan. I highly recommend to put them in you bucket list.