Last Updated on 27.07.2023 by Iliyan
The Jeti Oguz Rocks (Seven Bulls) is one of the natural jewels in Kyrgyzstan, along with Skazka (fairy tale) canyon. It is a geological protected area located about 25km southwest of Karakol. Apart of that, there is a small village named Jeti Oguz, which is located at the mouth of the valley, as well as the name of the river. Jeti Oguz is a popular day trip from Karakol and most people come to see the impressive red rock formations Jeti Oguz Rocks (Seven Bulls).
How to Get to Jeti Oguz?
Jeti Oguz is located 25 km from Karakol and can be reached by marshrutka (#371 or #355) or private/shared taxi. Bear in mind that Jeti Oguz is the main village and from there you should take another taxi. The Seven Bulls and Jeti Oguz Resort are 15 km further from the village towards the mountains.
We took a marshrutka from the bus station near to Ak-Tilek Bazaar and paid 50 Kyrgyz soms (€ 0.50) per person. The journey took around 25 min. The marshrutka dropped off us in Jeti Oguz village close to the great Soviet monument (Pamyatnik).
Then, we took a taxi and paid 500 Kyrgyz Som (€5) for 3 people.
The Broken Heart
Before visiting The Seven Bulls, you'll see the Broken Heart rock formation. It is another nearby atraction which is a large cliff that looks like a cut heart in two. This famous landmark is a source of many local legends. In a short version, the legend tells a story of a beautiful woman, who died when her heart was broken, after two men killed each other fighting for the heart of a young woman.
Jeti Oguz Rocks (The Seven Bulls)
The Seven Bulls are the biggest attraction in Jeti Oguz, Kyrgyzstan. The forms of the rocks resemble of seven bulls, "Jeti" – means seven and "Oguz" – means bull in Kyrgyz. The geological formations all the way up are extraordinary and the views are spectacular wherever you look.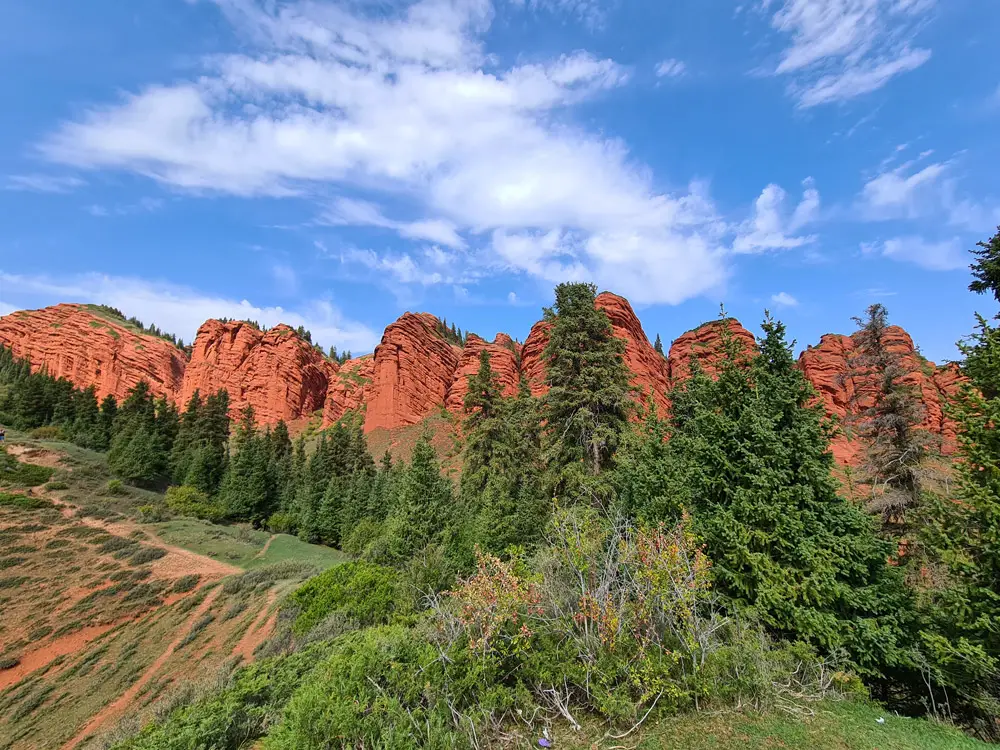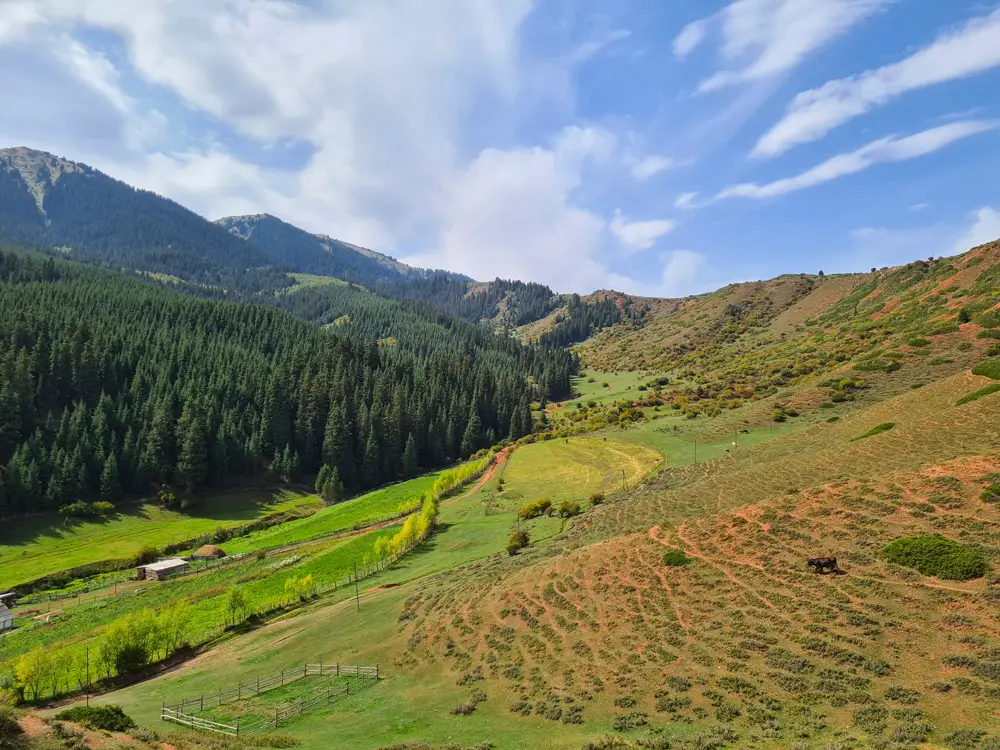 The landscape is stunning and it gets even more breathtaking once you climb to the top of the hill on the opposite side of the road. From there you will be able to get the entire view of the Seven Bulls.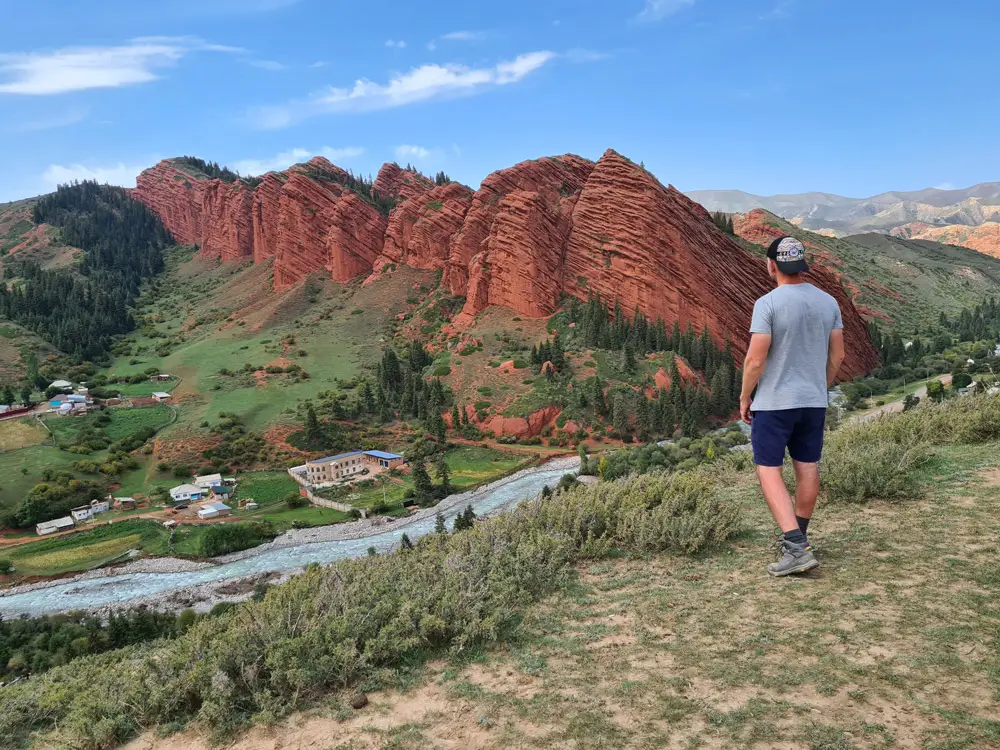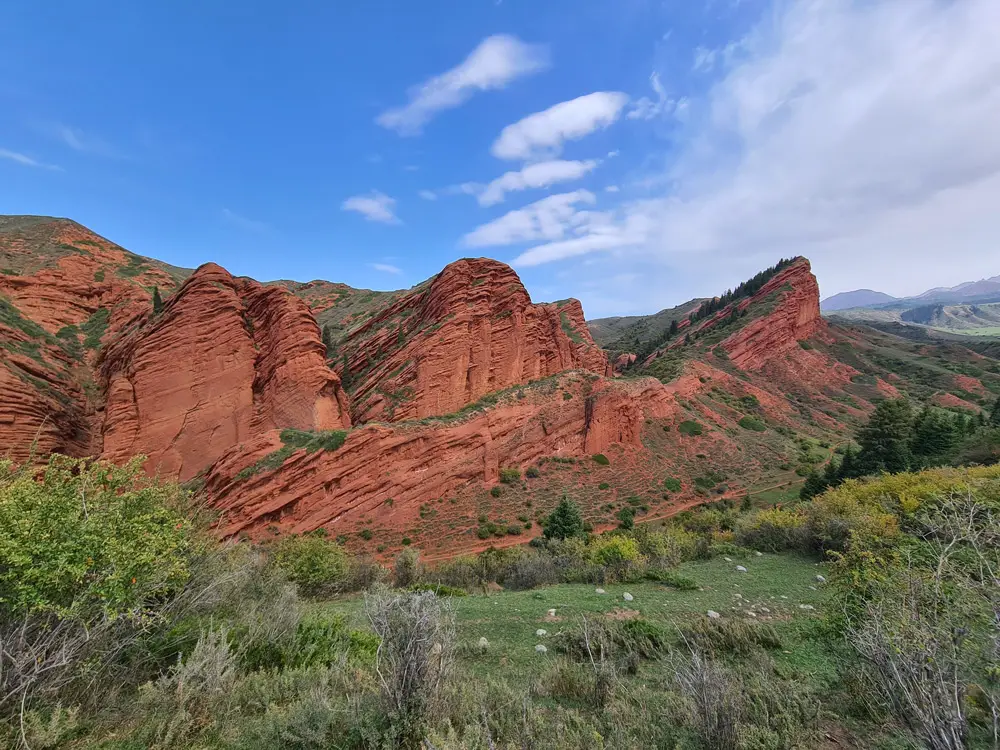 During the hot months you will be able to see many yurts along the way. Some of them offer food and drinks. We had a delicious lunch enjoying with locals. Also, we tried Kumis, which is the national drink of Kyrgyzstan. It is made by fermenting a mare milk, it contains a low amount of alcohol.