Like you have already read in my previous publications, Seoul is an extraordinary city, which can offer you absolutely everything. Naturally, the time is never enough to feel the atmosphere and the life in the beating heart of Korea fully. In this publication, I will share about the places I visited in the end of my stay in Seoul and for some of the not so popular landmarks in the city. The first stop of my evening walk in the capital of South Korea was the Banpo Bridge.
Banpo Bridge Rainbow Fountain
The Banpo Bridge is known by its incredible fountain called Moonlight Rainbow Show. It embellishes the bridge from both sides with a common length of 1140 m. (570 m. on each side). Thanks to this, the attraction managed to enter inside the Guinness World Records for the longest bridge fountain. Alongside the length of the bridge are situated 380 nozzles, which form beautiful water cascades when they sprinkle water. In the evening, thanks to the LED lights, the water started "dancing" under the sounds of different music. The feeling was incredible and I highly recommend visiting it in the evening. Nearby the bridge, there are many pavilions with souvenirs and fast food places and on the side of the river a picnic can be made.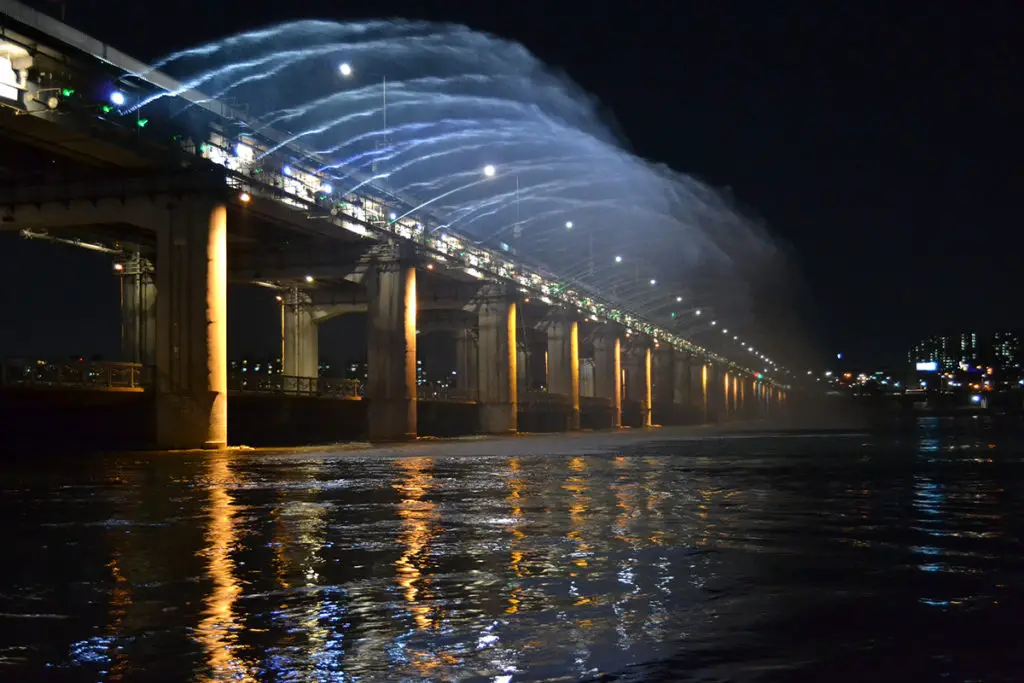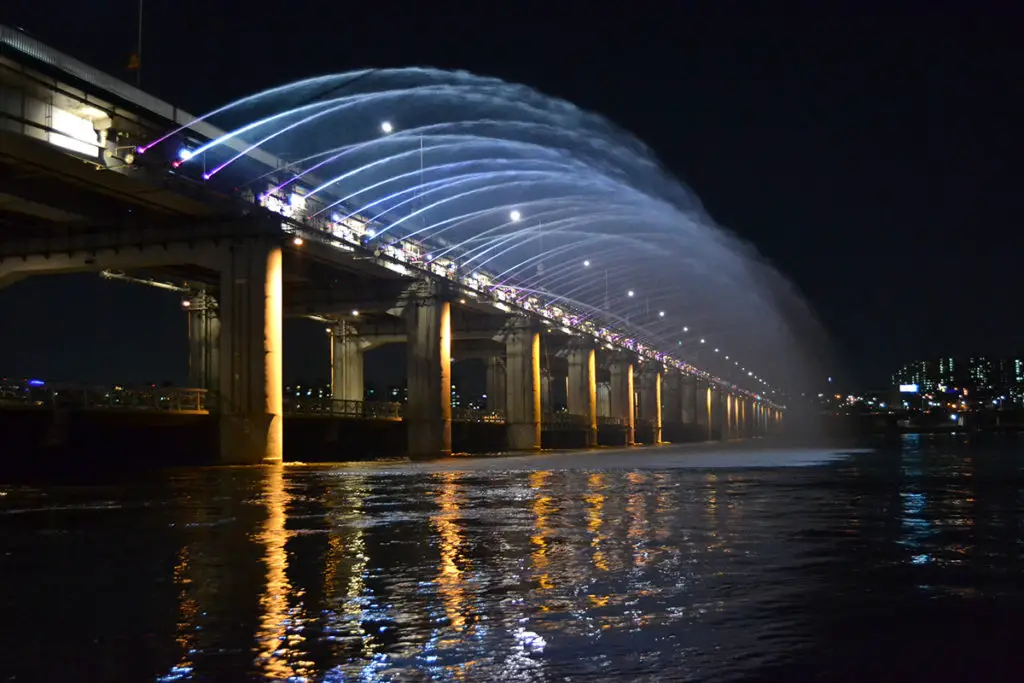 The Moonlight Rainbow Fountain Festival lasts only from April to October. The timing of the show varies depending on the season but I recommend, as it is an evening show, being there at 20.00.
How to get there
Express Bus Terminal Station, Subway Line № 3, 7 and 9, Exit #8-1
Entrance fee
Statue of King Sejong
The statue of Sejong the Great was elevated in the center of the Gwanghwamun Plaza in Seoul. It was dedicated to the fourth king of the Joseon dynasty, Sejong the Great, who is one of the most famous historical figures in Korea. It has been built as a part of the creation of a new public space in central Seoul, situated by the Gyeongbokgung palace. It was founded in 2009, during the honoring of the celebration of the Hangul day (9th of October). Hangul is a Korean alphabet, and its creator is namely King Sejong.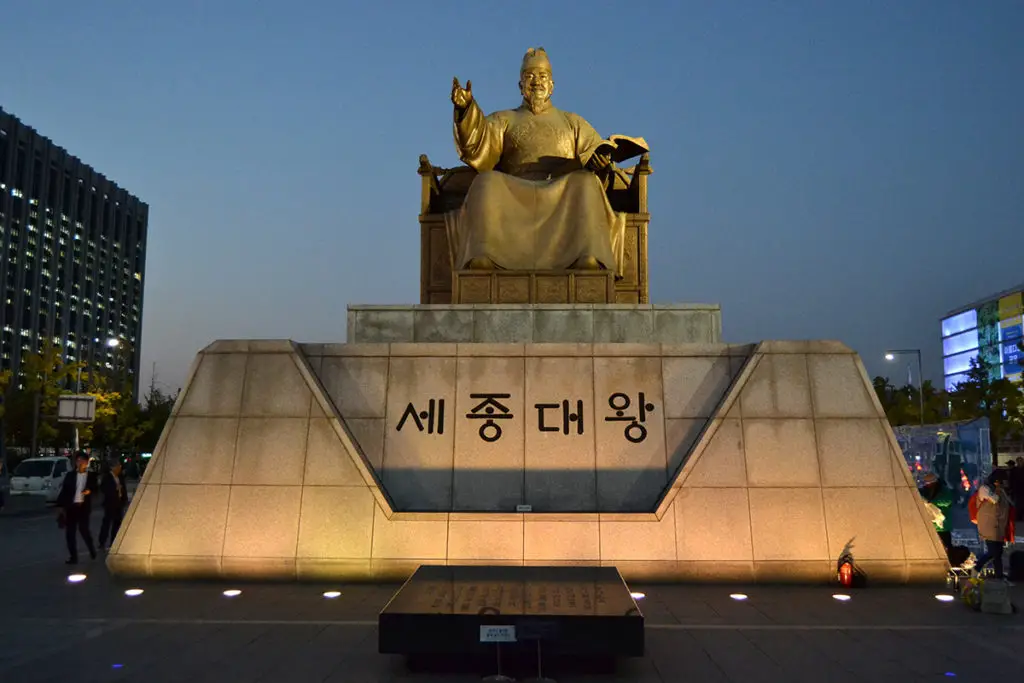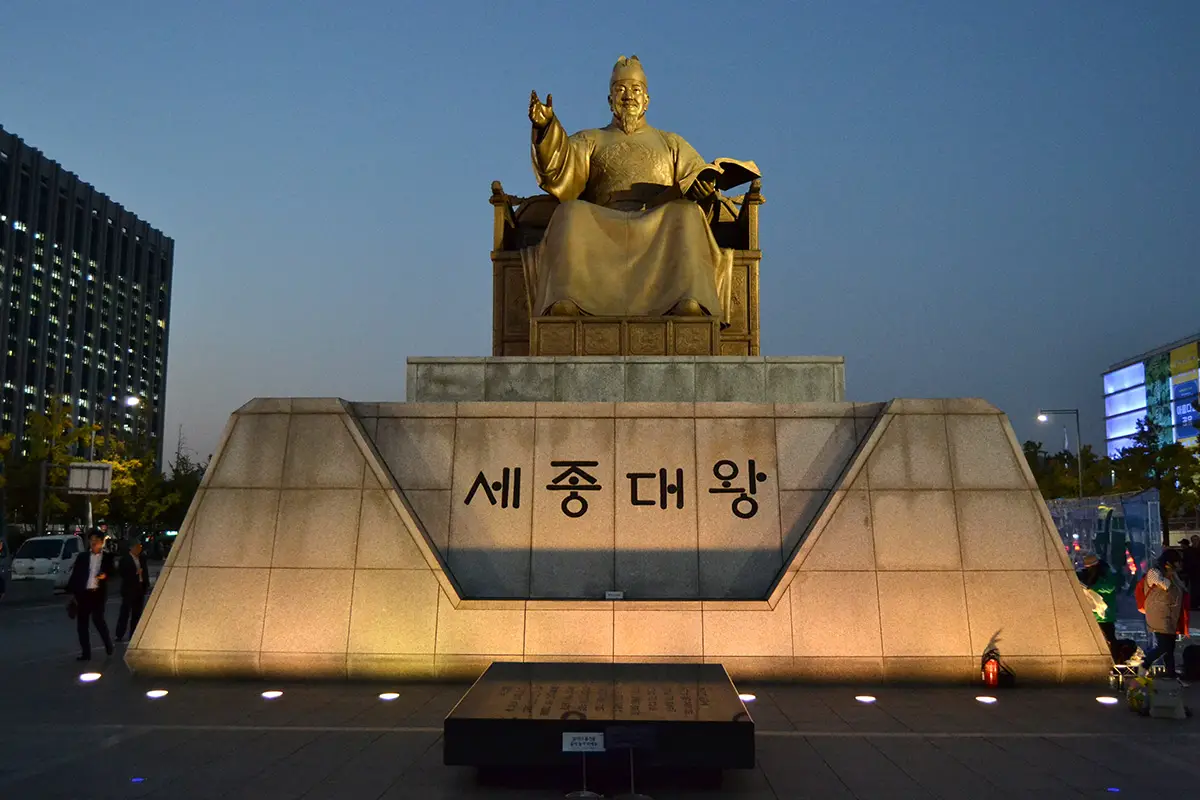 Statue of Admiral Yi Sun-sin
Only 250 m. from the statue of King Sejong, another big statue on the same square is located – the one of Admiral Yi Sun-sin. Elevated in the front part of the Gwanghwamun square on the 27th of April, 1968 in the honor of the brave spirit and the leadership of the admiral. With the height of 17 m, it looks impressive standing in the background of the mountain. Its history is quite remarkable and the Koreans worship him as the most notable naval commander.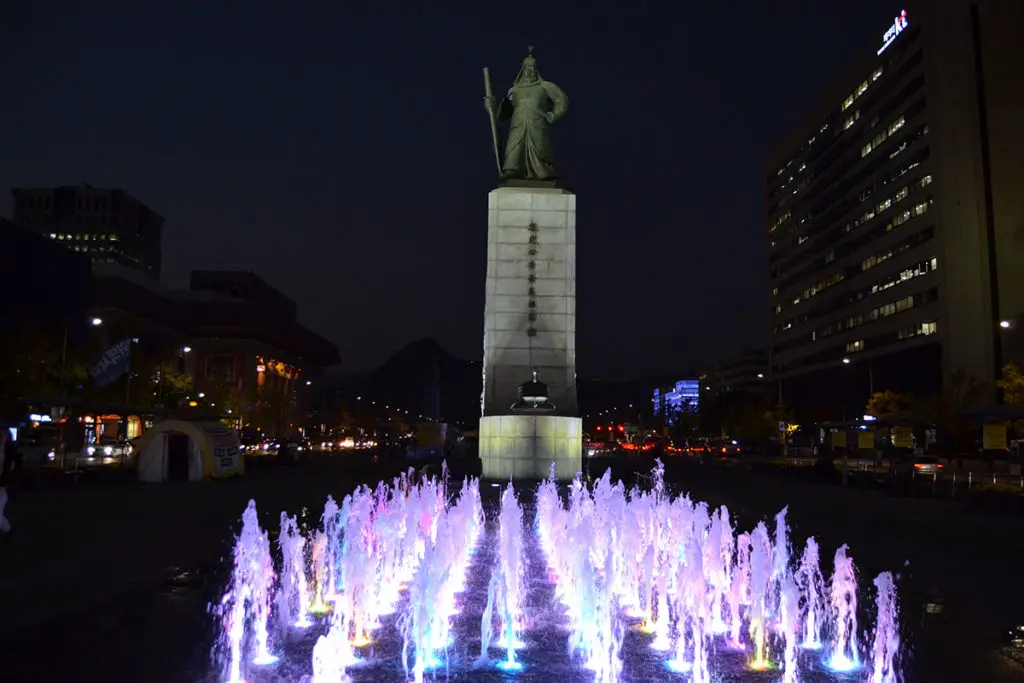 In immediate proximity to the statue, there is a fountain called 12.23, which marks the 12 combatant ships, which the admiral used in 23 battles in the fight against the Japanese invasion.
How to get there
City Hall Station, Subway Line № 1, Exit #3 or 4
Gwanghwamun Station, Subway Line № 5
Gyeongbokgung Station, Subway Line № 3, Exit #6