Last Updated on 09.02.2020 by Iliyan
Torres del Paine National Park
Torres del Paine National Park is located in southern Chilean Patagonia. It is a biosphere natural preserve with incredible flora and fauna. The scenery is amazing – gorgeous steep mountains, turquoise lakes, huge glaciers and cascading waterfalls. The nature here is wild and untouched, the place is ideal for trekking despite the strong winds. With its mind-blowing natural beauty Torres del Paine ranks amongst the most grandiose parks not only in Patagonia, but the world.
Accommodation and Transport
The closest town to Torres del Paine National Park is Puerto Natales. This is the place where you can spend the night in case you have not booked a hotel or a "refugio" on park premises. Another option is to camp, but you need to have a tent and a sleeping bag. Bear in mind that prices in Puerto Natales are not low at all, especially during high season.
There are different companies, that offer transport to the park's entrance. One of them – Bus-Sur carries out two trips during the day – at 07:00 and at 11:30. The bus makes two stops – Laguna Amarga and Pudeto/Catamaran.
Puerto Natales (07:00) – Laguna Amarga (09:00) – Pudeto / Catamaran (10:00)
Puerto Natales (11:30) – Laguna Amarga (13:30) – Pudeto / Catamaran (14:30)
Pudeto / Catamaran (12:30) – Laguna Amarga (13:30) – Puerto Natales (15:30)
Pudeto / Catamaran (18:00) – Laguna Amarga (19:00) – Puerto Natales (21:00)
If you do not spend the night on the territory of the park you definitely need to return to the parking lot before 19:00. Tickets are sold at the station where all busses leave from. The price for a round trip is CLP $15 000 (≈ €19.76), but I got mine from JBA Patagonia for CLP $12 000 (≈ €15.81), so always ask for a discount. You can pay with a credit or debit card or cash in Chilean pesos. Always bear in mind that some POS terminals do not accept certain cards, so it is always handy to have cash.
Day 1: Hiking to Mirador Las Torres
If you have little time like I did it is completely doable to visit Torres del Paine in two days and make the most out of your stay. Don't miss hiking to the amazing granite peaks, which tower over the glacier lake. It is considered that this is one of the greatest day hikes in the world.
For this hike you need to go down to Laguna Amarga, where a local ranger will give you instructions. You can purchase tickets there and you need to bring your passports.
The ticket for foreign citizens costs CLP $21 000 (≈ €27.67) during high season (1st of October to 30th of April) and CLP $11 000 (≈ €14.50) during low season (1st of May to 30th of September). The fee can only be paid in cash in Chilean pesos, American dollars or Euro, because they do not accept credit cards. The ticket is valid for 3 days, but only if it gets stamped on the back side. If you have the intention of going back to the park, make sure you have a stamp.
The hike starts at the Las Torres visitor center, which is located 7 km away from Lagina Amarga. To get there you need to get a shuttle bus, a round trip costs CLP $6000 (≈ €7.90).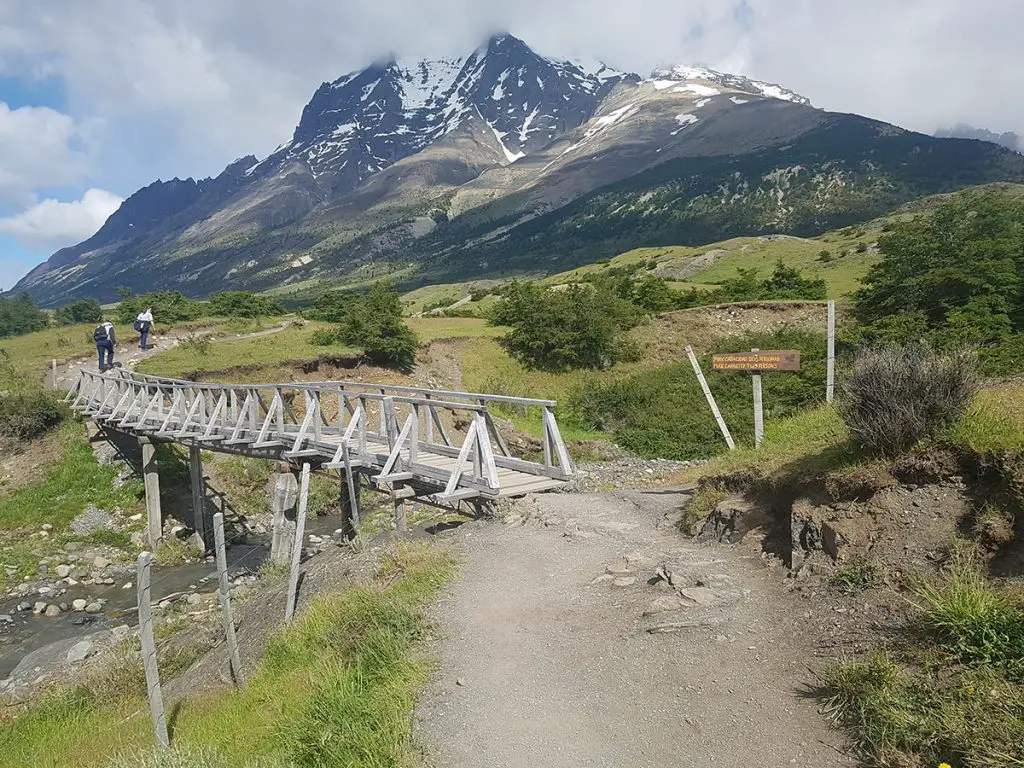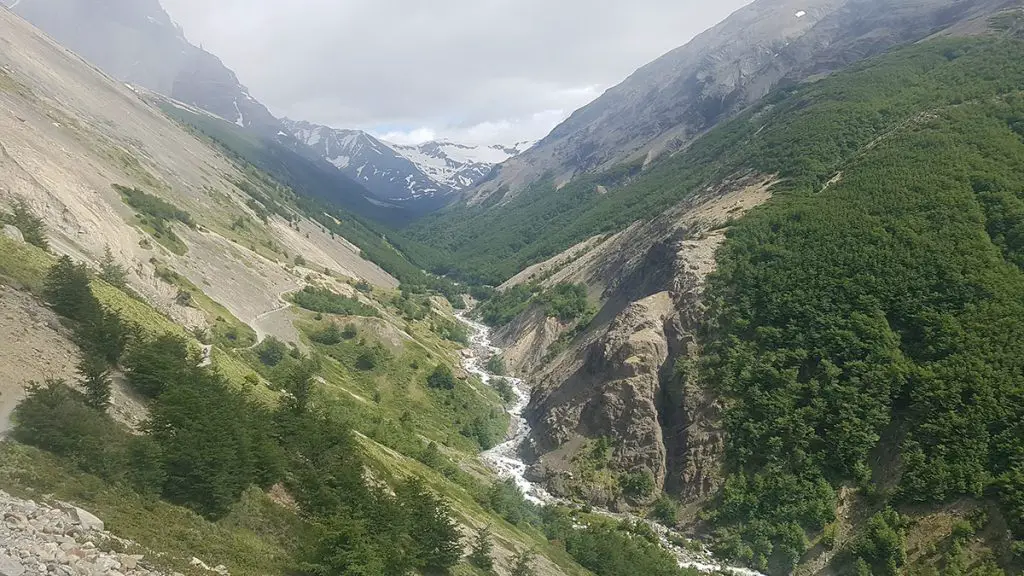 It took me about three hours and a half to get to Mirador Base Las Torres. It was a fantastic hike up the hill going through a beautiful valley and after that a forest area. On your way you can stop at Chileno Refugio, have a light breakfast and use the restroom. The restrooms are paid and cost CLP $1000 (≈ €1.32). The hike goes up and down through the forest, going along glacier streams, from which you can get water. It is completely drinkable and comes directly from the glacier, and it is even cleaner than bottled water. The last part of the route is the hardest, as steep climbing up the moraine is required.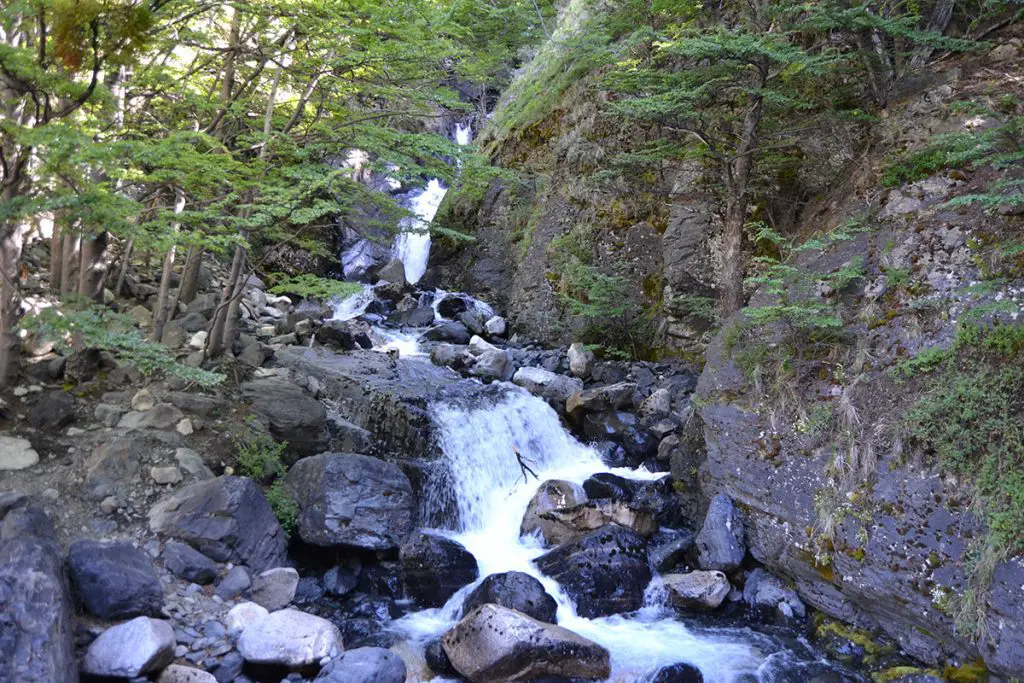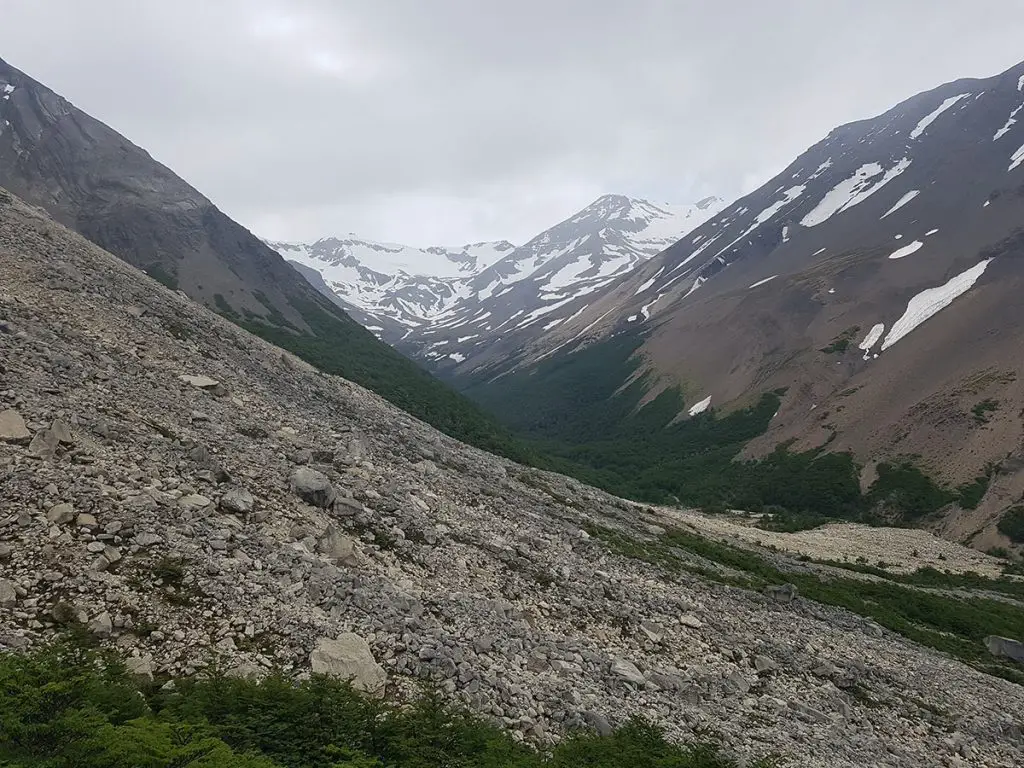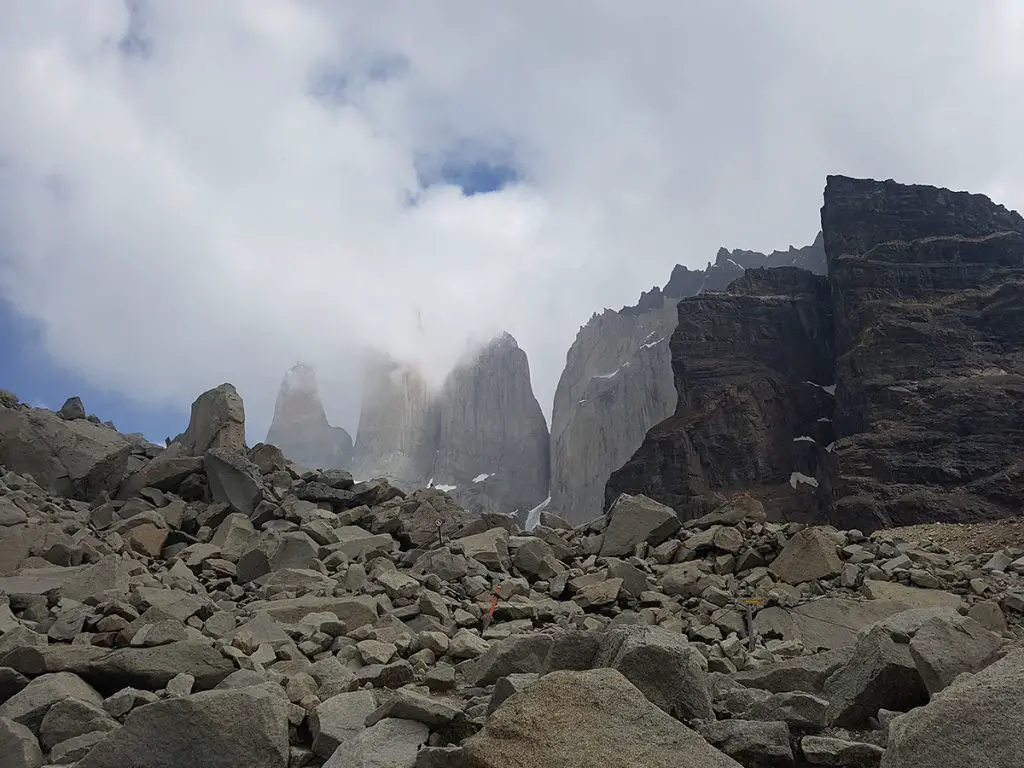 When you get to the final point you will get a breathtaking view of the lake and the three towers. The paths are well marked, so there is no danger of you going the wrong way. The total duration of the hike is around 8-9 hours and the length of the route around 18 km.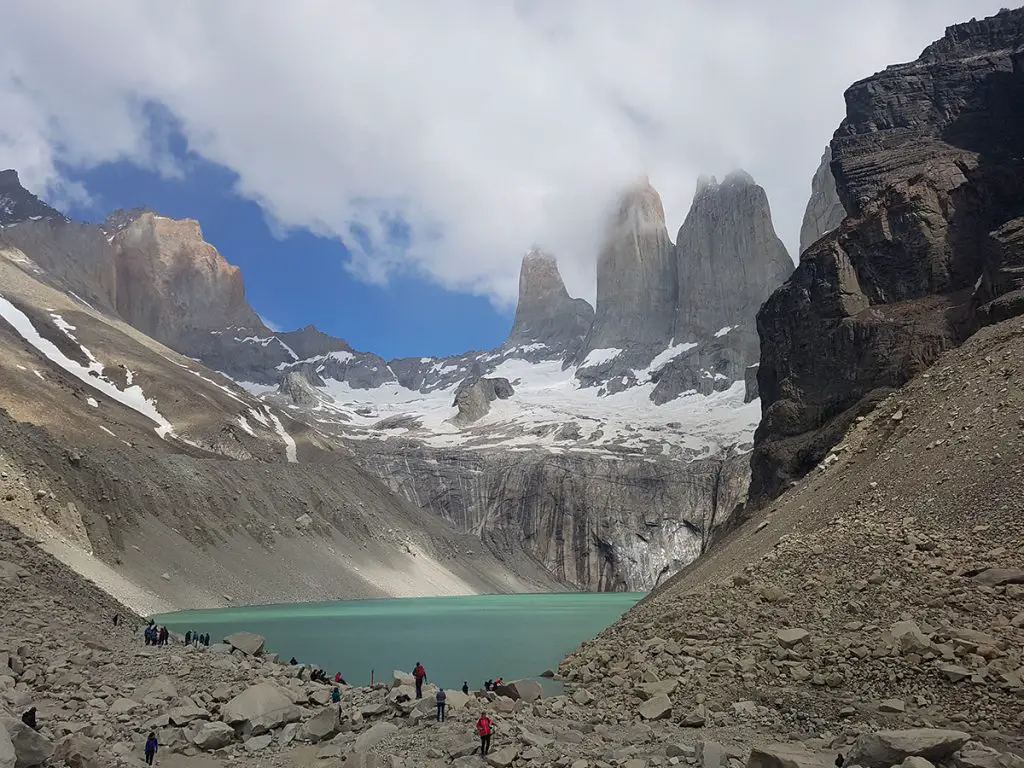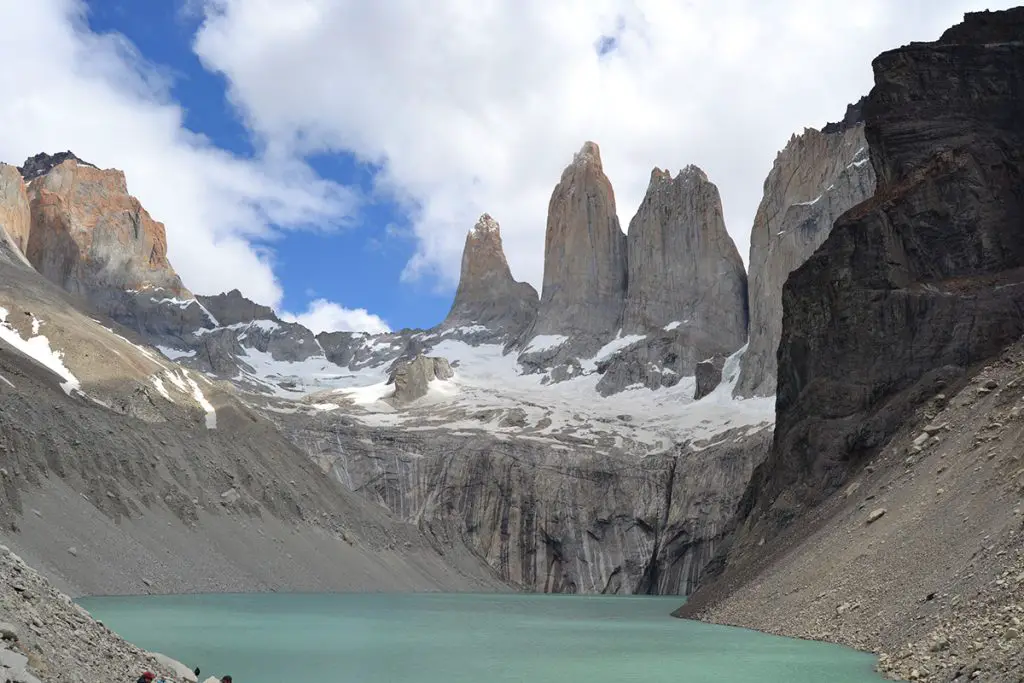 Day 2: Hiking to Salto Grande and Mirador Cuernos
The walk to Mirador Cuernos is very pleasant and will take around 2 hours. The starting point is the second bus stop of the busses Pudeto/Catamaran to Lake Pehoé.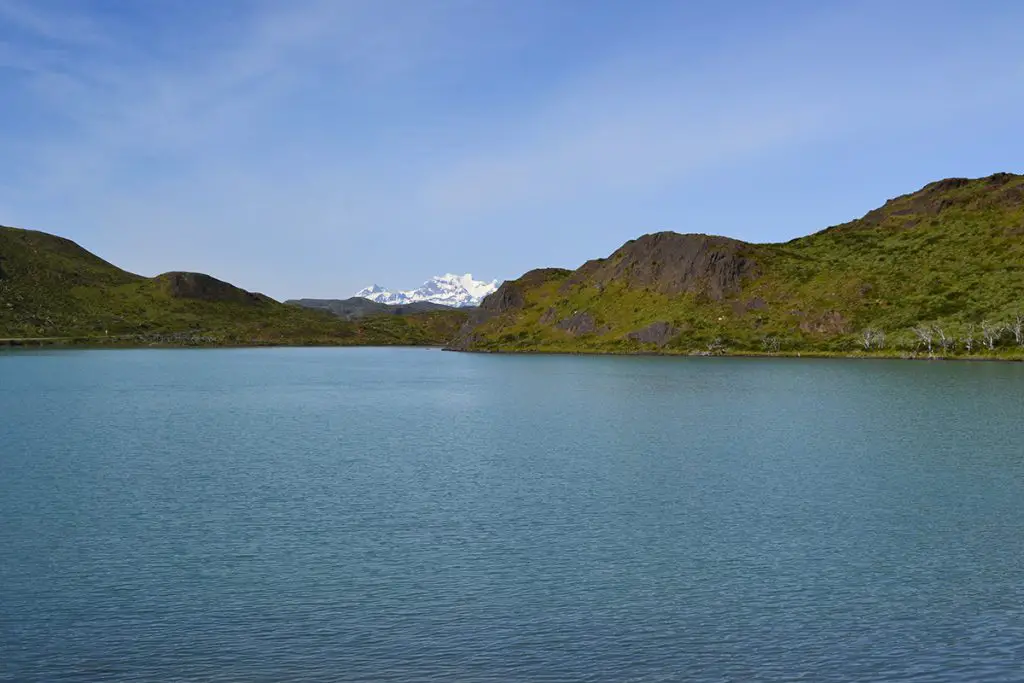 The path goes along the amazing Salto Grande waterfall. This waterfall is significantly smaller and cannot compare to Iguazu, but it is still incredibly beautiful and picturesque. The color of the water is really incredible, and the surrounding nature makes this place magnificent. Very often the wind here gets to a speed of over 120 km/h. When a current of wind or water cross a narrow valley between mountains, necessarily accelerates, and can double its speed.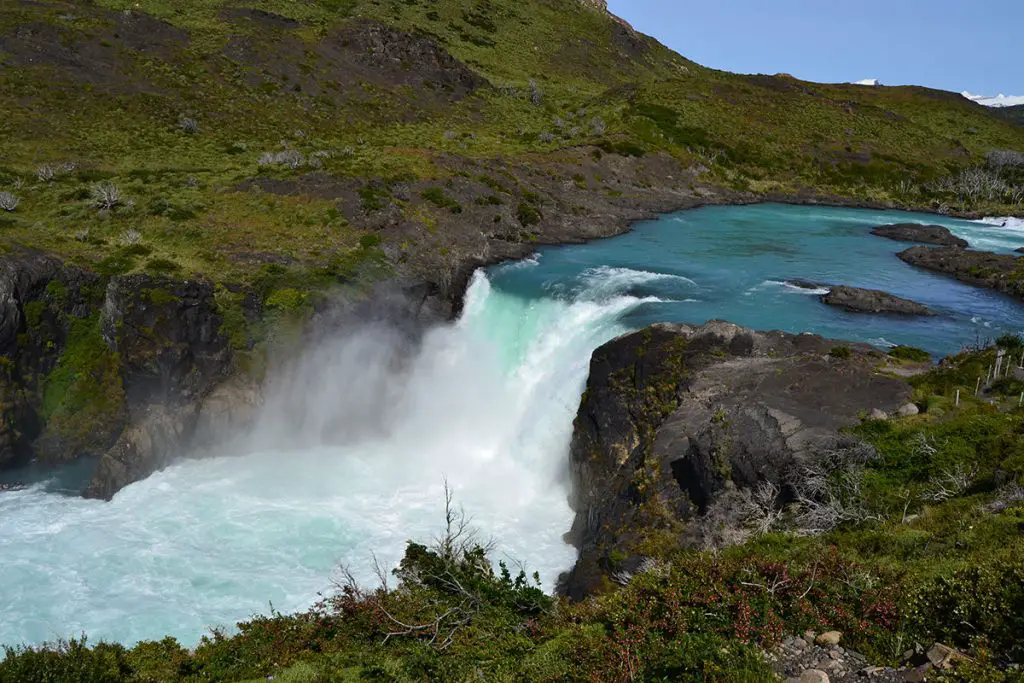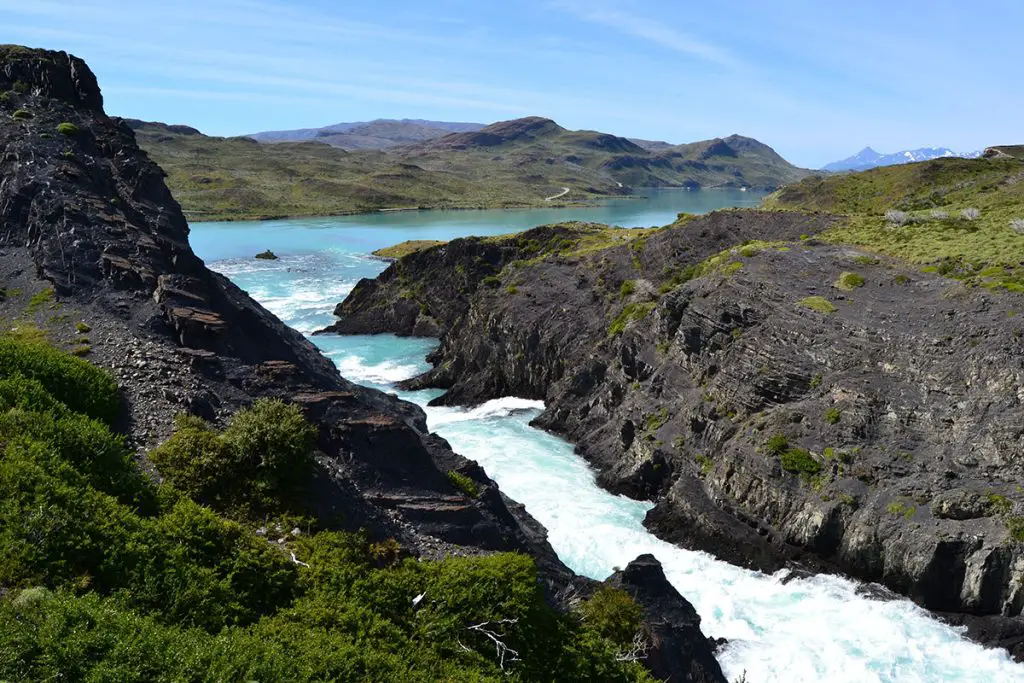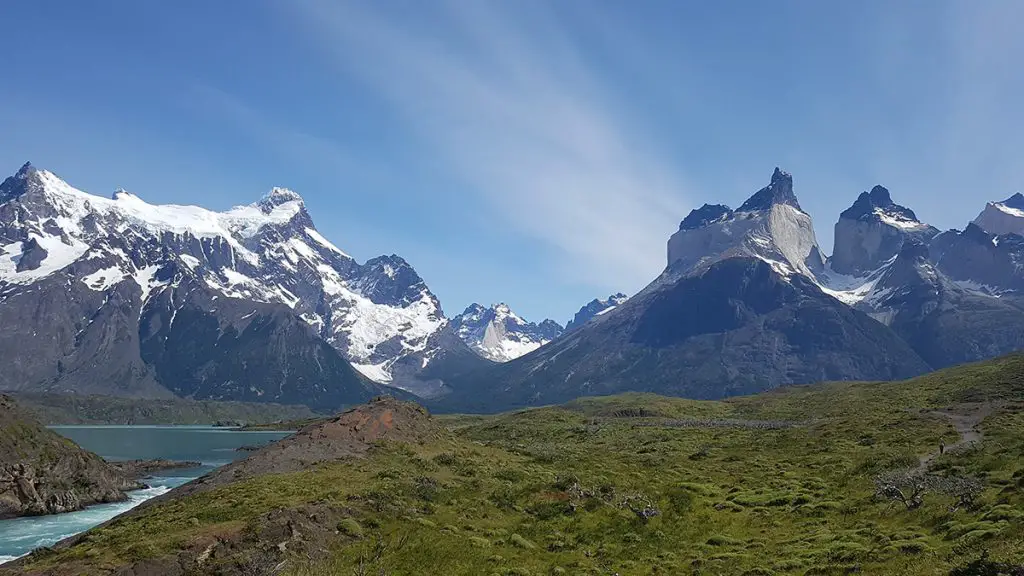 From Salto Grande the path goes slightly uphill. The mountains that are located behind the waterfall create a nice opportunity for panoramic shots. The scaping views have alien dimensions. During sunny weather the view is even more grandiose, especially when there are green fields, the turquoise water of the lakes and the snowy mountains. You will go through an area of dead silver trees where a huge fire took place.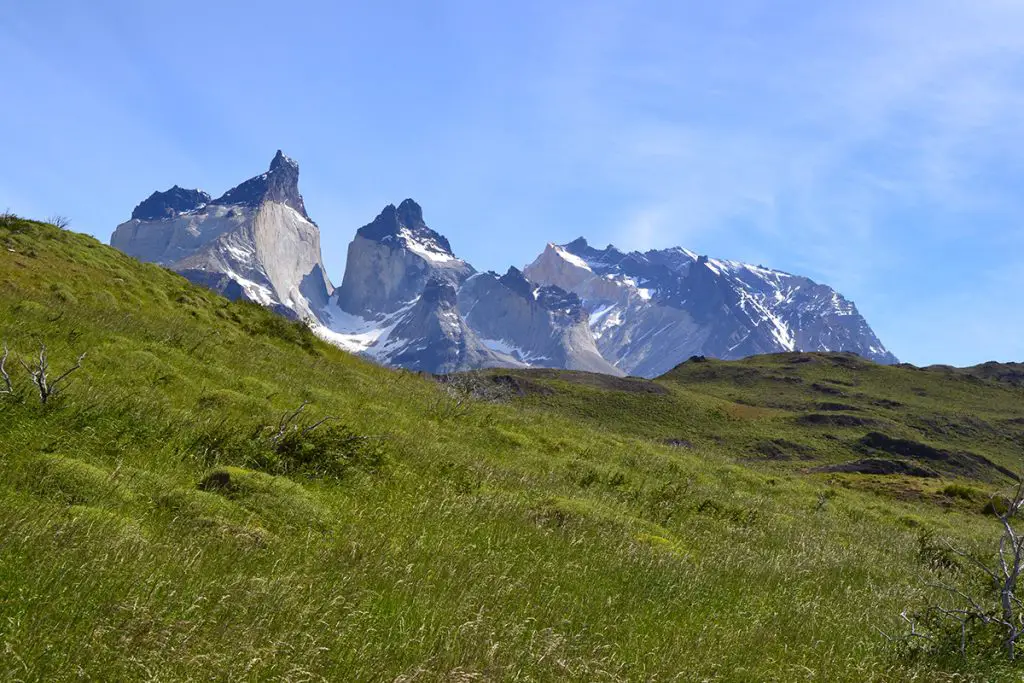 Read more → Laguna de los Tres, Patagonia – Hiking from El Chalten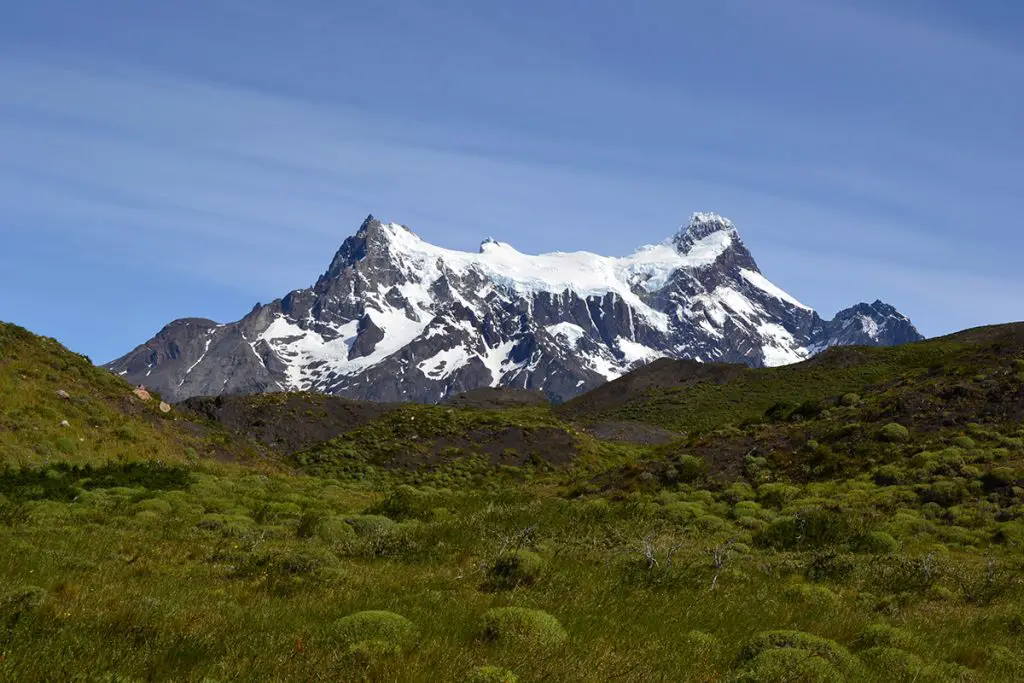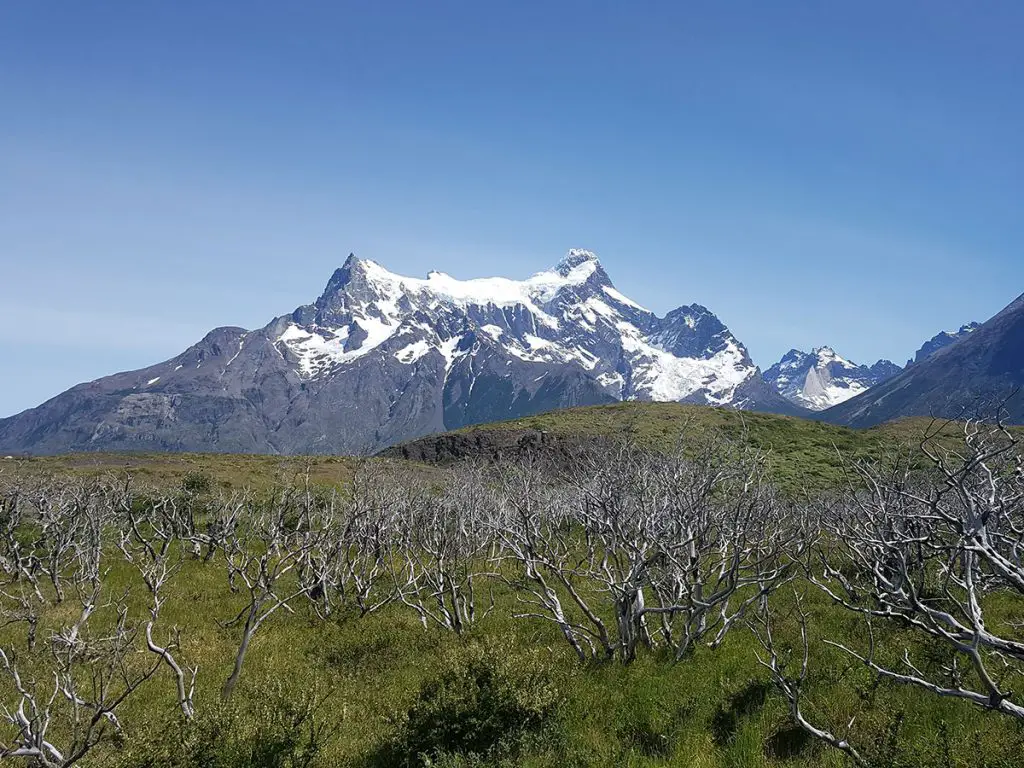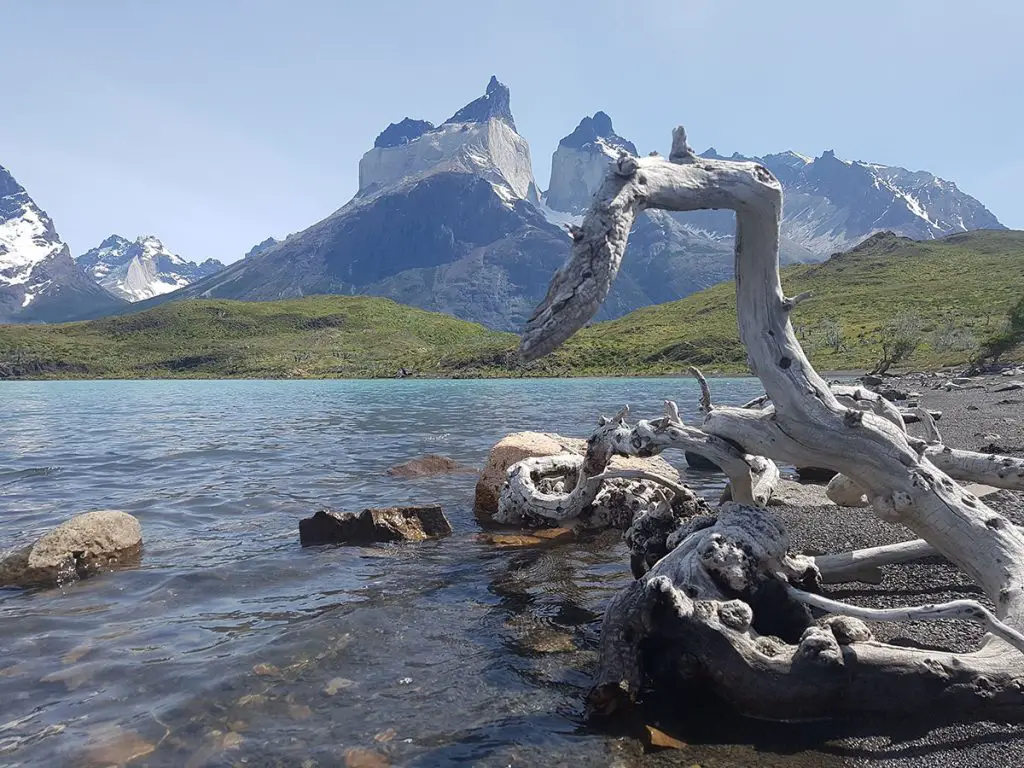 Going forward you will get to Nordenskjöld Lake, where you get a killer view of Cerro Paine Grande. In good weather you can sit on the grass and enjoy the warm Patagonian weather and the clean air.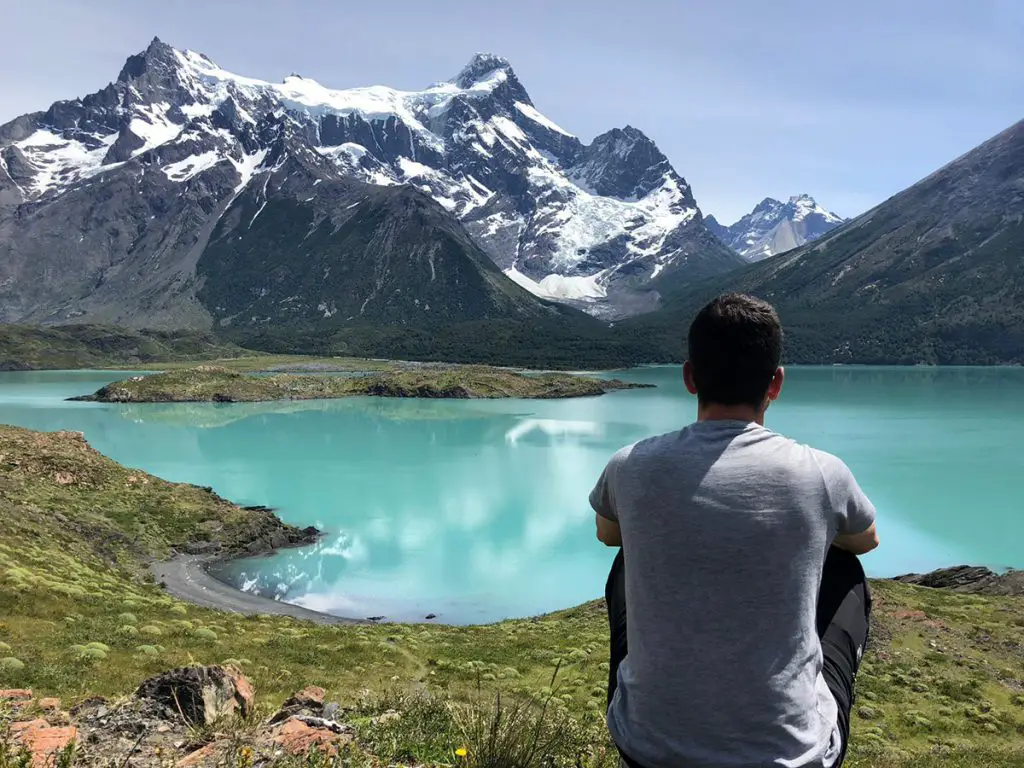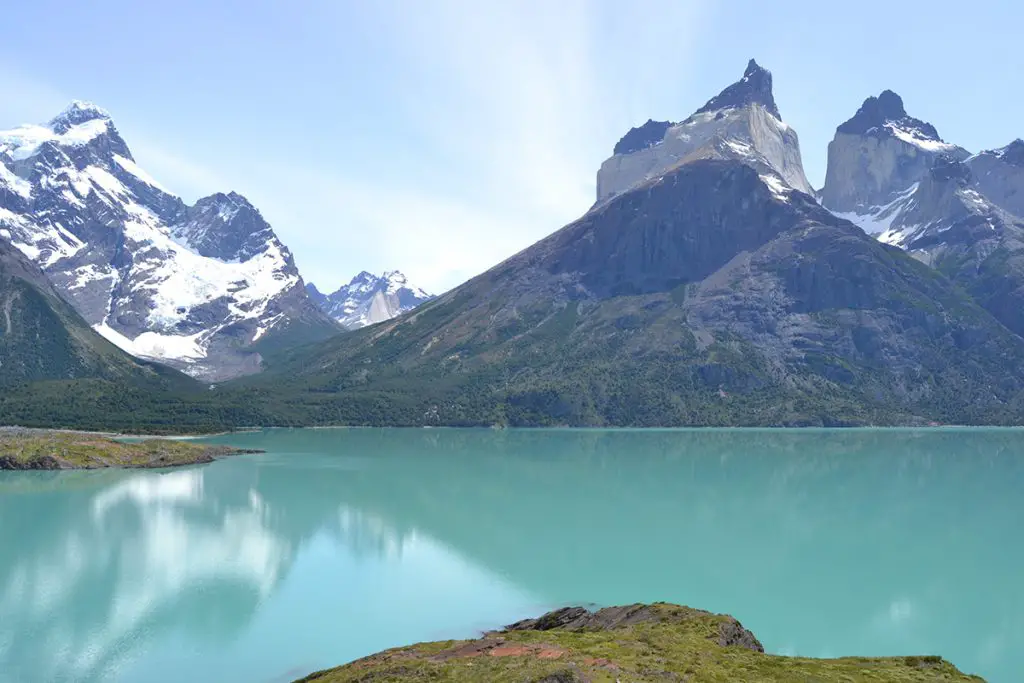 Pudeto – Lodge Paine Grande
From Pudeto you can also get a catamaran to the Lodge Paine Grande port. For about 30 minutes the ship crosses Lake Pehoé, from where you can continue to Mirador Lago Grey or Valle Francés. The price for a round trip with a catamaran costs CLP $30 000 (≈ €39.64) and you can only pay cash.
When is the best time to visit Torres del Paine?
All travelers ask themselves this question when visiting this fairytale place. The weather in Patagonia is always unpredictable and, in this regard, similar to Iceland. In the same day you can get sun, snow or strong wind. It is considered that the best time to visit is from October to April. This is the time when spring and summer are in the southern hemisphere. Of course, each season has its ups and downs, and the decision when to go is entirely up to you.
I went in the beginning of December when it is summer. This is high season and if you decide to do the W-trek, you would need to book a camp or a hotel in advance.
W-trek in Torres del Paine National Park
The W-trek in Torres del Paine National Park is one of the best in the world and it takes a lead spot in all mountain trek charts. If you are an avid nature lover and mountaineer you have without a doubt heard of the W-trek in the Patagonian area in Chile. It is called like this because the 70 km route is in the shape of a W. Usually people do the trek in 5 days. If you plan on camping you would need a tent, a sleeping bag and a gas stove, because it is forbidden to light fires on park territory.
Visiting the Torres del Paine National Park is another dream come true for me. My first contact with the clean mountain rivers, azure lakes, massive ice fields and impressive granite peaks left me speechless. The surroundings and the colors are surreal and the nature is wild. There are not many places in the world where you can see such variety in one area. It is impressive how despite the popularity of the park and the thousands of visitors everything looks untouched by humans.