Last Updated on 09.02.2020 by Iliyan
Laguna Torre, Patagonia
A starting point for the famous peaks Cerro Torre and Fitz Roy in Argentinian Patagonia as well as Laguna Torre and Laguna de Los Tres is the small village of El Chaltén. Located 220 km. north of El Calafate it is a popular base for different expeditions, mountain treks and walks. No wonder that El Chaltén was named Argentina's Trekking Capital.
How to Get to Laguna Torre
The nearest airport to El Chaltén is located in El Calafate – Aeropuerto Internacional de El Calafate (FTE). There are many direct flights from Buenos Aires of the two main airlines – LATAM Argentina and Aerolíneas Argentinas. You can get a minibus from the airport directly to El Chaltén. You can book tickets online as well from Lengas. The trip is about three hours with a short break in La Leona hotel on the famous main road Ruta 40, and the driver will take you directly to your place of stay.
Price:

El Calafate

–

El Chaltén

–

El Calafate

– AR$ 2000 (€ 46.49)
Laguna Torre
Immediately after arriving in El Chaltén I got accommodated at the Aylen-Aike Hostel. If you are travelling on a budget I highly recommend this place, because the owner Sebastian is a great man who will help you organize your treks. The weather was unusually sunny and warm, and I was anxious to go on my first Patagonian trek. Sebastian recommended to all new arrivals to head immediately to Laguna Torre, while the weather still allowed it.
The trek to Laguna Torre is one of the classic routes in Los Glaciares National Park, which is part of the UNESCO world heritage. It will take you to an amazingly beautiful place amongst mountains and glaciers. The distance is about 20 km. (going and coming back), but it is worth it, because of the rewarding views. The path as well as all others in the area is completely free. It will take you around three hours one way, according to your intensity of walking. I walk fast and it took me about 2 hours and 40 minutes going up and around 2 getting down. The total altitude from El Chaltén to Laguna Torre is no more than 300 meters.
The beginning of the path starts about 5-6 minutes away on foot from the center of El Chaltén. It is well kept, and the hike varies from low to medium difficulty. Right in the beginning the path will take you to the first beautiful view Mirador Margarita.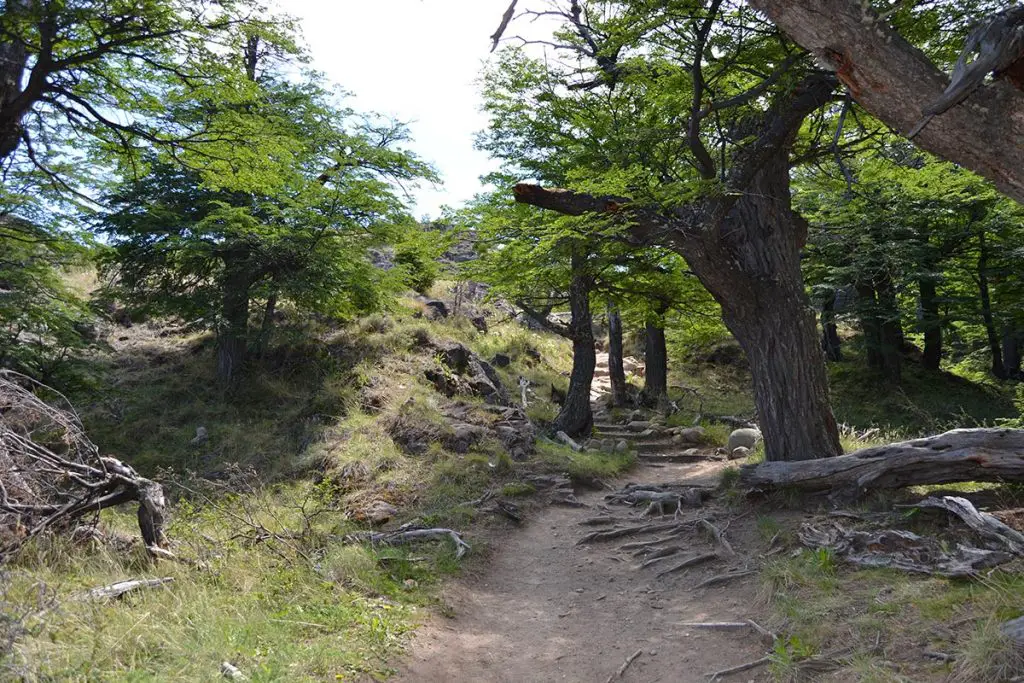 During the hike many wonderful views to Cerro Torre and Fitz Roy will be revealed to you. The landscape is splendid – fast roaming waters, fed by the glacier, waterfalls, rocky mountains covered in show, beech forests and lawns.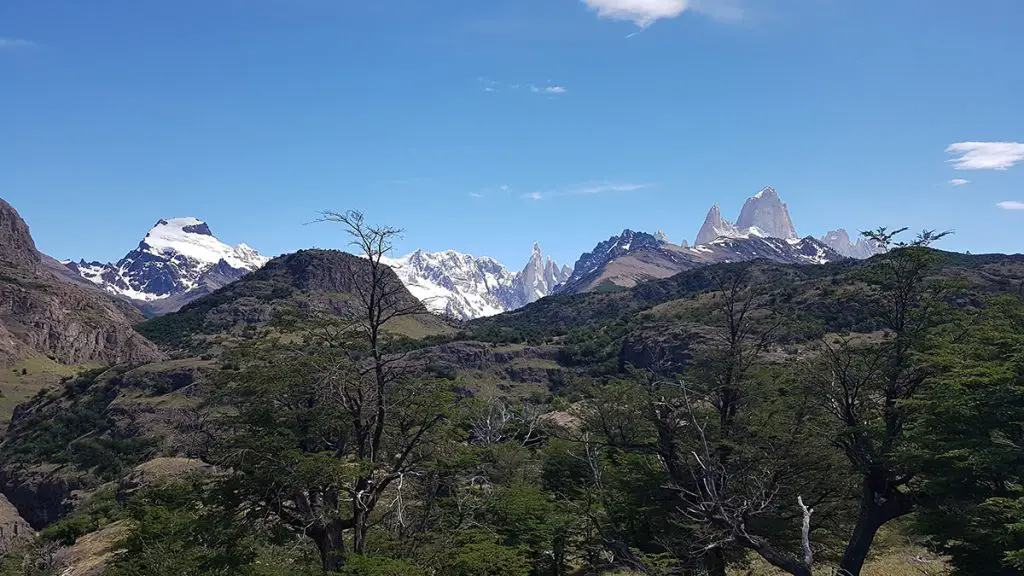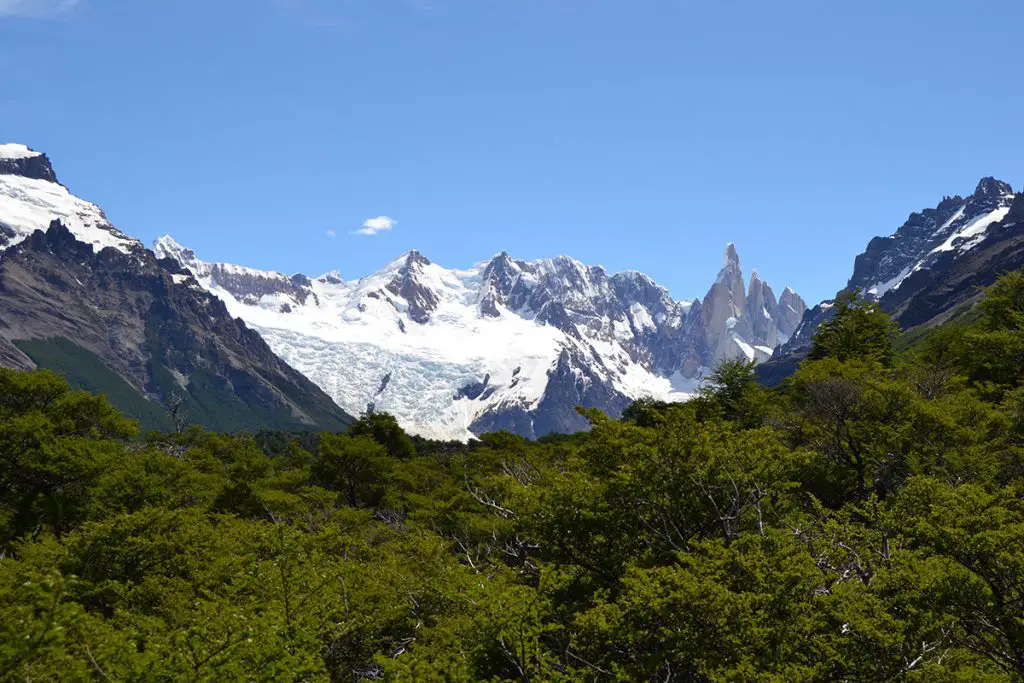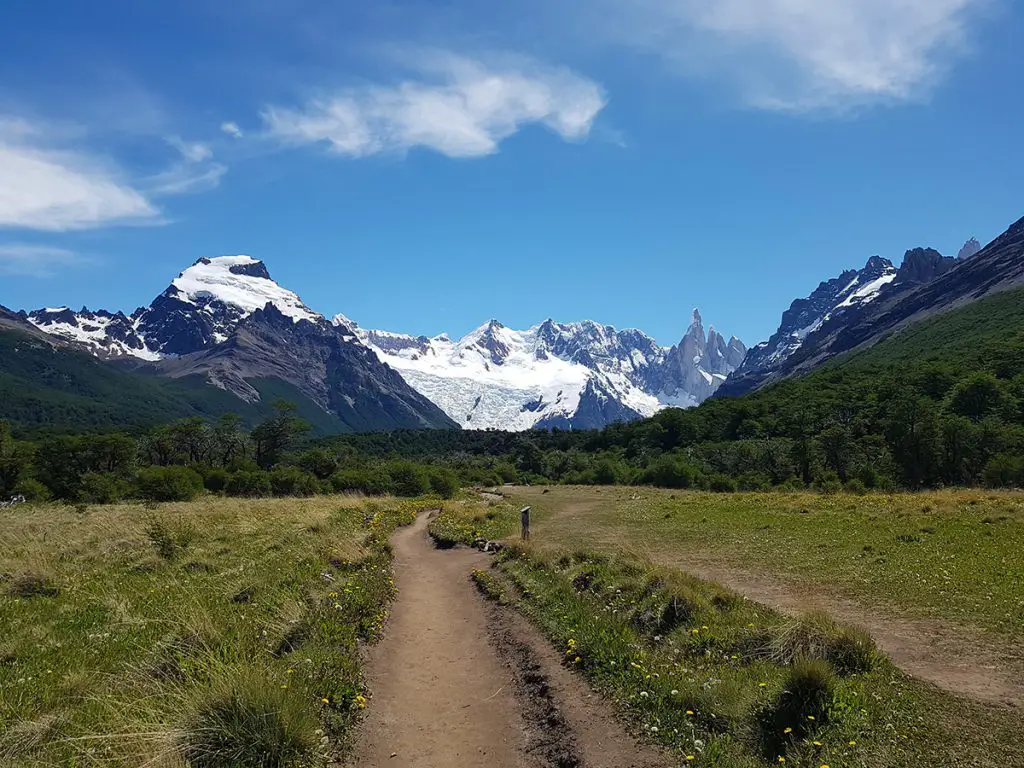 Laguna Torre is a beautiful small glacial lake, surrounded by different peaks and an ice tongue, which goes in directly into the lake, forming one of the most spectacular combinations. The view to the lagoon at the bottom of the Cerro Torre is magnificent and impressive!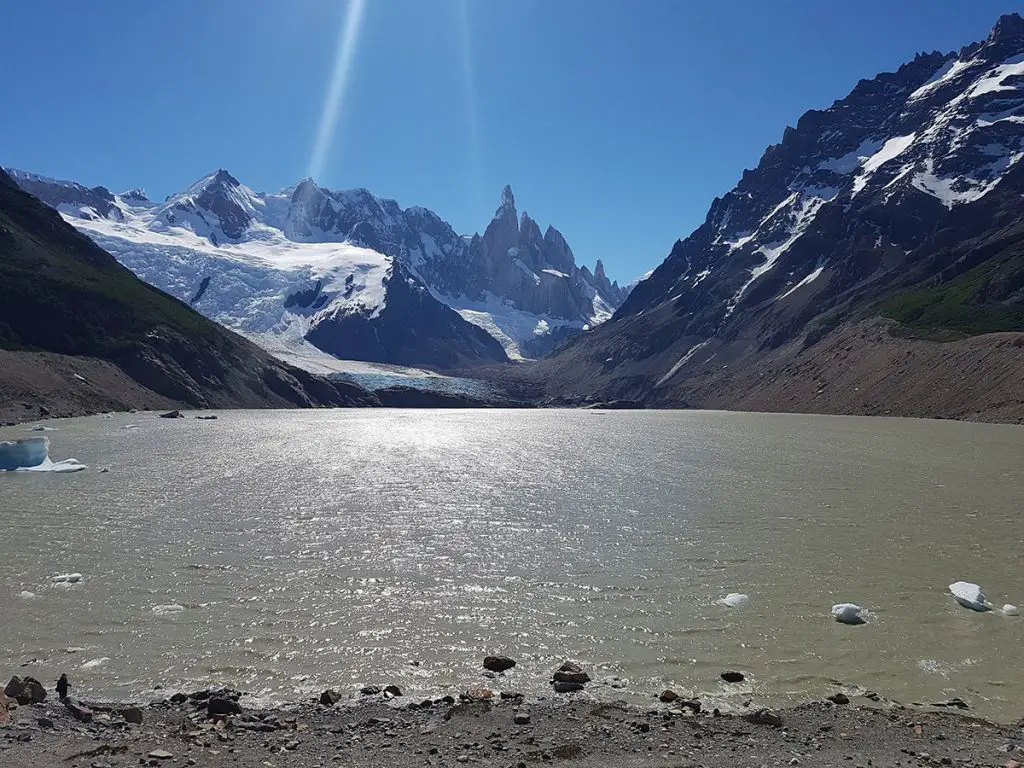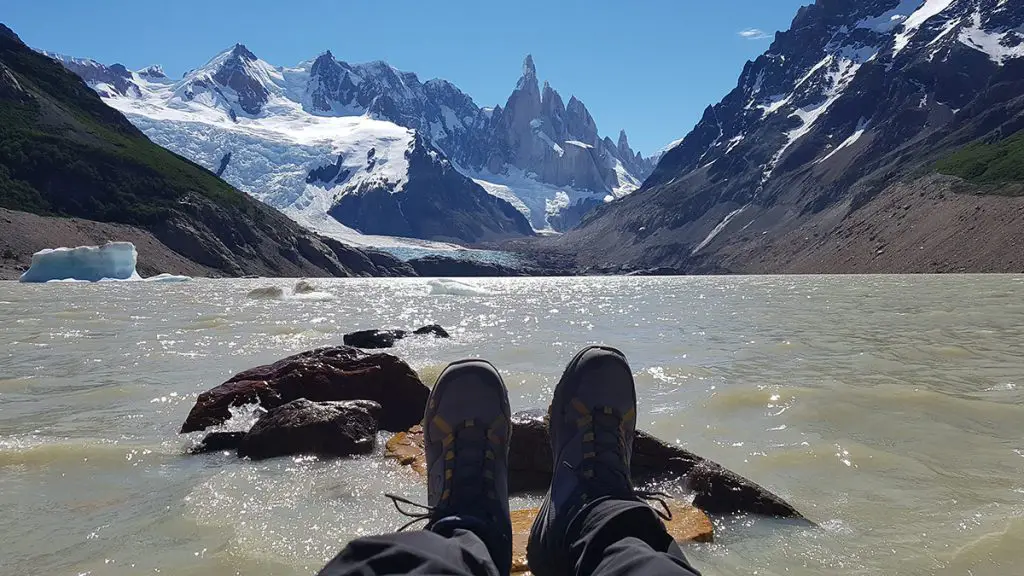 If you have additional time you can walk on the stony slope to the lake, to enjoy the Mirador Maestri view. It gives a different view of the glacier and the lagoon.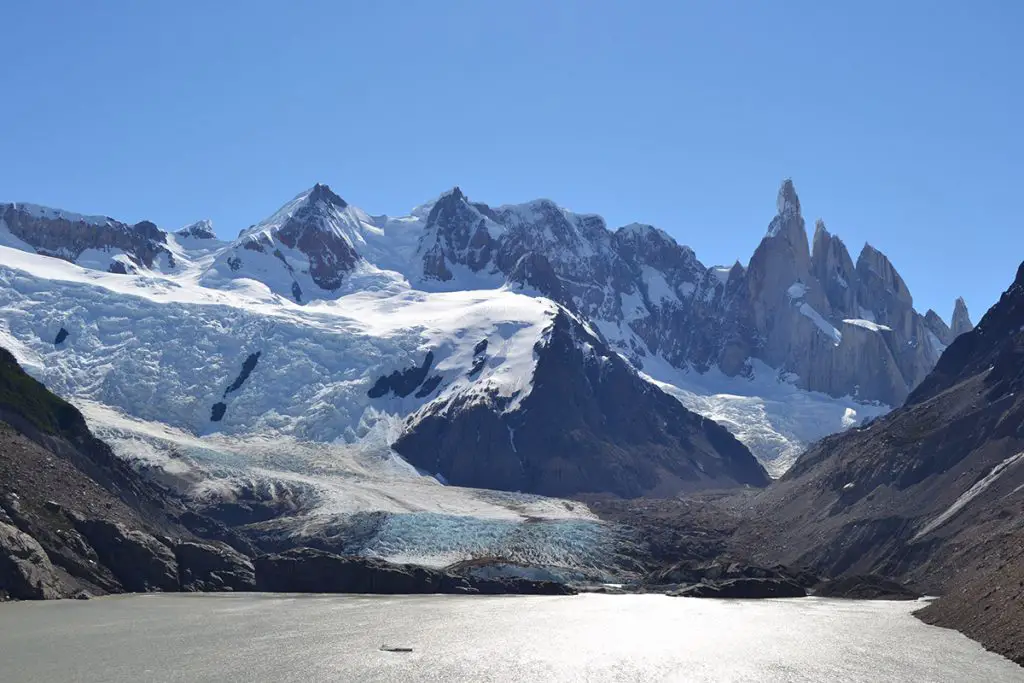 Cerro Torre
Cerro Torre is one of the highest peaks in the region and an extreme challenge for each climber. It is 3128 meters tall, and it has breathtaking vertical walls. The main reason for it being so hard to climb is the severe climate and the ice cap, formed by extreme winds, reaching up to 200 km/h.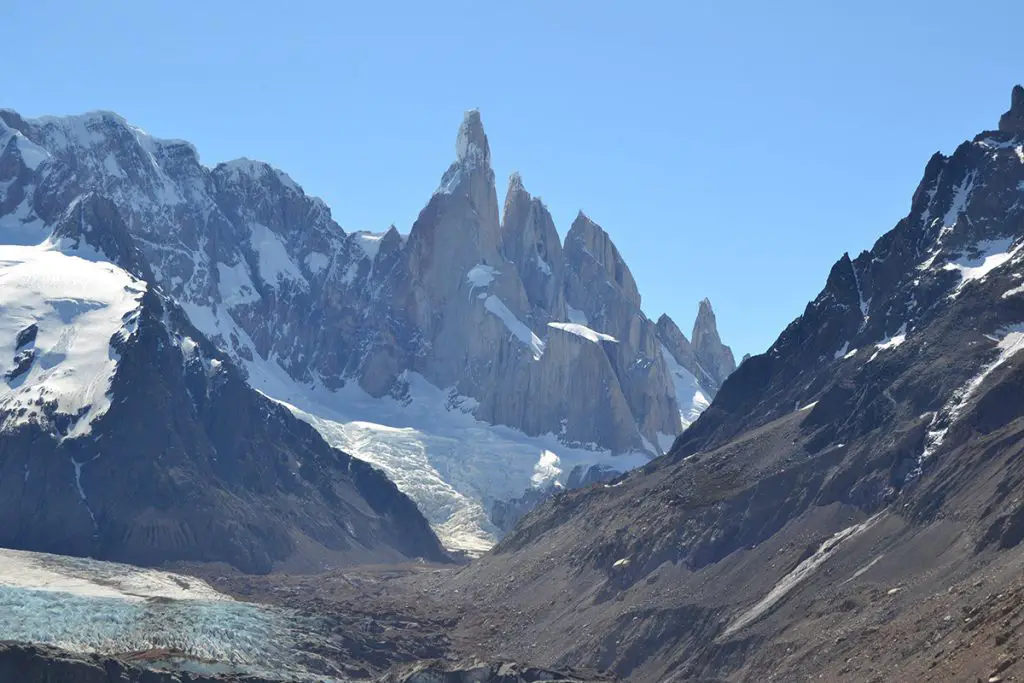 Tips
If you are coming from Buenos Aires or El Calafate it is recommended to take more money in cash, because many places in El Chaltén do not accept debit or credit cards. The city has only one ATM and often during high season money runs out fast.  Besides that overall Mastercards are not accepted in Argentinian Patagonia, most places even charge an extra fee when paying with a card. The best option is to exchange money in Buenos Aires, because the exchange rate is better than in El Chaltén and El Calafate.
Don't forget to bring sun screen, water and food. The sun in this part can be very dangerous and it is good to take precautions.
I recommend you getting an insurance, in case something happens during the trip.
Best Time to Visit Laguna Torre
The best time to visit this amazing place is from October to April. During January and February it can be overcrowded, so you would need a reservation in advance.