Last Updated on 18.07.2023 by Iliyan
It's summer! You cannot come to Plovdiv without trying some good gelato. In the last few years the food scene in Plovdiv has been in rapid expansion, with original restaurants, bars and gelaterias. If you want to try some of the best gelato in Plovdiv, you need to know where to go. That's why I created a list of some of my top 5 places to get the best gelato. All places are focused on quality products and fresh ingredients.
Things to Do in Plovdiv: How to Spend 2 Days
5 Places for the Best Gelato in Plovdiv
These are my favourite places for the best gelato in Plovdiv, after many tastings. I'm happy to recommend all of them, and they are all around the city center.
Afreddo Caffetteria and Gelateria
Afreddo Gelateria is the first gelato shop in Plovdiv, established in 2004. Located next to the main Post Office, which is extremely important for the brand, Afreddo offers a great variety of flavors. Thanks to its motto "quality, service, cleanliness" Afreddo is one of the favorite places to get a gelato in Plovdiv for a lot of people, including me. In addition, Afreddo Gelateria received a special Certificate of Excellence from TripAdvisor, issued for the excellent reviews from customers over the past 5 years.
Afreddo is known for its amazing variety of fruit sorbets as kibana (original mix between kiwi and banana), raspberry, strawberry, mango and others. They create some of the finest ice creams in Plovdiv, but the iconic flavors are: sacher, gianduja (chocolate with hazelnut paste), pistachio. Another flavors which are always in Afreddo's shop display are: natural chocolate, lemon pie, stracciatella, and raspberry. The ingredients are high-quality; everything is made on site. I highly recommend to stop by and try a few flavors – they are all very impressive.
Address: Plovdiv, 2 Gladston Str.

Address: Plovdiv, 8 Perushtica Str. Perushtica Str

8 (Mall Plovdiv – fl. 2)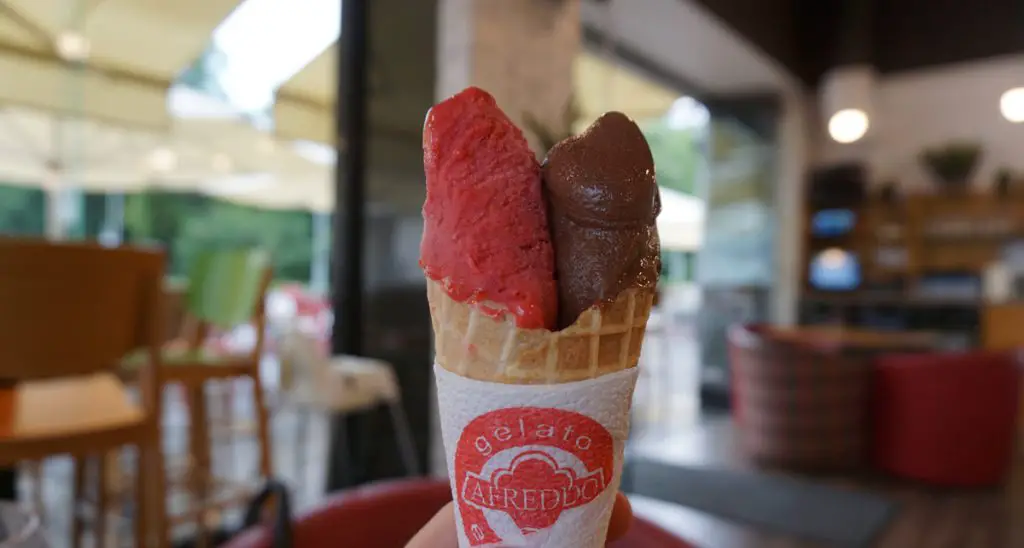 Gelateria Vivaldi
Gelateria Vivaldi is one of my favorite gelato places in Plovdiv. The ice cream here is to die for! For a lot of people, it's among the best gelato in Plovdiv is Gelateria Vivaldi. They offer a large selection of authentic ice cream with some original tastes and lines such as gourmet, different chocolate flavors, sugar-free, alcoholic, keto gelato, as well as a line of sheep's, cow's, buffalo's or goat's milk.
Their use of natural products, most of which are BIO certified, the manual preparation of all types of jam, hand caramelization of all nuts and freshly baked cones means raw materials are of the highest class and are pride of Vivaldi Gelateria. They use fresh milk from different breeds of cow like Holstein (black and white) and Jersey (pale brown), as well as milk from the Lacaune sheep breed, imported from the South of France.
The emblematic flavors are carbonara and blue cheese with citrus jam, but the customer's favorite is the certified PISTACCHIO BRONTE D.O.P. Despite all of these wonderful flavors, I would recommend the amazing Bulgarian rose (Rosa damascena). I've tried around ten flavors, and there's not one that i haven't loved, but the damask rose is just AWESOME!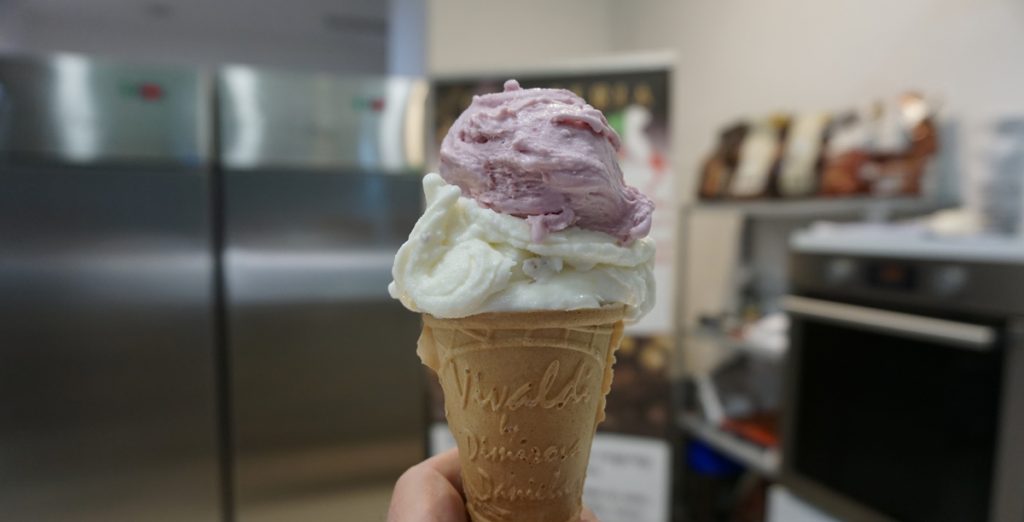 You will find Gelateria Vivaldi in two places in Plovdiv:
Address: Plovdiv, 24 Knyaz Alexander I Batenberg Str. (Excelsior Shoping Mall)

Address: Plovdiv, 2 Dr. Valkovich Str. (near to the main pedestrian street)
Dolce Mela
Another great place for gelato (ice cream) lovers! I have visited Dolce Mela numerous times and have never been disappointed. Dolce Mela is a cozy place in Plovdiv which takes you in the spirit of Italy with its delicious sweet temptations. Seven years ago, this boutique confectionery introduced its customers the term "gelato" or Italian artisanal ice cream. It is distinguished by its authentic recipe, which requires milk, whole cream and natural flavors. Every year, the creators of Dolce Mela treat our taste receptors with improved and new flavors. The gelato is prepared daily by their master confectioners, trained by leading world gurus in gelato industry.
Here, you will find a wide range of different flavors, some of the most popular are: Sicilian pistachios, different varieties of chocolate, cream with figs and caramelized walnuts, as well as the fruit flavors of mango, berry, pineapple and blackcurrant, which do not contain any artificial notes. Dolce Mela introduced for the first time in the city the black ice cream, whose color they prepare with black sesame and only here you can try the exotic taste of vanilla with hemp seeds.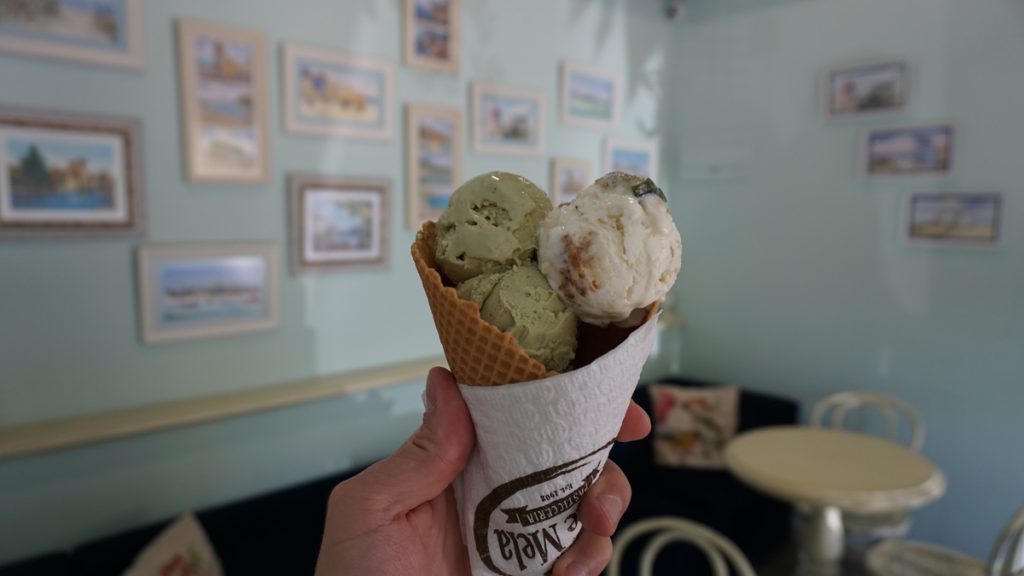 Address: Plovdiv, 34 Preslav Str.
Savini Gelato Plovdiv
If you want to taste a great gelato in Plovdiv you should visit Savini Gelato. The store opened in Plovdiv in 2018, and its creator is a participant in MasterChef Bulgaria, Savina Nikolova. It is described as an artisan ice-cream, prepared with 100% natural ingredients from Bulgaria and abroad, as well as bio-certified cow's milk with first-class animal cream. They import some products directly like organic Bourbon Vanilla Pods from Madagascar, the French chocolate Valhrona, pistachios from Sicily, and organic hazelnuts from Piemont. The sorbets are prepared with fresh seasonal fruits.
Among the most popular flavors are French milk chocolate, gianduja, Savini cream, organic lavender, organic rose, yogurt, raspberry with lychee and melon. Here, you will also find different vegan flavors such as pistachios and salted caramel. Keto coconut and keto hazelnut are sugar-free flavors with organic xylitol, developed for people with special needs.
Address: Plovdiv, 17 Nayden Gerov Str.
Gelateria Leonardo
Gelato Leonardo is another gem for gelato in Plovdiv. The store opened in Plovdiv for the first time in 2018 and since then has become a favorite place for many people of Plovdiv and guests of the city. The ice cream is made entirely by Italian technology, using only raw materials from Italy, except the milk. The consistency of Gelato Leonardo ice cream is creamy and soft. Only here you can try the famous Charcoal Ice Cream (Black Diamond). In addition, there are different flavors with hazelnuts and pistachios with stevia, which are keto ice creams designed for people who do not consume sugar, diabetics, etc. Gelato Leonardo's display also features original flavors such as Leonardo, Michelangelo, Raphael and Donatello.
Address: Plovdiv, 25 Rayko Daskalov Str.