Last Updated on 10.06.2020 by Iliyan
San Pedro de Atacama is a popular destination with many tourist attractions. Find out what to see and do with 3 days in San Pedro de Atacama, Chile.
San Pedro de Atacama is surely one of the most unique and amazing places I have ever visited. This small town is located approximately 2400 metres above sea level in the dry plateau of Puna de Atacama. In the middle of a desert, this is one of the driest places in the world and home to geysers, volcanoes, salt lakes, lagoons, and a variety of unique rock formations. Without a doubt, San Pedro de Atacama is one of the most beautiful regions on the planet and if you go to Chile you need to definitely visit this truly magnificent place.
How to Get to San Pedro de Atacama?
The distance from Santiago to San Pedro de Atacama is 1680 km. There are a few ways to get there:
The main airlines operating in Chile are LAN, Sky Airlines, and JetSmart. I flew from Santiago to San Pedro de Atacama with JetSmart and I paid CLP 15 992 (≈ €20.00) for a one-way ticket, purchased exactly 4 weeks before the flight.
Flying is the fastest and easiest way to get to San Pedro de Atacama from Santiago. The trip takes about 2 hours by plane. However, before booking an air ticket you need to know that the closest airport to San Pedro de Atacama is located in Calama, which is 100 km away, but you can easily get a direct minibus, operated by Transvip, from the airport, for a price of CLP 12 000 (≈ €15.00).
Another option is to get a bus or a taxi from the Calama airport to the city of Calama and from there get to San Pedro de Atacama by bus. Different companies like Tur bus, Pullman bus, Géminis carry out different trips.
Another option is to take a taxi, which will get you directly to San Pedro de Atacama, but I would not recommend it, unless you are travelling in a group of 4-5 people, because it costs around CLP 30 000 (≈ €37.50).
Travelling by bus takes an extremely long time. The distance from Santiago to Calama is about 23 hours. Despite that, it is a great way to see the beautiful landscape of the country. Most busses are double-deckers, very comfortable, and of a high-quality. The main bus companies are Pullman, Turbus and Condor. Depending on your budget, you can choose a seat that reclines (semi cama) or (salon cama), which reclines even a bit more and is a bit wider.
Also, you can ask for a direct bus from Santiago to San Pedro de Atacama, which will save you a lot of trouble and time, as these make much less stops than regular bus routes.
Note: If you book in advance you will most certainly get a better price, but bear in mind, that during high season, the prices drastically increase.
The advantage of travelling by car, is that you will have the opportunity to get off of the beaten track and will be able to take your time. However, the distance is very long and can be quite tiring, so for this reason, I would not personally recommend it.
What to See and Do With 3 Days in San Pedro de Atacama
For this 3 days in San Pedro de Atacama itinerary, I have included almost all the must-see sights. There is a multitude of incredible places in the Atacama Desert area to see. Every day, local companies offer many half and one-day sightseeing trips to visit different natural wonders. During my stay in San Pedro de Atacama, I visited some of the most popular ones (The Altiplano Lagunas, The Moon Valley, Hidden Lagoons), others were closed to visitors at that time. There is no need to book anything in advance before arriving, because the main street is full of different tour operators' offices, who will be competeing for your business. Don't forget to ask for a discount, when booking two or more trips, as it is a very common practice.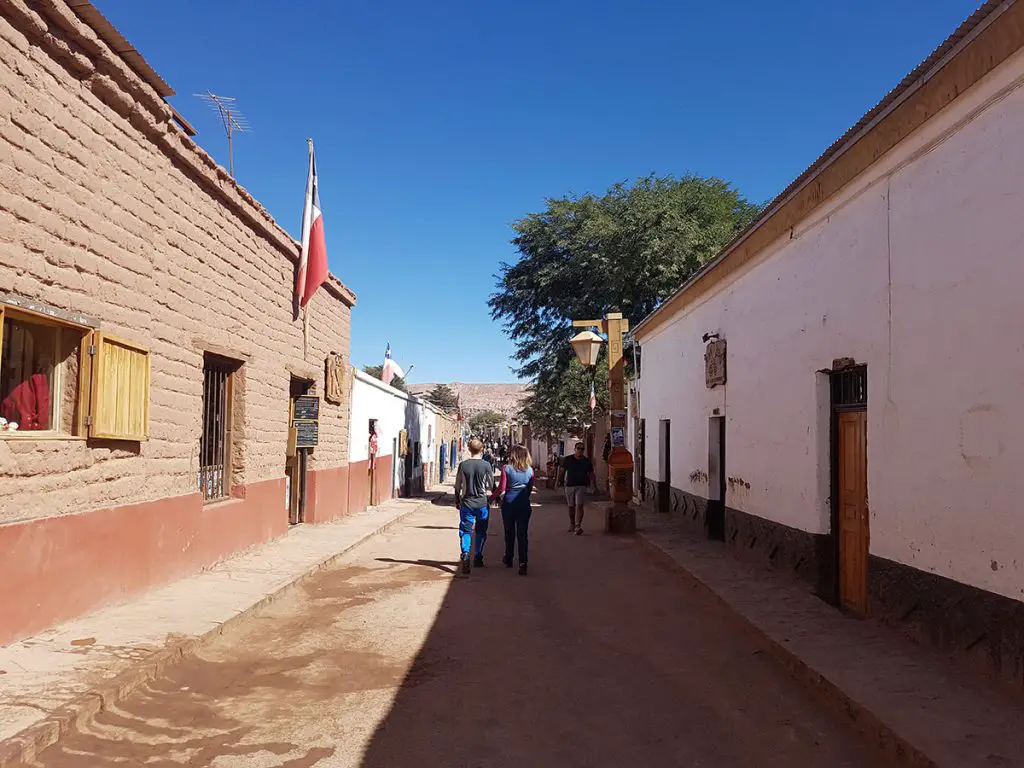 A trip to the Altiplano Lagunas was the first one I took in the San Pedro de Atacama region. It included a visit of a series of interesting landmarks, like the famous rock salt mines and lagoons filled with Chilean flamingos.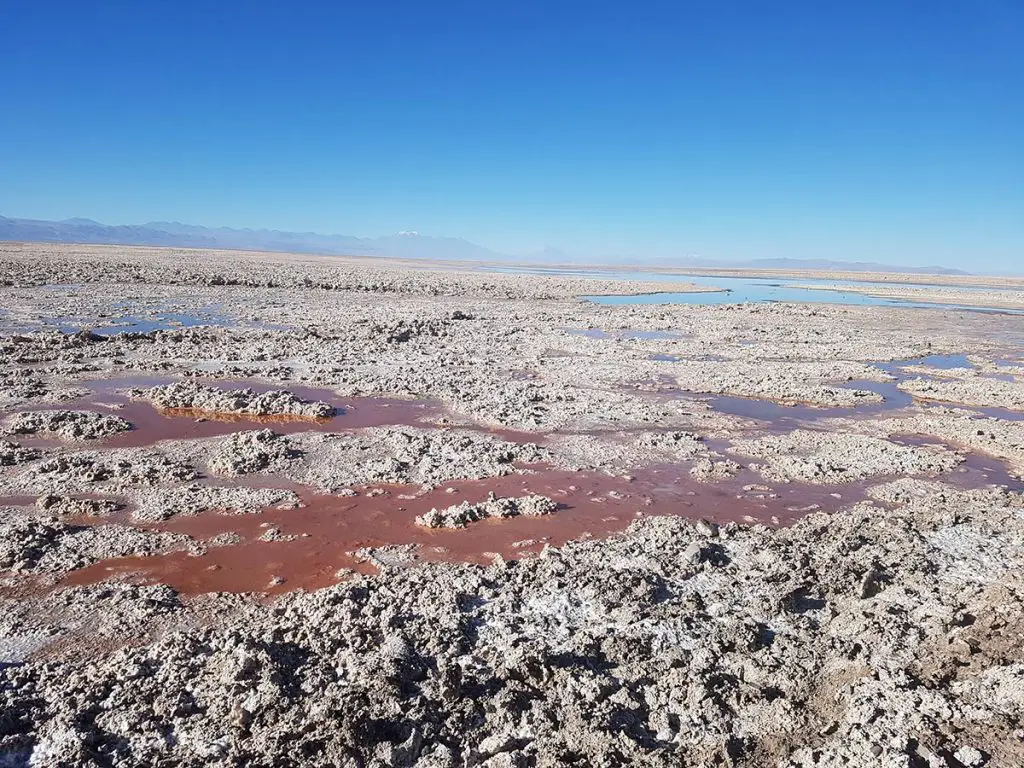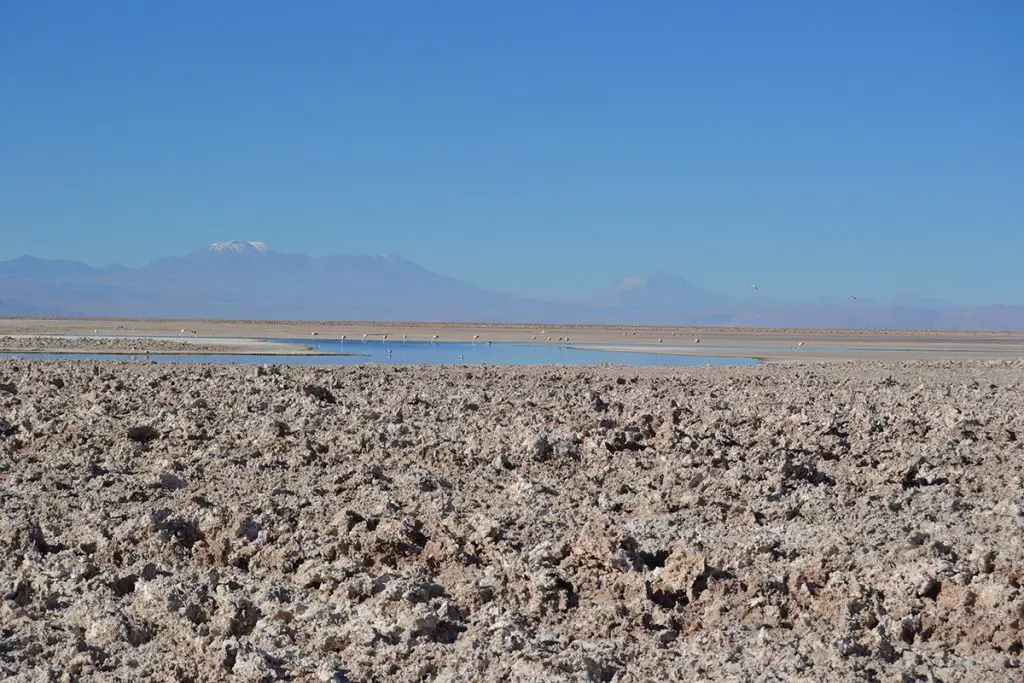 Laguna Chaxa
The first lagoon along the way, Laguna Chaxa, is part of the national reserve, Los Flamencos, which is located in the middle of Salar de Atacama. It is located 2300 meters above sea level, divided into a few lakes, and is surrounded by salt flats. Unlike the salt flats in Uyuni, Bolivia, here they are uneven and brownish. The reason for this is the smaller amount of precipitation received in this part of the world. You can also observe flamingos in their natural habitat here.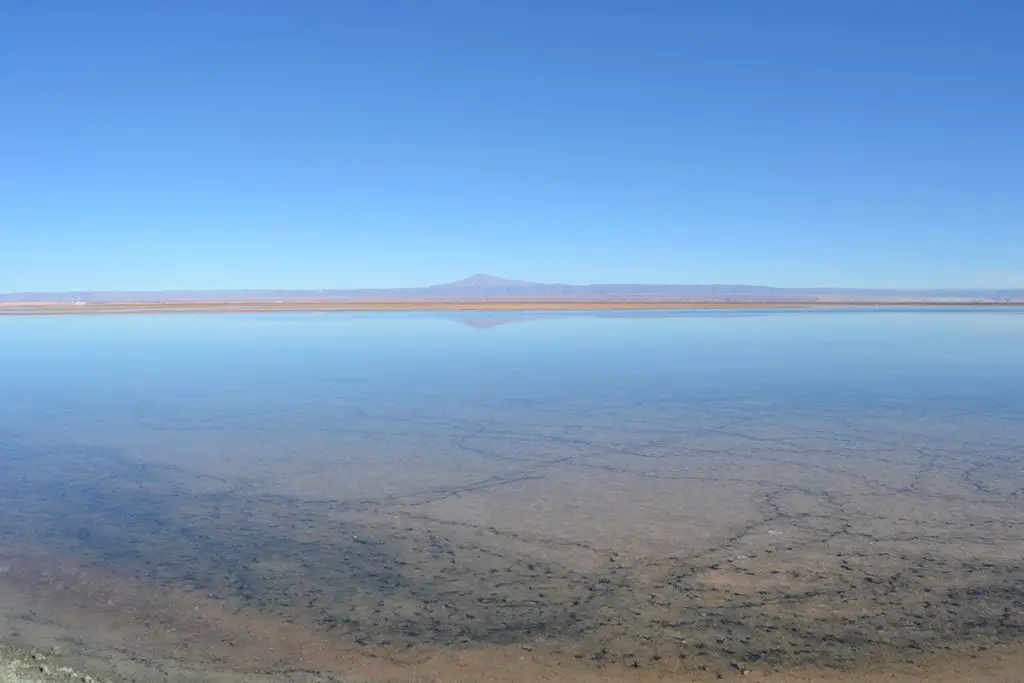 Even though, this is one of the driest places in the world, the way these lagoons are formed is interesting: the Salar de Atacama makes up the lowest part of a large, closed hydrological basin and therefore, all the groundwater which comes into this lagoon to refill it, originates as rain which falls on the Andean Plateau. Part of this rain seeps through and flows underground towards the lower parts of the basin, and the rest is discharged though the San Pedro and Vilama rivers. As the region's lagoons are landlocked, water is only lost through evaporation. This process favours the continuous accumulation of salts, which have been accumulating here for several million years, transforming what originally was a large lake into the vast Salar de Atacama.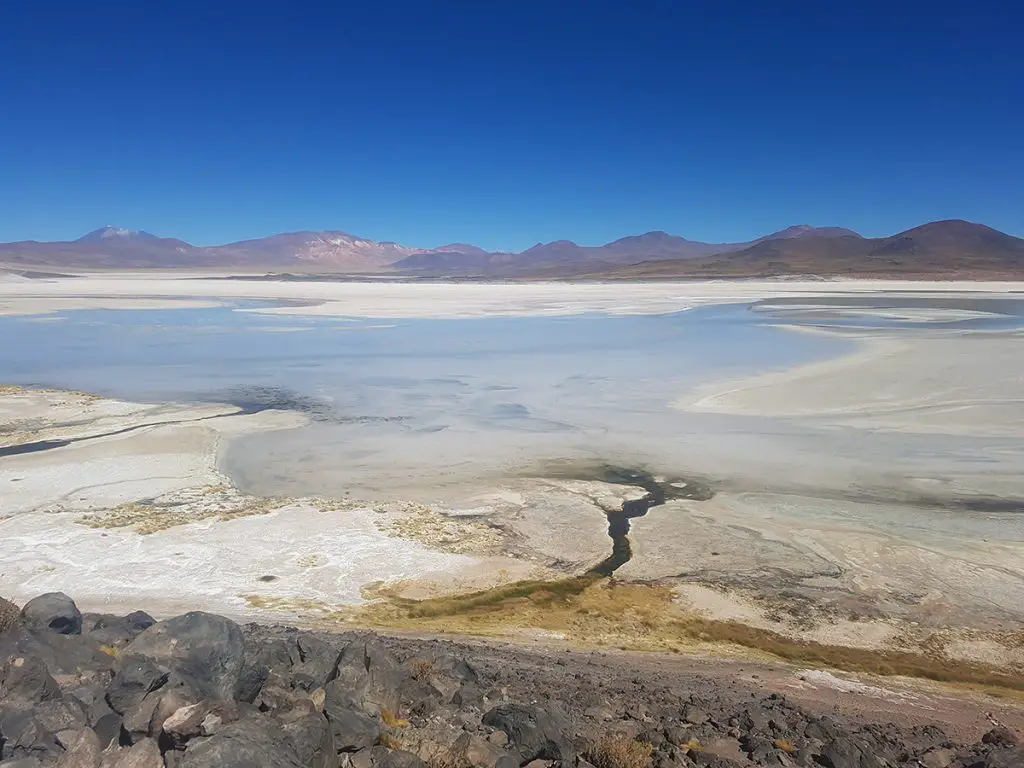 Miscanti and Miñiques
Without a doubt, the Altiplanic Lagoons of Miscanti and Miñiques were the cherry on top of the cake of this one-day trip. No photo or video can convey the incredible beauty of the nature here. These are located close to each other, at about 4200 metres above sea level. They are incredibly picturesque and the surroundings with the volcanoes make your breath stop. These two lagoons were once joined as one, but later divided due to volcanic activity. In this area you can see many wild animals like guanaco, lama, vicuña, flamingo, and several others.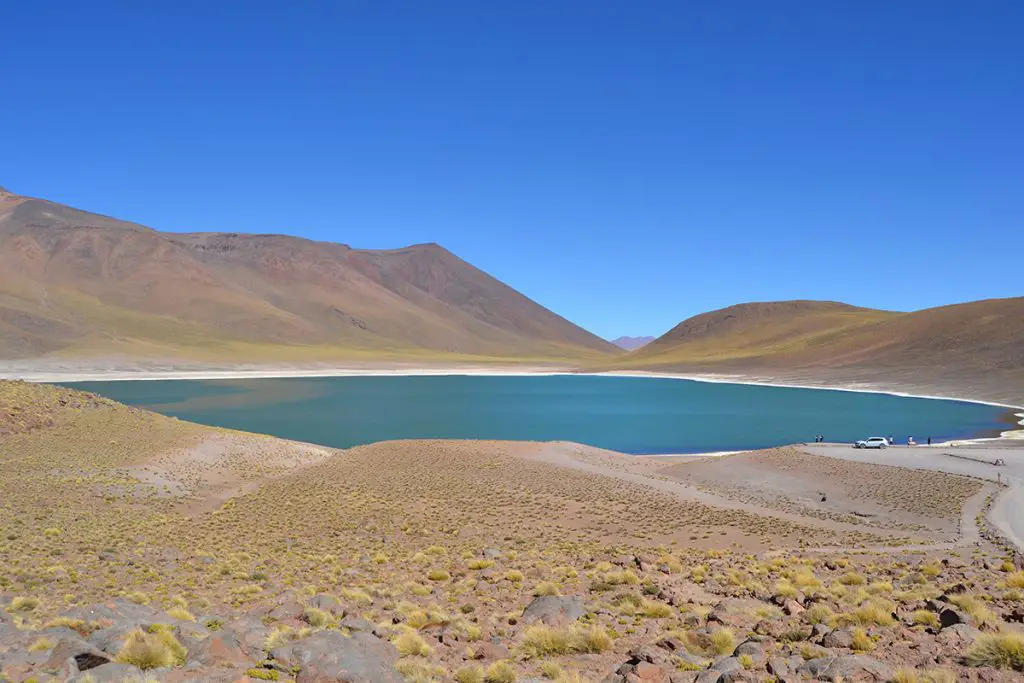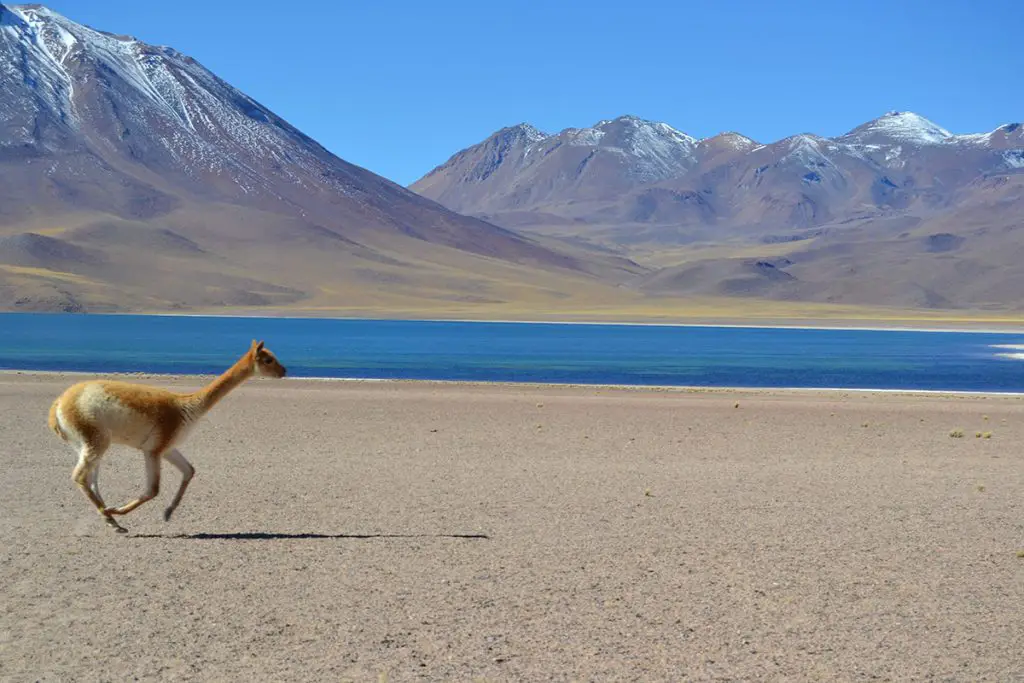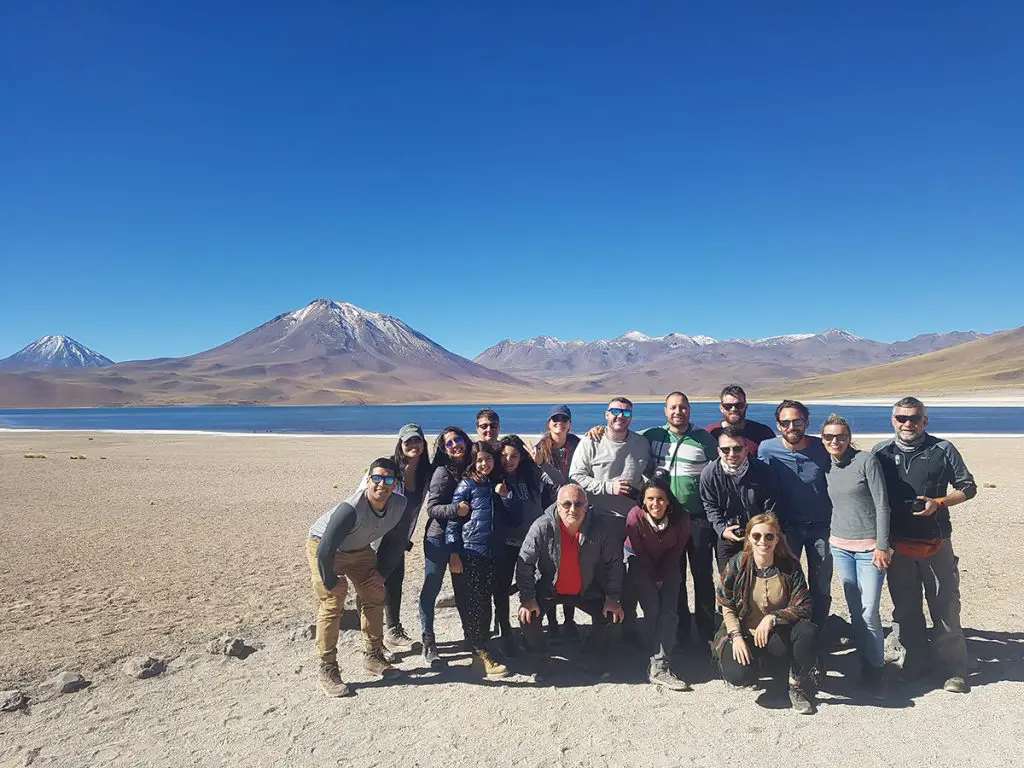 Socaire
During the tour, you will stop at the tiny villages of Toconao and Socaire. Socaire is located at 3 500 metres above sea level and is about 90 km away from San Pedro de Atacama. Here you will see an incredibly old church, where you will learn more about the history and life in this part of Chile. The local economy is dominated by the plantations of fruit trees, quinoa, alfalfa, and corn.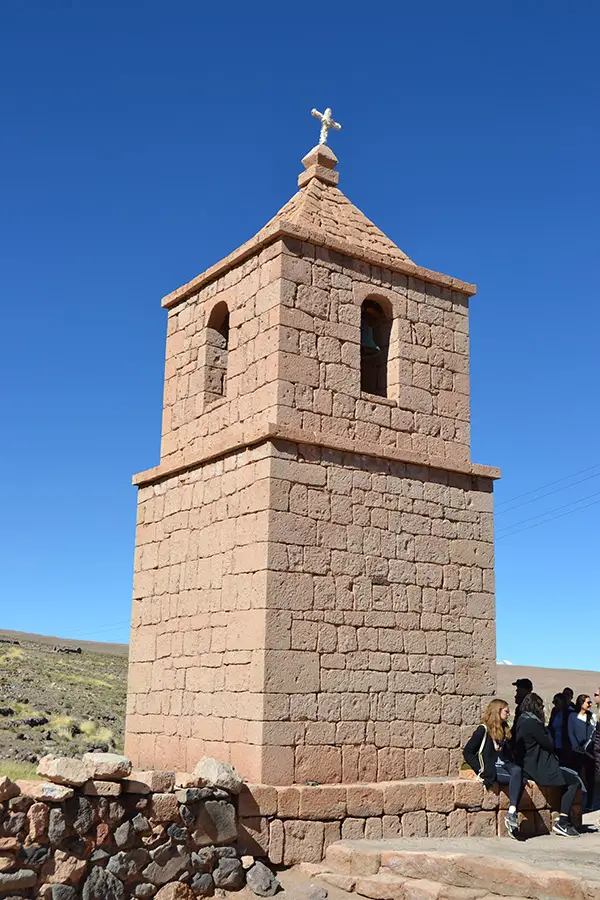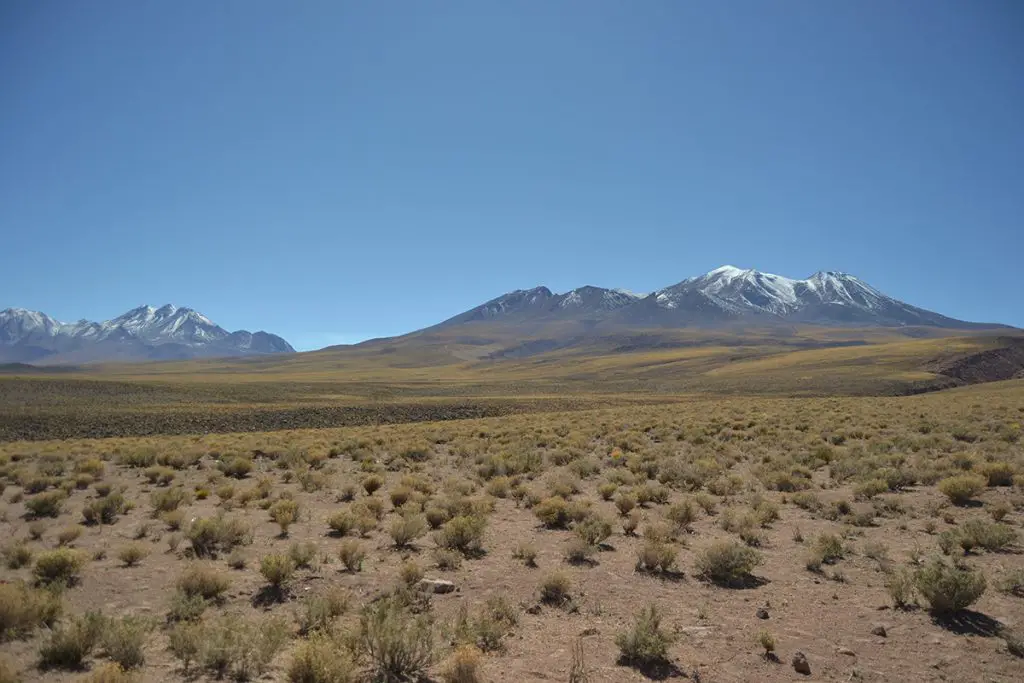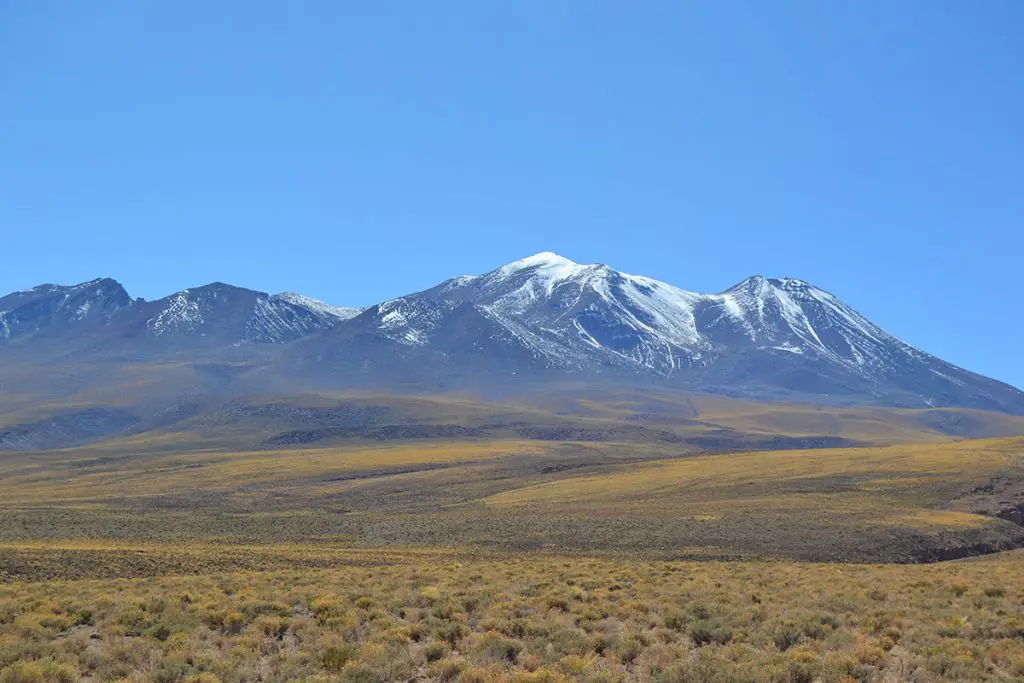 A one-day trip starts at 07:00 and finishes around 17:00. The price is CLP 35 000 (≈ €44.00).
Additional expenses: Entrance fee for Laguna Chaxa – CLP 2 500 (≈ €3.20); entrance fee for the Miscanti and Miñisque lagoons – CLP 3 000 (≈ €3.80).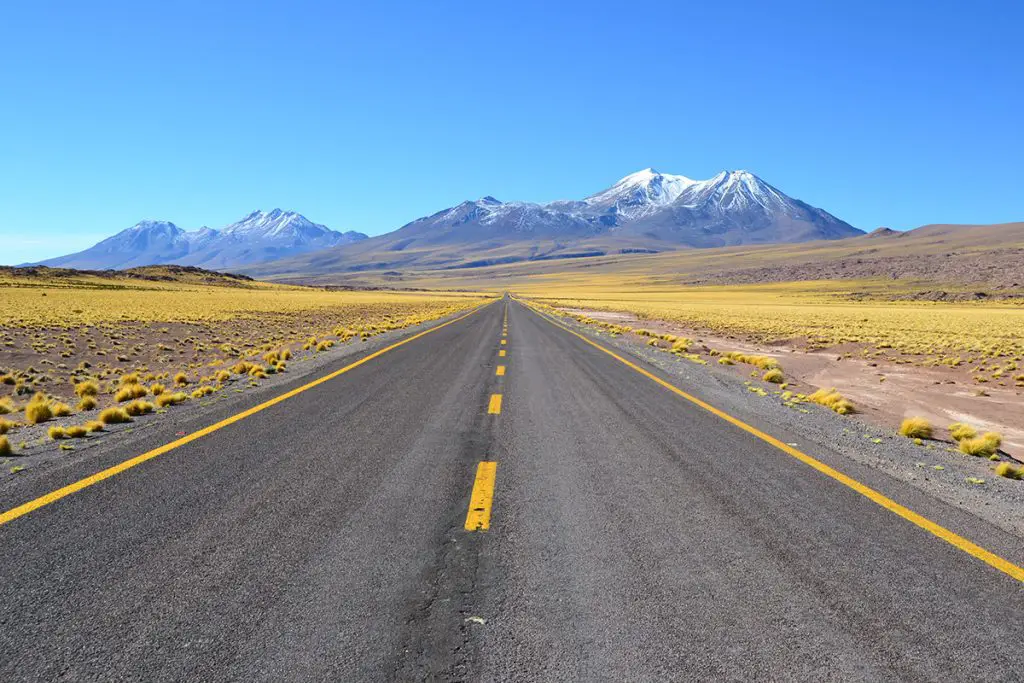 The Moon Valley (Valley de la Luna)
It is located only 5 km away from the town of San Pedro de Atacama. The surroundings are full of sharp rock hills, covered in salt, sand dunes, as well as numerous smoking volcanoes, and other interesting formations. It's no wonder it's called "Valley of the Moon" due to its incredible likeness to the Moon's surface. The best time to visit is before sunset, when the sun colors the horizon in amazing shades. You will enjoy an amazing view of the Andes. This is what all of the local agencies emphasize when organizing trips. During the trip, you will stop in a few times in the park to have a closer look at some of these landmarks: Valle de la Luna, Valle de la Muerte, Las Tres Marias, El Cañon and Mirador Piedra del Coyote.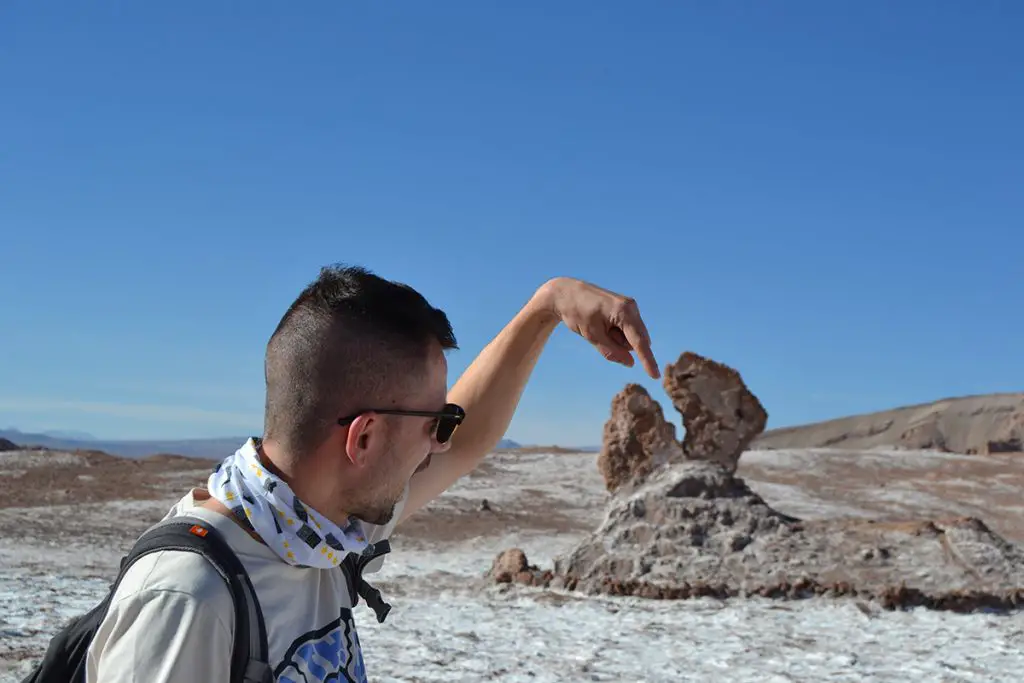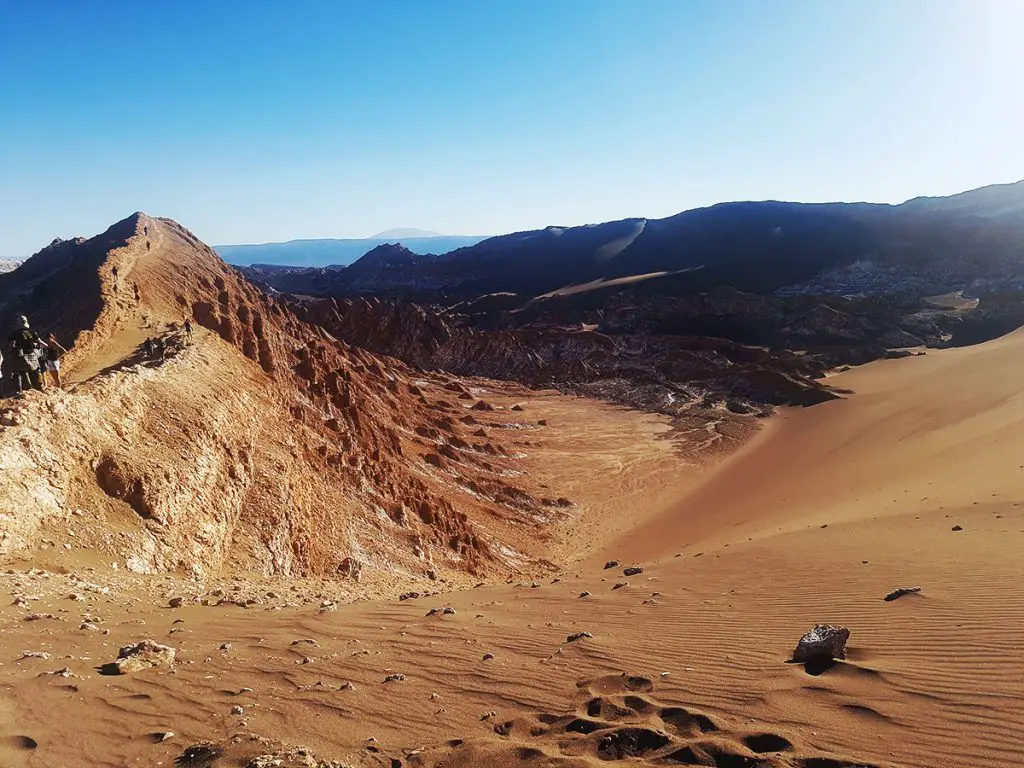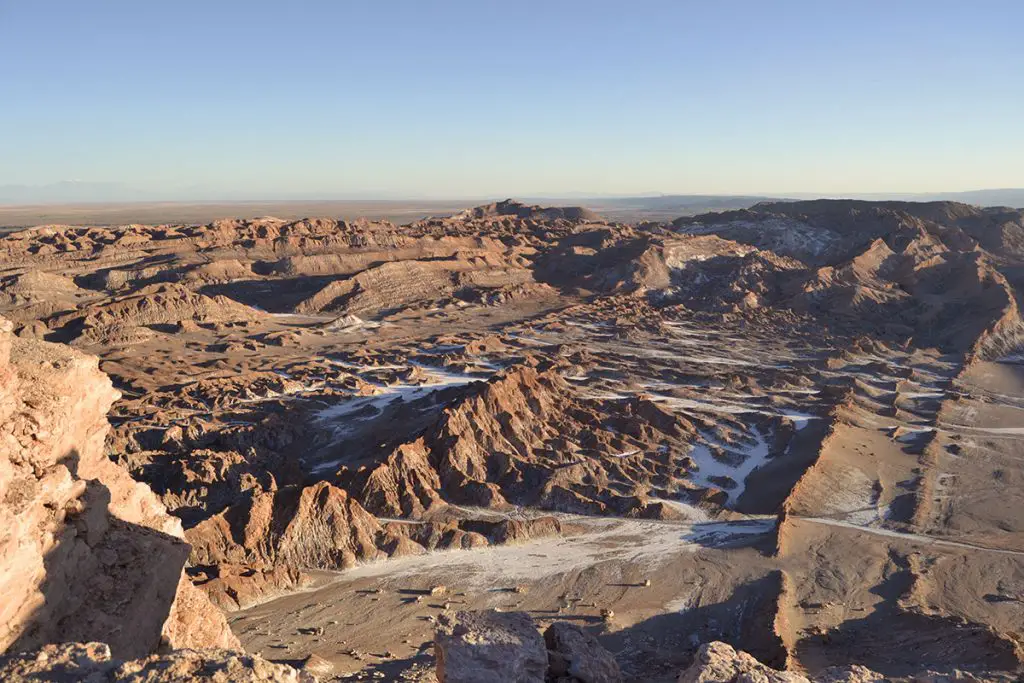 You can visit the Moon Valley in an organized group or on your own, if you book a car or a bike.
The price of the organized trip is CLP 14 000 (≈ €17.50) and it starts at 15:00 until 19:00. The entrance fee is CLP 3 000 (≈ €3.80).
Don't forget to take sunscreen, a hat, sunglasses and a bottle of water with you.
Hidden Lagoons / Baltinache Lagoons
This trip would have never had happened if it were not for the originally planned stop at Laguna Cejar being closed for visits. These beautiful virgin lagoons are a complex of 7 salt lagoons, located in the Atacama desert. They are a bit far from each other, and swimming is allowed in two of them. The view of the lagoons and the surrounding mountains (Cordillera de la Sal) creates a surrealistic view.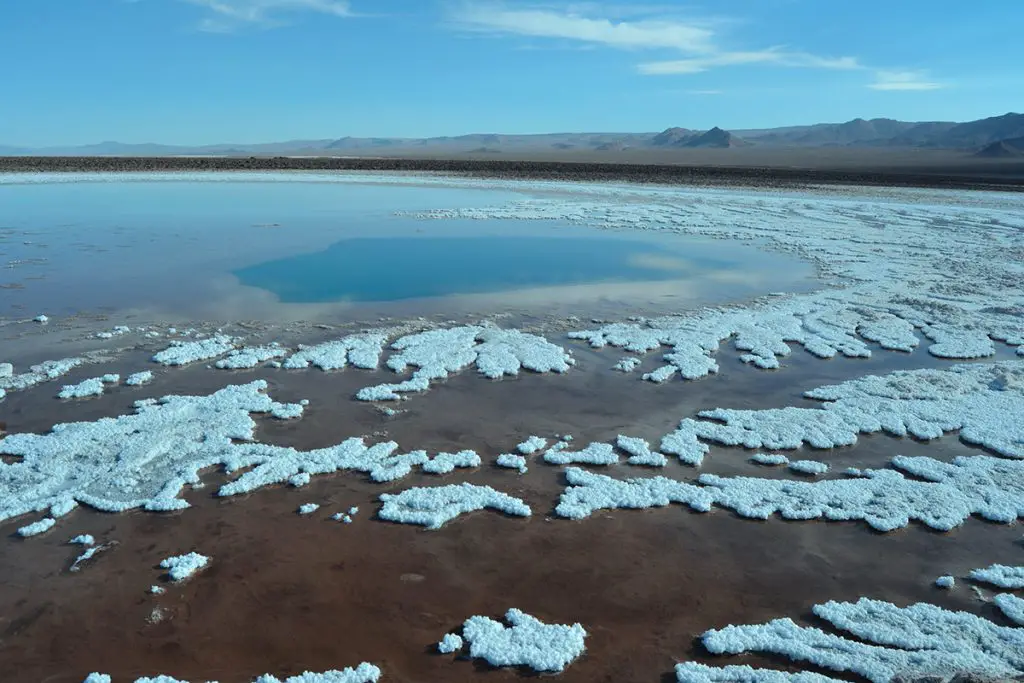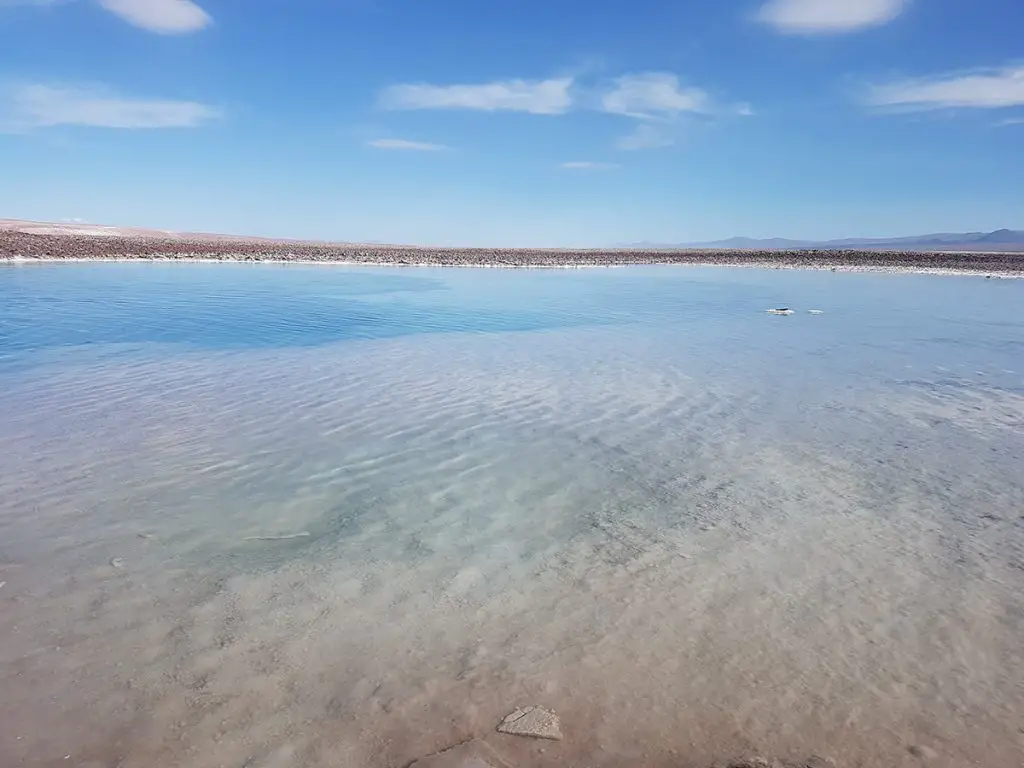 The price of the trip is CLP 22 000 (≈ €27.50) and starts from 14:00 until 20:00. The entrance fee is CLP 5 000 (≈ €6.30).
This is the third biggest geyser field in the world and the biggest in the Southern hemisphere. It is 4320 metres above sea level. The El Tatio trips are carried out very early in the morning, when the ground is cold and the first sun rays shine. Usually they start around 04:30 – 05:00 and finish around lunch – 12:00.
The price of the trip is about CLP 25 000 (≈ €31.20), and the entrance fee is CLP 10 000 (≈ €12.50).
How Long to Spend in San Pedro de Atacama?
I would say that 3 days in San Pedro de Atacama are enough to see all of the main landmarks. If you have more time, you can stay a few more days to visit the further located less popular places. Most trips are in the morning and in the afternoon. You can organize two per day, but you have to make sure the times don't coincide. The morning ones usually start around 06:00 – 07:00 (except El Tatio, which starts at 04:30), and the ones in the afternoon between 14:00 and 15:00.
Where to Exchange Currency?
San Pedro De Atacama has only a few ATMs and during weekends, and high season, they are almost always out of cash. Card payments are not accepted anywhere, so having cash handy is a must. If you have international currency you can exchange it at the GAMBARTE near to the main street, which offers the best exchange rates.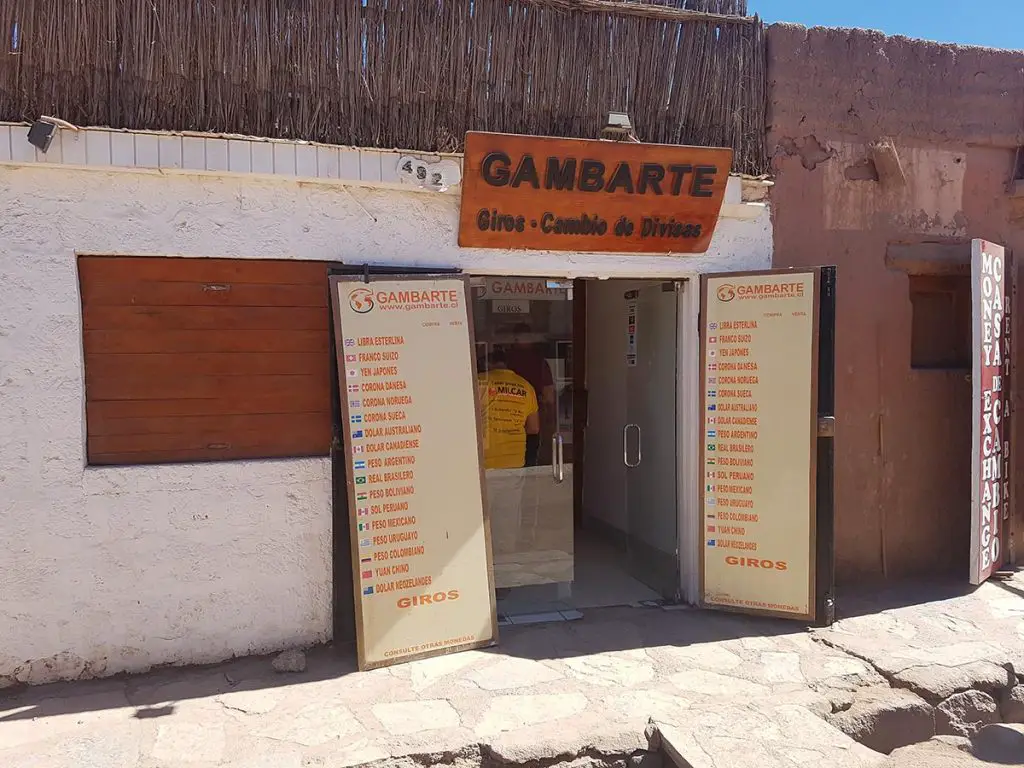 Best Time to Visit San Pedro de Atacama
The weather in San Pedro de Atacama is suitable throughout the whole year. Most tourists come in January and February, followed by April and November, and the fewest come during the winter months – July and August. During high season, the prices of both hotels and flights are at their highest, so plan your trip in advance.
Places to Stay in San Pedro de Atacama
Because of the huge number of tourists visiting this region, there are many accommodation options. From simple hostels to fancier hotels, there is something for everyone's tastes and budgets. They will be easy to find once there, but as usual, booking in advance always provides peace of mind.
This is the place, where I stayed and I was very happy with the conditions. The room was spacious and cozy, and the beds were comfy. The staff was very helpful and friendly. I booked all of my trips from here and I received huge discounts for them.
A swanky, comfortable hotel, located in the centre of the city, with everything necessary for a perfect stay. Free breakfast is included in the price.
In my opinion, this hotel offers the most desirable amenities in San Pedro de Atacama with a pool, SPA center and a restaurant, if your budget allows and you will return to your hotel every evening. All rooms have their own terrace with a view of the desert. The price includes breakfast, lunch and dinner.