Last Updated on 07.09.2023 by Iliyan
With only 2 days in Hong Kong you have to choose your itinerary carefully. So here's a quick overview of an ideal 2 days in Hong Kong with my recommendations of places to visit.
Hong Kong is one of the most popular travel destinations in Asia. It is one of the most vibrant, exciting, and lively cities in the world. It has a great mix of east and west, when it comes to culture, shopping, architecture, and endless amounts of restaurants. There's so much to see and do in the city of skyscrapers and lights. However, it is almost impossible to get bored in Hong Kong.
About Hong Kong
Hong Kong is a former British colony with a special status – they have their own borders and currency. It literally means "fragrant harbour". It is a charming mix of Chinese and British influence, and even the traffic is backwards. In 1997 it was returned to China, even though the citizens of continental China need visas to visit Hong Kong. Hong Kong is located on a little bit more than 1000 square meters and it is one of the most densely populated areas in the world with more than 7 million people.
Getting Around Hong Kong
Getting around the city is pretty easy using just the MTR. The transport system is well-connected. The most important thing upon arrival in Hong Kong is purchasing an Octopus card. It is a rechargeable card, with which you can pay on public transport (MTR, buses, minibuses, trams and ferries), in all the big stores, in restaurants, supermarkets, vending machines and etc. It's very convenient and you don't need to buy a ticket every time.
Languages and Currency in Hong Kong
The official languages of Hong Kong are Chinese and English. Most of the locals speak Cantonese, which is a dialect of Chinese. The official currency of Hong Kong is the Hong Kong dollar (HK $).
2 Days in Hong Kong: Attractions
If you only have 2 days in Hong Kong, let's make the most of it. You have enough time to explore all the city's main iconic sights. Hong Kong boasts of stunning views, many attractions, world-class restaurants, shining buildings, and plenty of shopping options.
Ngong Ping 360
5.7 km the Ngong Ping 360 Cable Car ride over mountains, seas and islands. You can even see the new Hong Kong airport, which is separated on an independent artificial island, and the new Hong Kong–Zhuhai–Macau Bridge. This cable car will take you to the Big Buddha (Tian Tan) and Po Lin Monastery. Some cabins are designed with a glass (crystal) floor so the tourists can observe the magnificent view below them from a bird's eye view. I recommend taking a crystal cabin at least one way. The ride takes about 20-25 minutes one way and be ready to have your picture taken.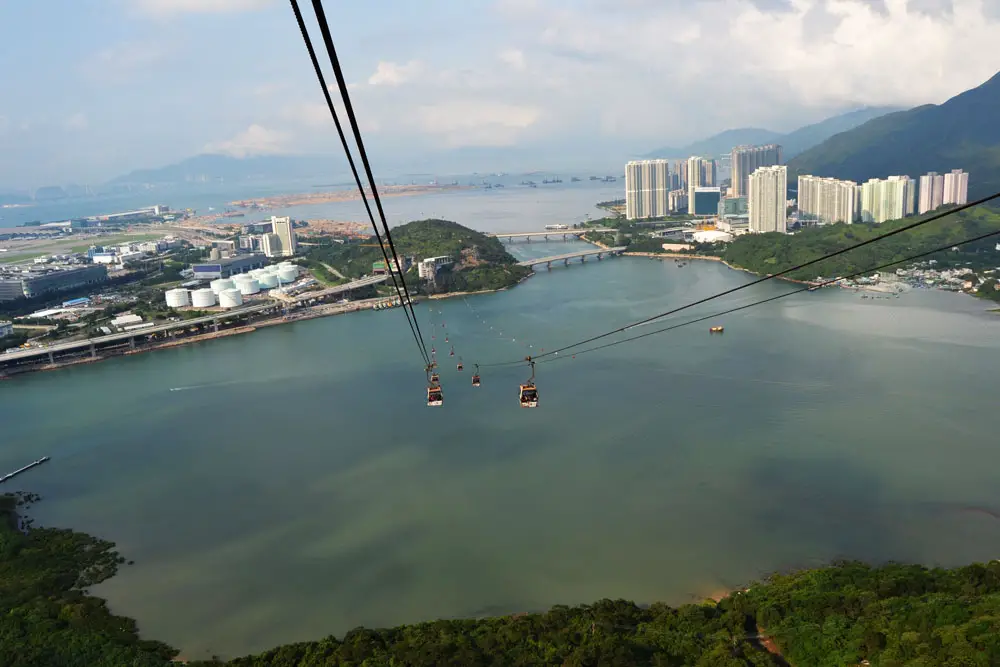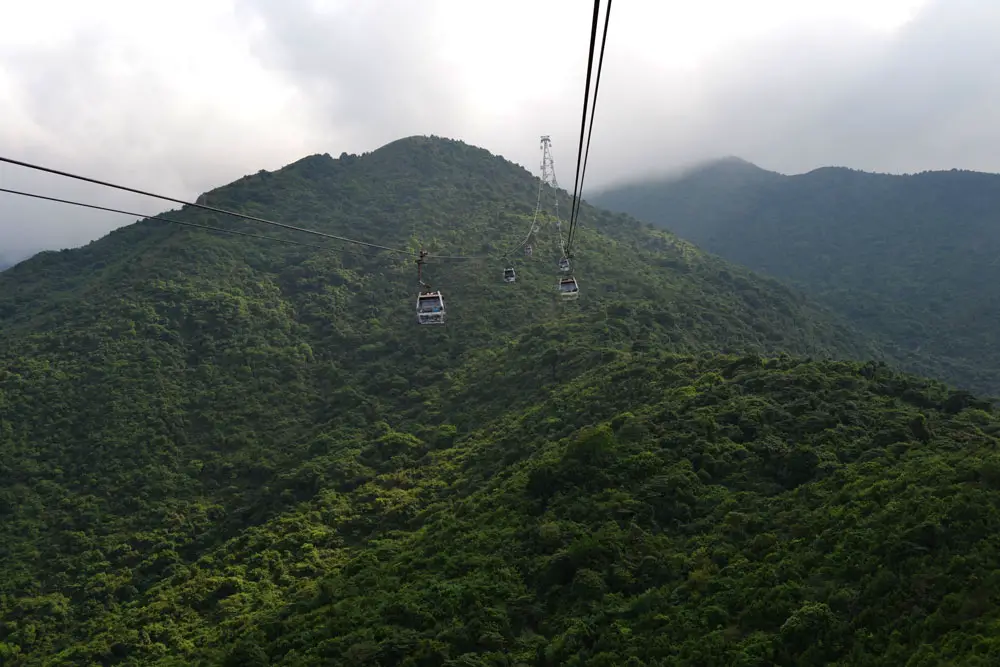 Tian Tan Buddha (Big Buddha)
This is the biggest bronze Buddha statue in the world, 34 metres tall and weighing over 200 tonnes. To climb to the foundation of the Big Buddha you have to climb an extra 268 rock stairs. On the way you pass through a street with different stalls and craft shops. To our misfortune a bit before we climbed up it poured heavily and an incredibly thick fog set, which stopped us from enjoying the beautiful view to its fullest. We still managed to see the statue for a bit, because the fog was covering its head.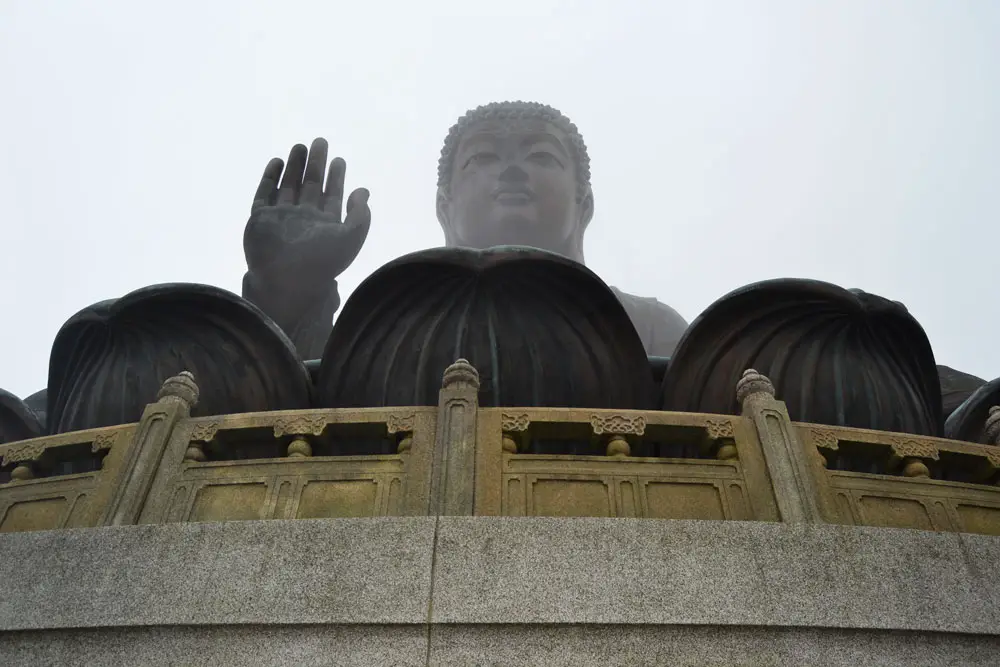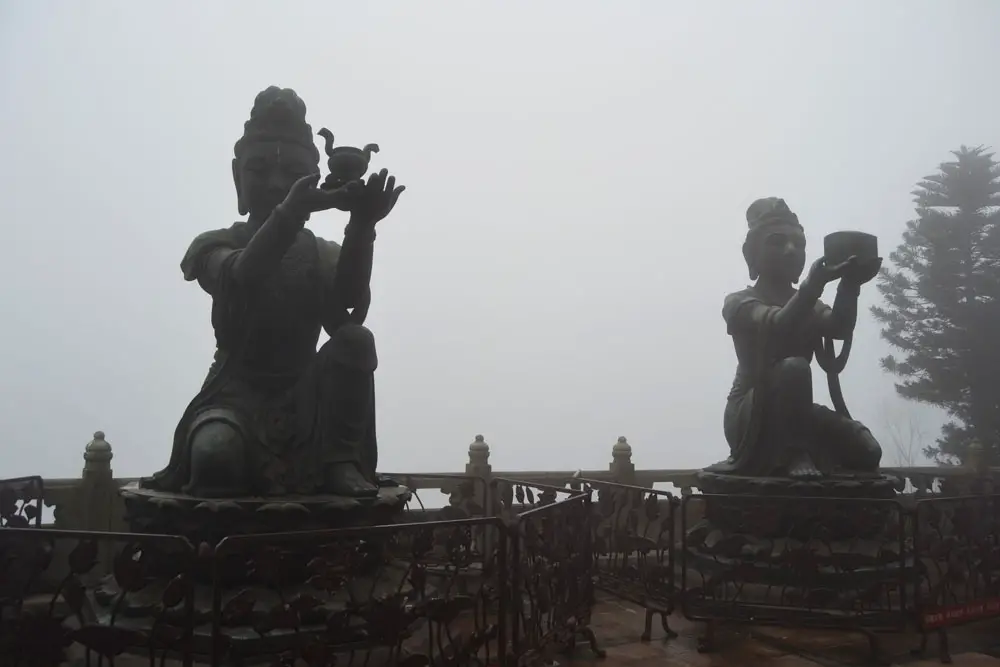 A Symphony of Lights
The Symphony of lights show is one of the most famous attractions in Hong Kong. Every night exactly at 20.00 there is a light show, where 40 buildings get "drawn" in colorful light and laser beams, synchronized with music. This is the biggest permanent light and sound show in the world and because of this it is a part of the Guinness world records book. The magical combination of light beams, lasers and music is completely free. The whole performance lasts about 15-20 minutes.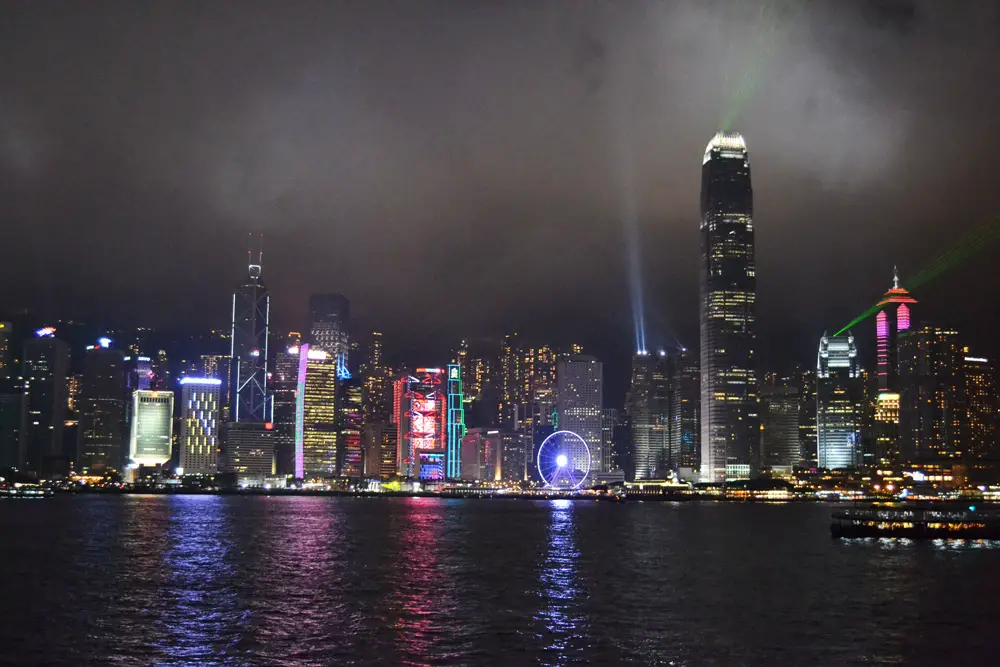 Victoria Peak
Victoria Peak is the place from where you can get the best view to the city, and it is a must visit while here. The best way to get to the top is by way of the historic Peak Tram which started running in 1888, and it is maybe the most long-lasting symbol of Hong Kong's unique past. It offers an unforgettable experience of travelling with one of the oldest trams, moving between 4 and 27 degrees. Another alternative is by bus.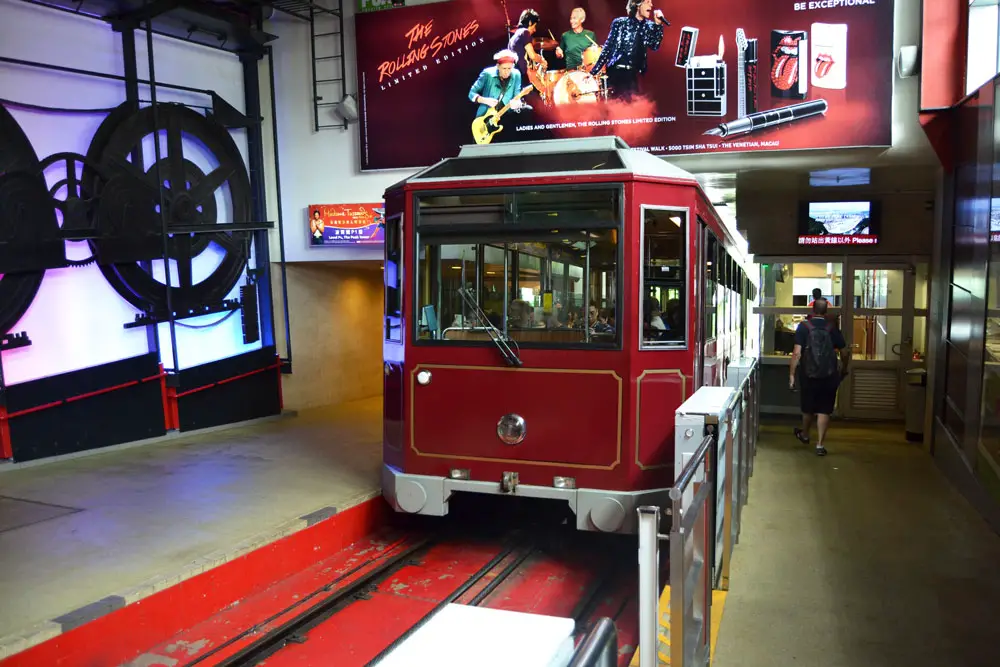 Towering at 428 meters above sea level, Sky Terrace 428 offers an incredible 360 degree panoramic view of Hong Kong. There are almost 8000 skyscrapers in Hong Kong and it has no competition in the world by number and for this reason Hong Kong is often called "The Manhattan of Asia".
The Hong Kong Observation Wheel
The Hong Kong wheel is a 60 metre Ferris wheel. It offers a marvellous view day and night to Victoria Harbour. The wheel has 42 luxury gоndolas (including one VIP gondola) that have from 8 to 10 seats. Every gondola is equipped with air conditioning and free Wi-Fi. The special VIP gondola includes leather seats and a crystal floor. Every trip takes between 15 and 20 minutes.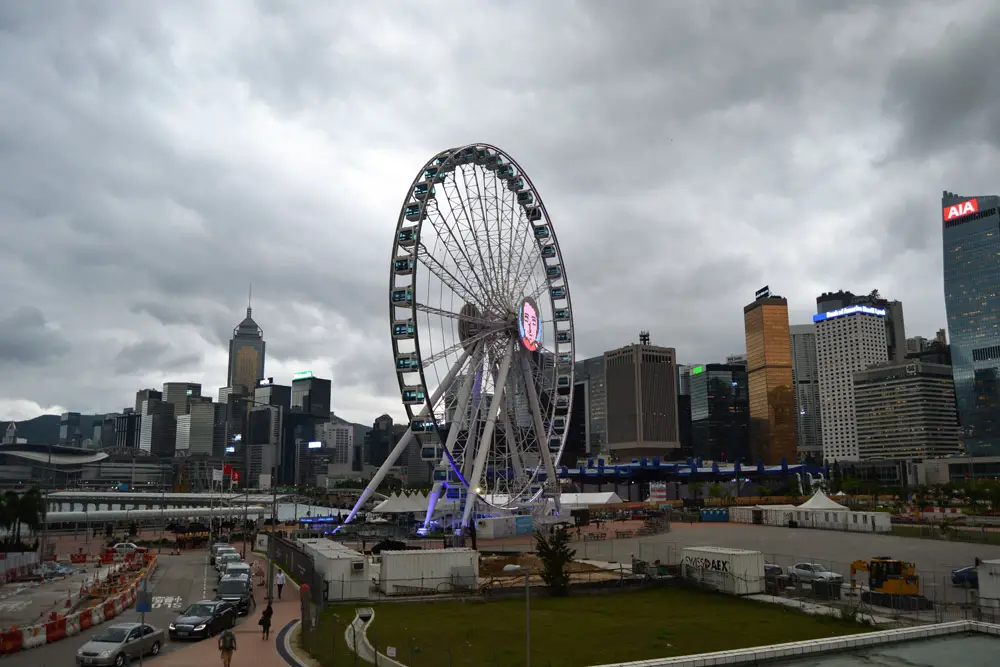 The Avenue of Stars
The Avenue of Stars honours celebrities of the film industry that helped make Hong Kong the "Hollywood of the East". The Avenue of Stars is similar to the Hollywood Walk of Fame, a 400 metre long alley with prints of many Chinese film stars and a statue of Bruce Lee. The Avenue of Stars offers excellent views of the beautiful Victoria Harbour and the wonderful skyline across the water.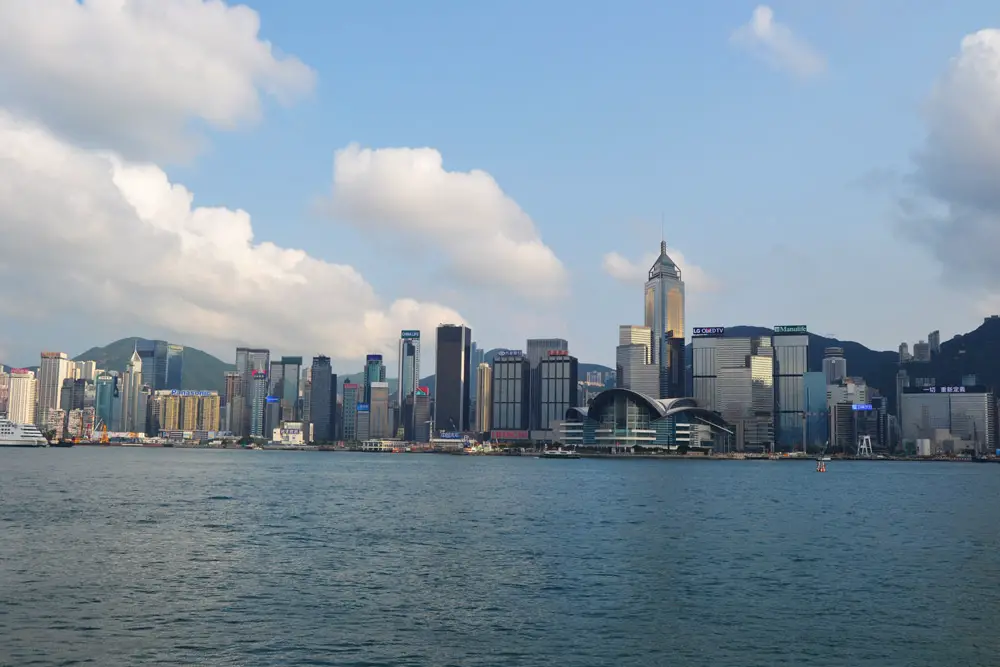 From then we continued on to Tsim Sha Tsui, known as "shopper's paradise". There are many shops, shopping malls, restaurants and administrative buildings located in the area.
Where to Eat in Hong Kong?
I highly recommend visiting one of the most affordable Michelin Star restaurants in the world – Tim Ho Wan (Central) restaurant. The food is yummy and the prices are very reasonable, but there are many people, so you'll need to queue up. We waited about 25 mins to get a table. Once seated the service was fast.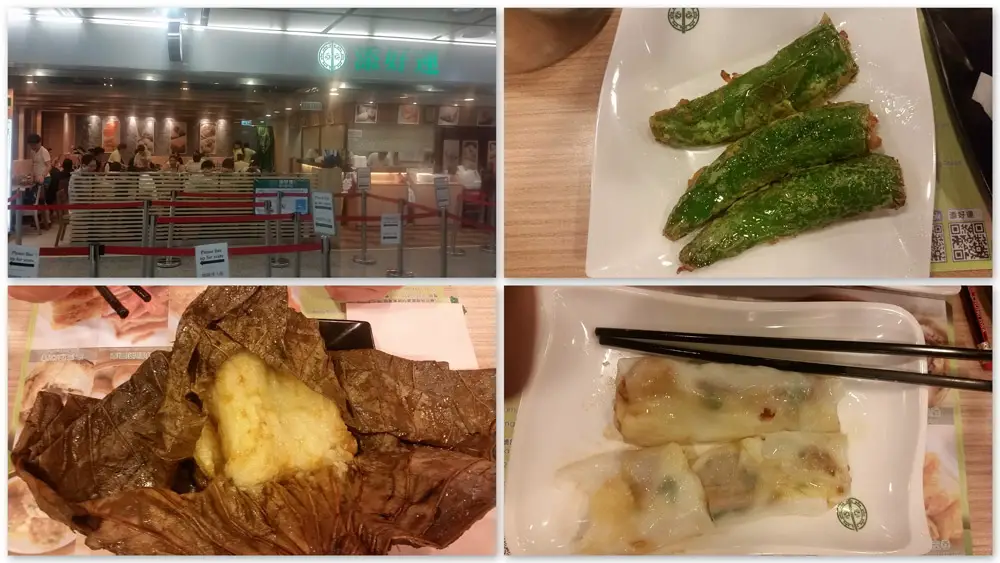 Take a day trip to Macau
Macau is absolutely worth visiting from Hong Kong if you have a spare day. Macau is a Special Administrative Region of China that was a Portuguese territory, so don't forget to check the visa requirements. Macau is incredibly unique and energetic. It is most famous as a gambling hub and it is the world's biggest gambling center.
Disclosure: This post contains affiliate links. If you click on certain links within this post and make a purchase, I receive a small commission at no extra cost to you. Thank you!