Last Updated on 18.01.2023 by Iliyan
Have you ever heard of Chongqing? I bet you haven't. When it comes to the biggest cities in the world, most people talk about Tokyo, Delhi, Shanghai, Mexico City, etc. But there is a city that could beat all of them. It's name is Chongqing. And, in this post, I'm gonna show you some of the best attractions to visit in Chongqing.
Facts About Chongqing
Chongqing is a megacity in southwest China. It is one of the biggest cities in the world. The entire Chongqing administrative municipality area officially has a population of over 30 million. It is surrounded by two rivers, mountains, hills, and has lots of skyscraper.
How Did We End up in Chongqing?
Chongqing wasn't part of our itinerary. Initially, our goal was to visit the city of Chengdu, because of the Chengdu Research Base of Giant Panda Breeding. Another famous attraction we wanted to visit was the giant statue of Buddha in Leshan, located about 150 km. from Chengdu. But we didn't have enough time to go there and we decided to travel by train directly from Xian to Chongqing.
Attractions to Visit in Chongqing
When in China, always plan your itinerary accurately, due to the long distance and because there is never enough time. We only had a day and a half in Chongqing, and our main objective was to visit the Dazu Rock Carvings. Unfortunately, we lost a lot of time to find the hotel and the train station afterwards. However, after many ups and downs, we decided to find the best places in Chongqing.
Our first impressions weren't impressive. The smog was towering over the city hiding everything in sight further than 100m away. A multitude of skyscrapers were visible along the horizon and in the moments when the sun would peak behind the clouds you could also see the rocky outline of the mountains.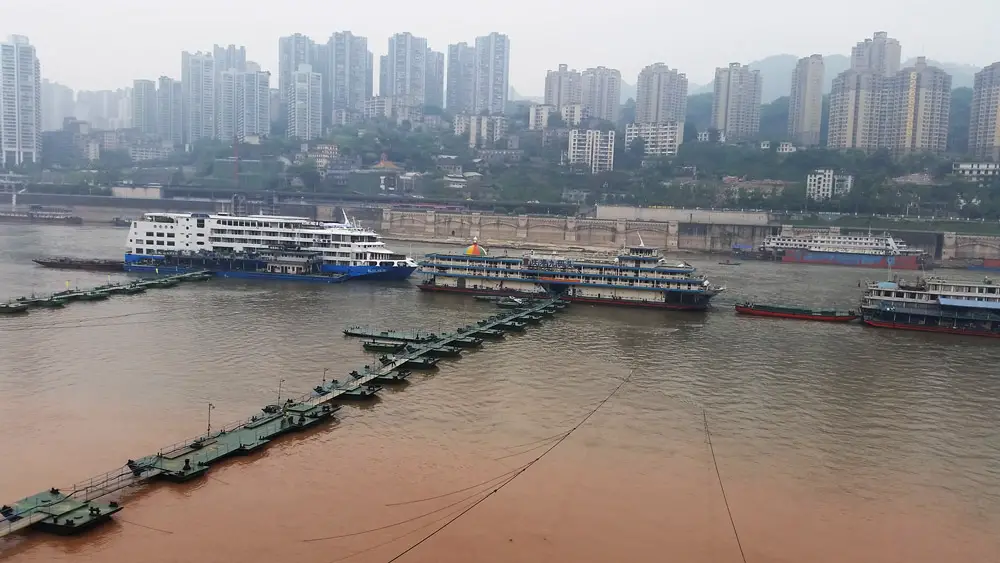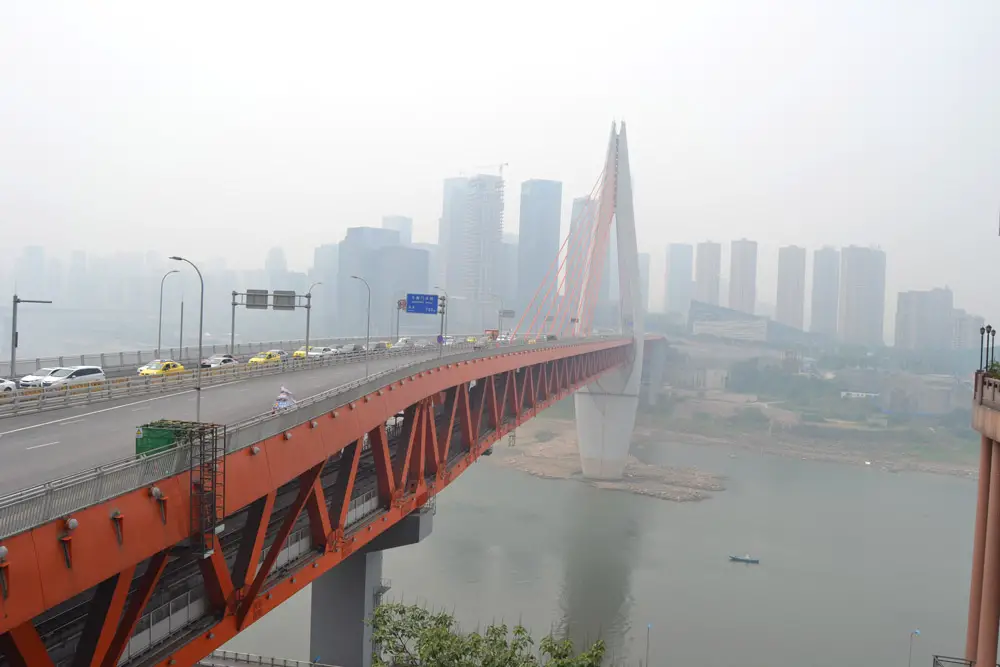 Hongya Cave
Hongya Cave is located in the riverside zone of Yangtze River and Jialing River. It has a history of over 2,300 years. This place probably was a historical landmark in the past but now is just another bustling shopping complex. It is surrounded by many shops, restaurants, and eating places.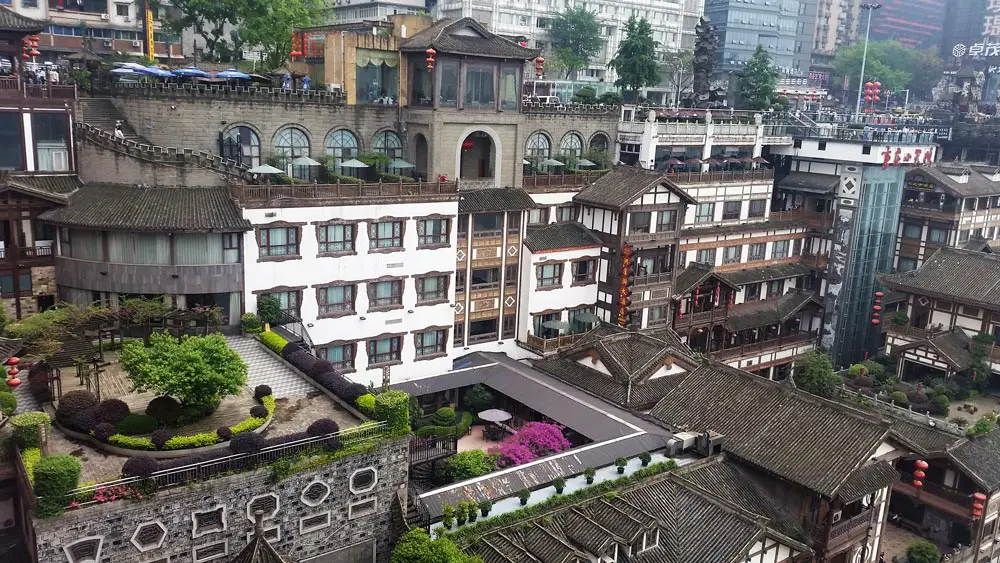 Chaotianmen Bridge
The Chaotianmen Bridge is the world's longest through arch bridge. It was officially opened on April 29, 2009. The bridge is located in Central Chongqing at the crossing of the Yangtze River and the Jialing River. The main bridge has double decks for highway and railway. The upper bridge deck is two-way six-lane of traffic and pedestrian walkway on each side; while the lower bridge deck accommodate the two-lane urban rail lines running down the middle. The Chaotianmen River Bridge became a new landmark of Chongqing, known as the Bridge Capital of China.

Ciqikou Old Town in Chongqing
If you are tired of skyscrapers and buildings, you should definitely go to Ciqikou. It is located only 14 km away from downtown Chongqing. The area was best known for production of porcelain. With a history of the area going back over 1,700 years, it has some typical traditional buildings. There are lots of little lanes and alleys to discover with some cafes, and a lot of shops with cheap souvenirs and interesting local food stalls. Ciqikou Old Town is one of the best attractions in Chongqing and important stop for every traveller.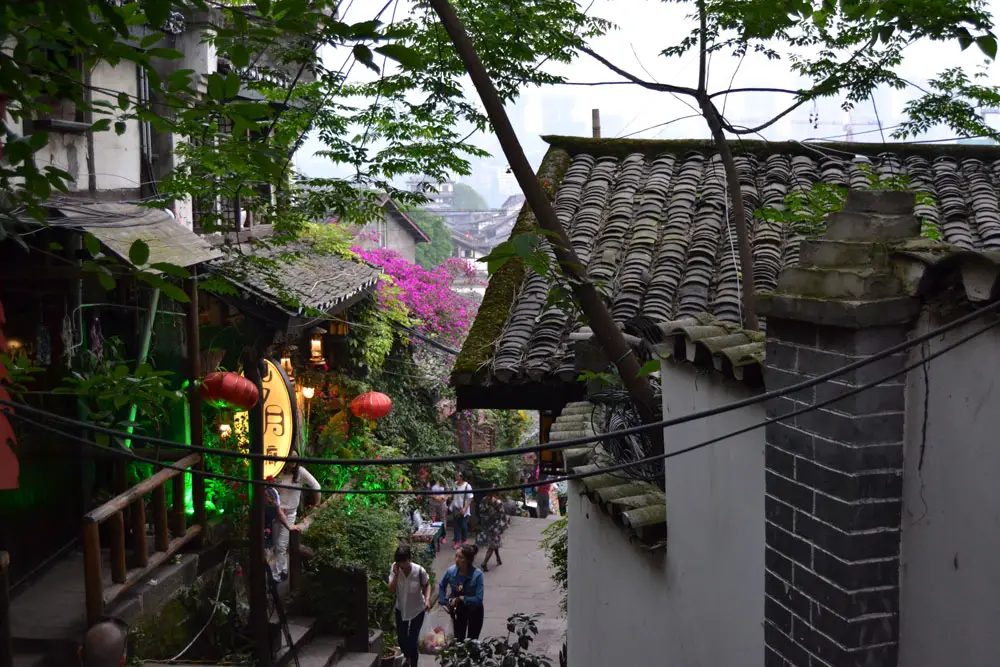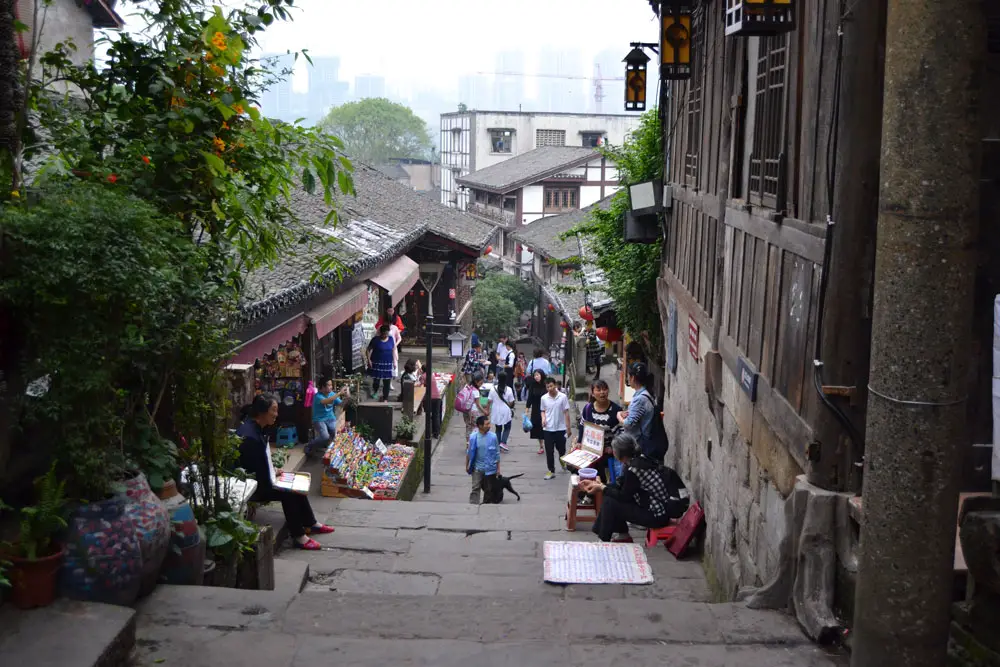 Chongqing Zoo
One of the highlights of our trip was Chongqing Zoo. Is was built in 1953, but officially opened to the public in 1955. It's home to more than 230 various animals and more than 4,000 in total. There are herbivores, amphibious animals, wild animals, birds, fish, and many more. The animals are housed in surroundings designed to emulate their natural habitat – there are hills, rocks, caves, streams, waterfalls. The zoo has great landscaping with attractive ponds, winding paths etc. The only reason we went was to see the Pandas! We spent almost our entire time just watching them. They are adorable! Watch them go on a tire swing, climb a stairs or just eat bamboo.