Last Updated on 16.10.2022 by Iliyan
Planning a trip to Malmö in Sweden from Copenhagen and wondering what to see in one day? Visiting both cities on the same trip makes for the perfect combination. I spent three days in Copenhagen and one day in Malmo during my vacation in Scandinavia. However, let's see what things to do in Malmö for a day trip!
Getting to Malmö
Getting to Malmö from Copenhagen is very easy. Øresund Bridge connects Sweden and Denmark. It was opened in 2000 and since then thousands of cars and trains have crossed the strait between both countries. There are no formal border checks at the bridge, but you should always have your passport with you.
The fastest and easiest way to travel is to go by train. Trains leave from København H (Copenhagen Central Station) every 20 minutes and it takes only a 35-minute train ride to Malmö Central Station. Train ticket from Copenhagen to Malmö cost 91 DKK and can be bought at the train station. If you are traveling with family, there is a discount and the price is 146 DKK for two people.
The cheapest option is to travel by bus. The most convenient way is to book Flixbus to Malmö. The journey takes about 1 hour and 15 minutes. Prices range from 59 DKK to 149 DKK.
Driving from Copenhagen to Malmö is easy, but you have to pay in order to cross the bridge. You can find more information about prices and discounts on the Oresund Bridge's website.
Best Things to Do in Malmö
Malmö is the third largest city in Sweden, but it feels like a small town. Here you will find 8 best things to do in Malmö. All of the attractions are within walking distance, so you don't need to spend more than a day.
Stroll through Stortorget
Stortorget is the main square in Malmö, created in 1540. It's the largest and the oldest square in Malmö. It is surrounded by some old charming historical buildings, including Malmö's historic Town Hall (Malmö Rådhus), Lejonet – the oldest pharmacy in Sweden, founded in 1571, and Kocksa Huset, the former palace of Mayor Jörgen Kock, built 1522–24. In the middle of the square, you will see a huge equestrian statue of King Karl X Gustav.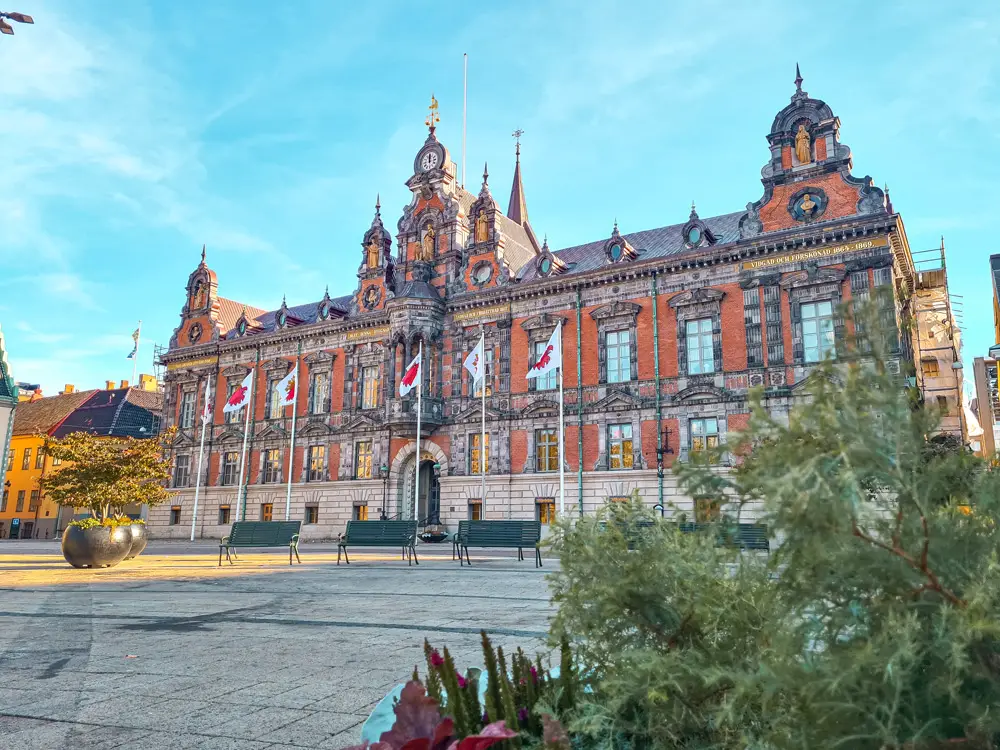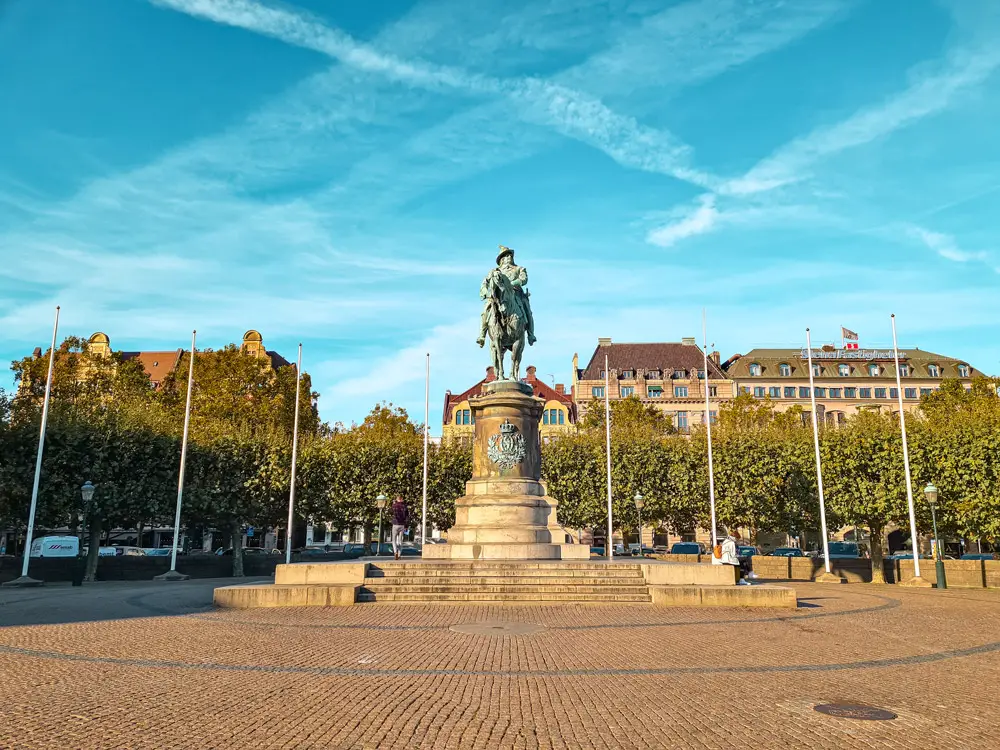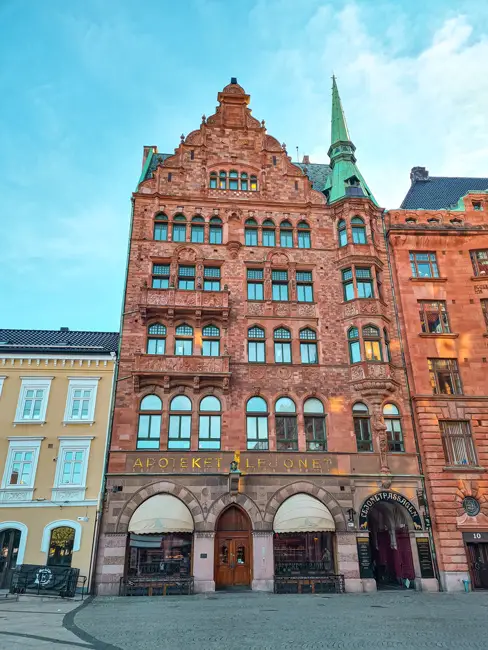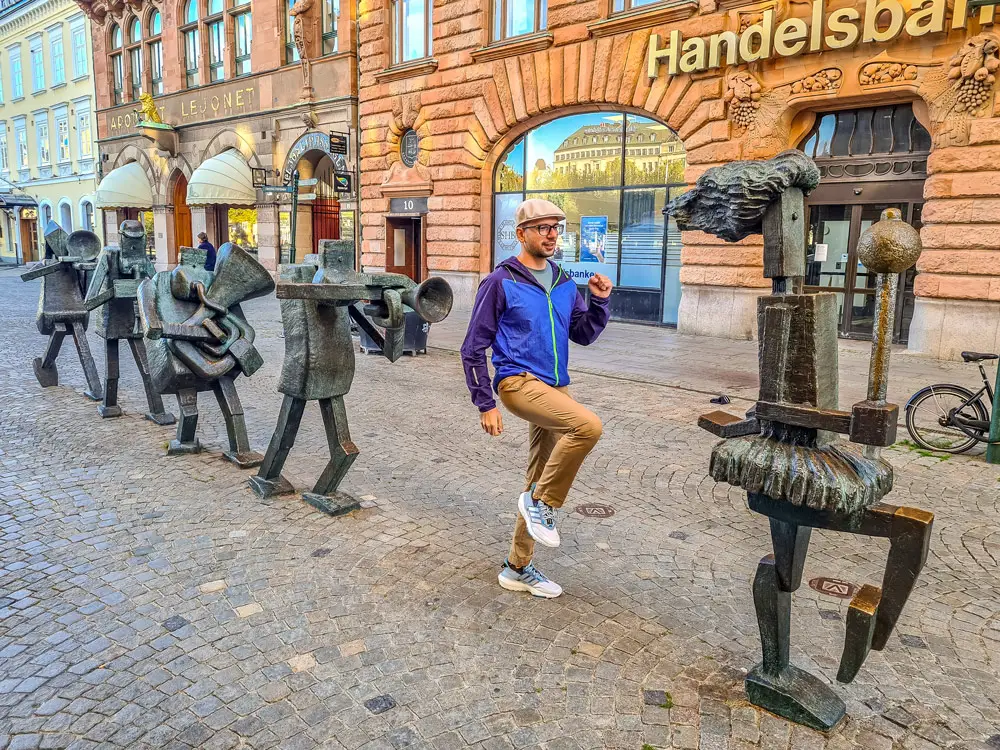 Visit Sankt Petri kyrka (Saint Peter's Church)
St. Peter's Church is the oldest church in Malmö, as well as the oldest preserved brick building. It is a Gothic church, built over 700 years ago. The interior of the church is very simple, without too many ornaments. I highly recommend visiting there while in Malmö, as it is one of the tourist attractions and best things to do.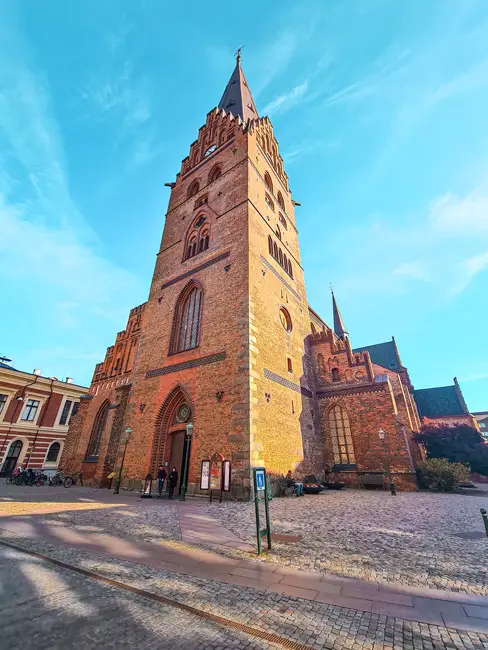 Explore beautiful Gamla Väster
If you continue to walk around Gamla Staden (Malmö Old Town), you'll come upon the Gamla Väster, which is located in the western part of the town. This historic district is home to many charming houses and narrow cobblestone streets.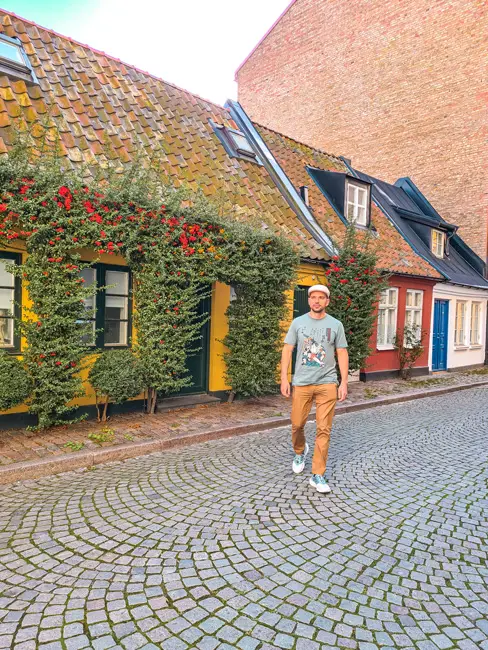 Lilla Torg
Just steps from Stortorget away is the small cobblestone square Lilla Torg. It was created in 1590 and used to be a sort of market for people, as it contained groceries, butcher shops, and bakeries. Nowadays, there are many cafes, restaurants, and shops.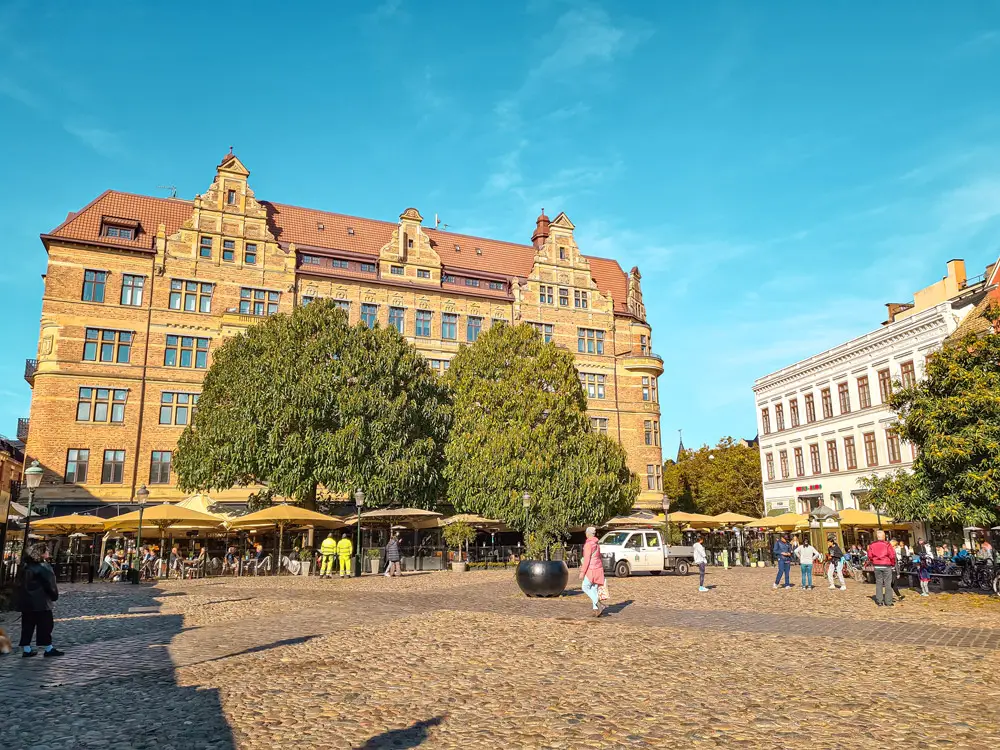 Malmö City Library (Malmö stadsbibliotek)
I was absolutely amazed by the Malmö City Library. The building is beautiful both inside and outside. The library consists of three linked sections of Castle, Calendar of Light, and Cylinder. The Castle is the historic part of the library, while the Calendar of Light is a modern glass building, designed by the Danish architect Henning Larsen and opened in 1997. The Calendar of Light has a full glass window facing the park. These two main buildings are connected by the Cylinder, where the entrance, reception and a cafe are located.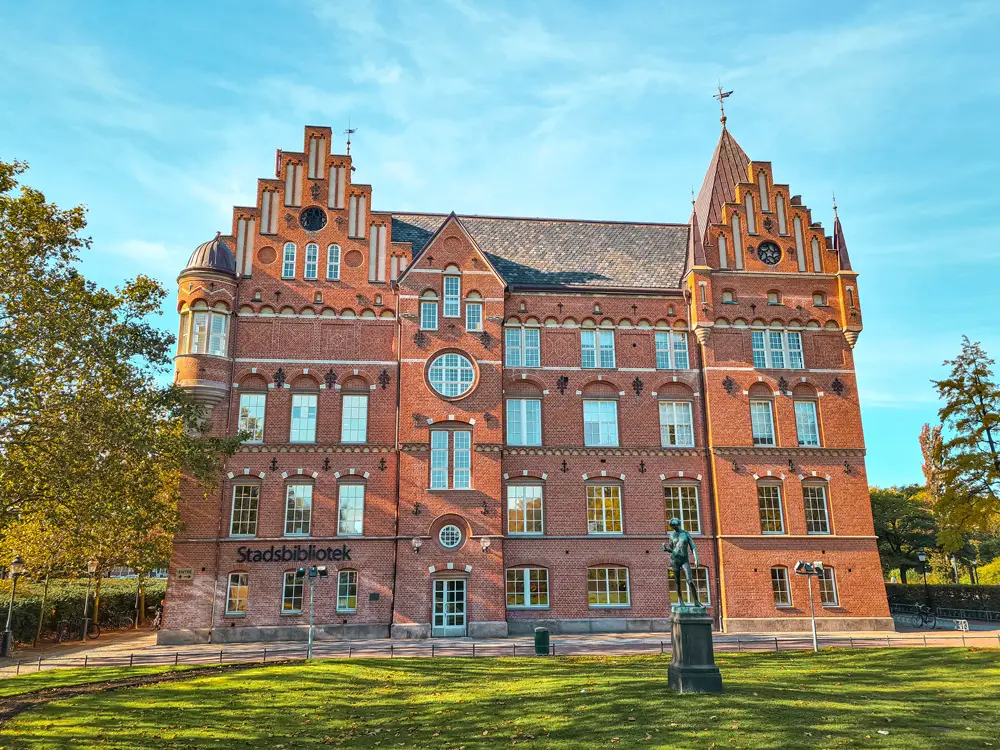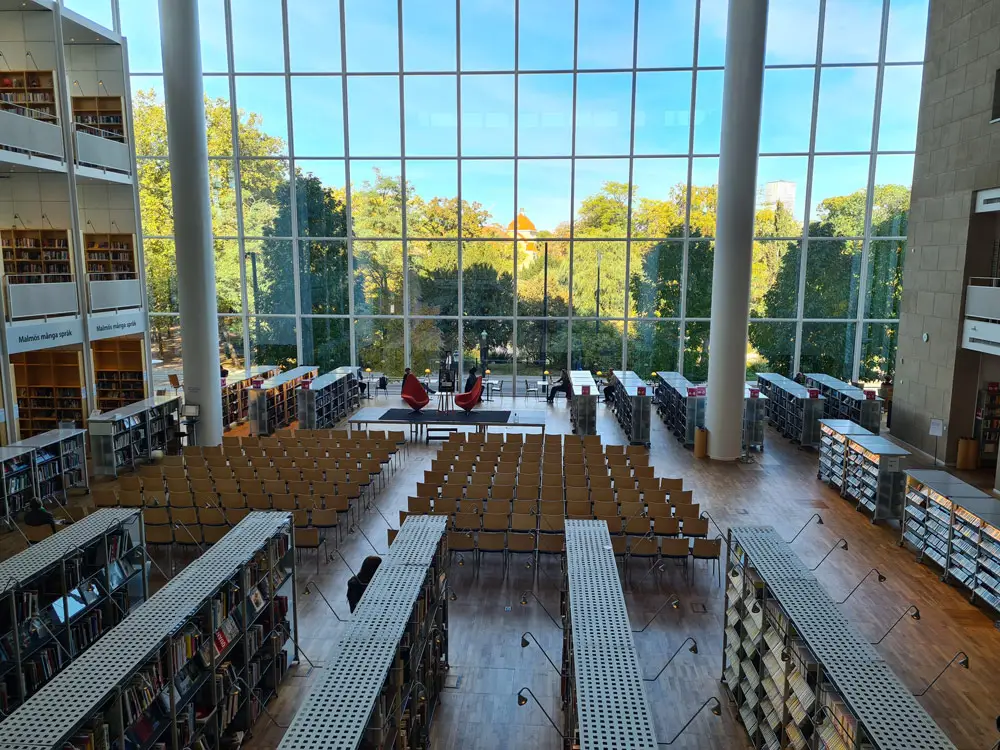 Wander Kungsparken (King's Park) & Slottstradgarden
We had a walk through the Kungsparken on our way to the Malmö Castle. It is located right next to Slottstradgarden and the castle. The park is a great place to hang out or have a picnic.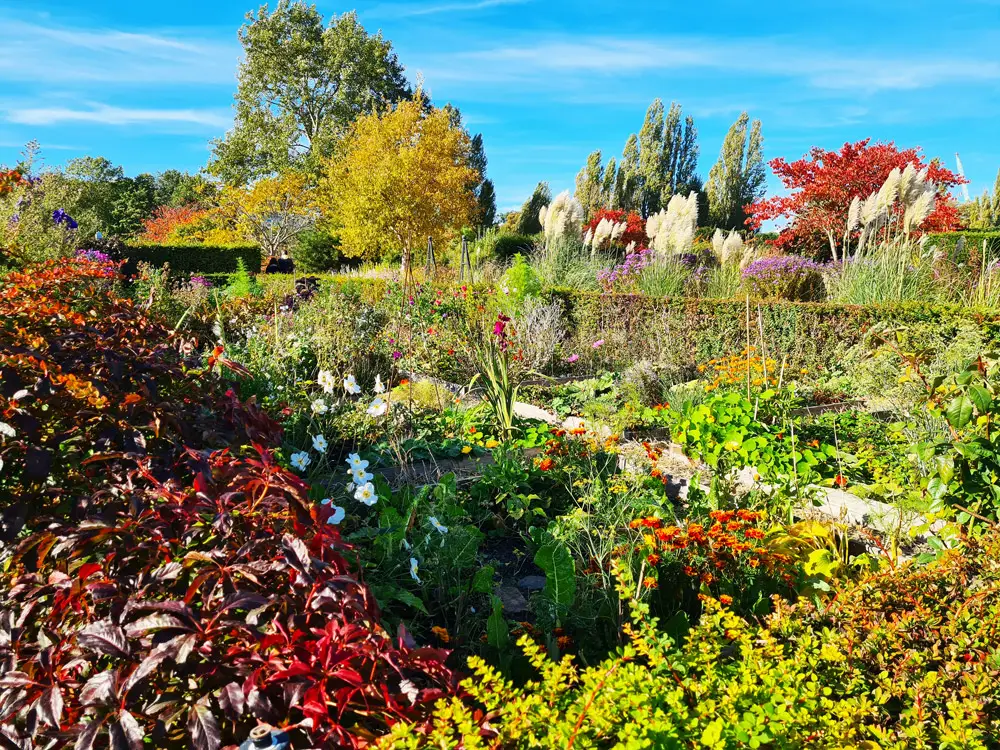 Slottstradgarden is a garden with plenty of flowers, plants, and some small lakes and ponds with geese and ducks. Also, here you will find a windmill and a small coffee shop.
This park is a real gem and totally worth a visit, especially when the weather is warm and sunny.
Malmö Castle
One of the main attractions in Malmö is the Malmö Castle. It was built in the 1530s by King Christian III of Denmark on top of ruins from an old castle. Historically, it is the oldest preserved Renaissance castle in Scandinavia. We didn't go into the castle, but if you want to visit you will see an aquarium, the Natural History Museum, and Museum of Art.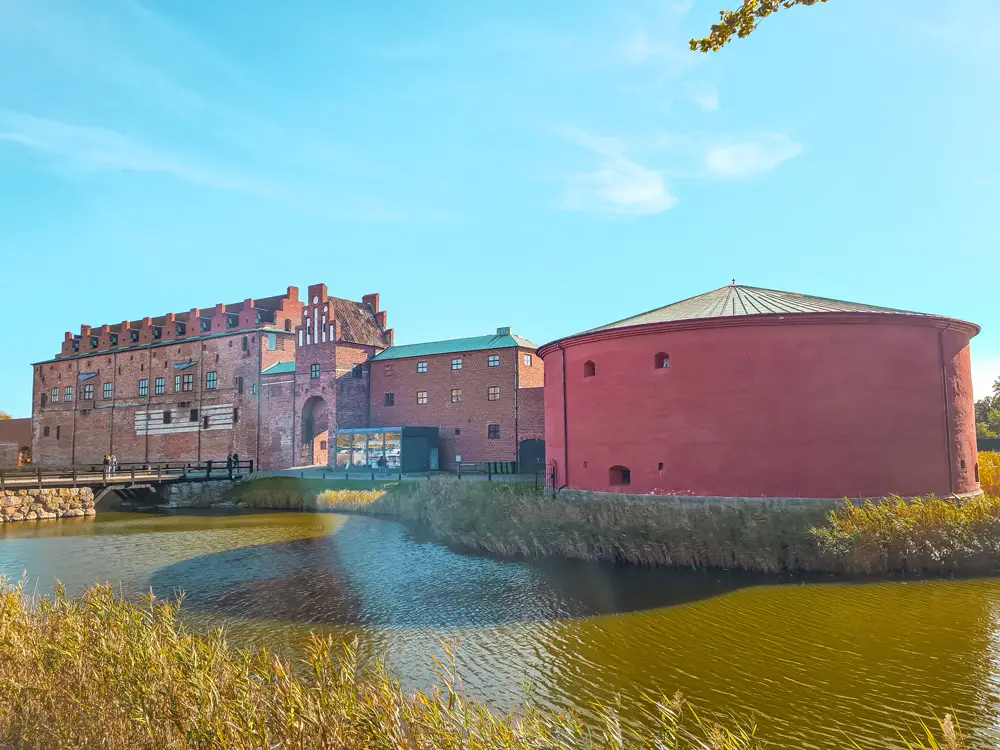 Turning Torso
The Turning Torso is a must see when in Malmö. This amazing skyscraper was designed by Spanish architect Santiago Calatrava and officially opened in 2005. Calatrava is an author of many iconic architectural masterpieces, including the City of Arts and Sciences in Valencia.
It reaches a height of 190 meters and represents the form of a twisting human being. The Turning Torso is a residential and office space building and because of that there's no public access.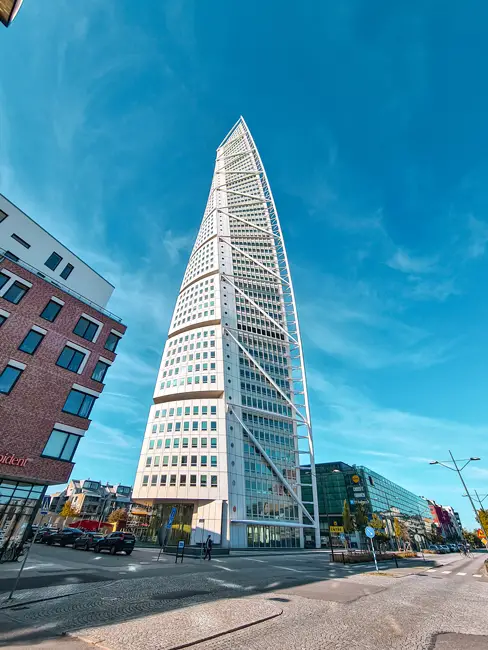 The Turning Torso is no longer the tallest building in Scandinavia. The new one in Scandinavia will be Karlatornet in Gothenburg. In September 2022, the tower reached this milestone at 193 meters and when completed, it will reach 245 meters tall.