Last Updated on 15.10.2023 by Iliyan
Shakhrisabz is a popular day trip destination from Samarkand as it is just 88 km south of the city. It was founded more than 2,700 years ago, and it is known as the birthplace of Amir Timur. He built his palace (Ak-Saray Palace) here as he wanted to make the city the capital of his empire instead of Samarkand.
With its impressive monuments from the Timurid dynasty, Shakhrisabz is a UNESCO World Heritage Site. Keep reading if you want to know which are the biggest attractions in Shakhrisabz, Uzbekistan.
Shakhrisabz Attractions: What to See
Ak-Saray Palace
Ak-Saray Palace is a ruined palace and one of the most important places in Shakhrisabz, Uzbekistan. Actually, not much remains of the palace, but the enormous entry is still there. Even this being only half the size of its original size, you still can enjoy its former grandeur. The massive portal was covered with incredible gold-gilded tiles and azure colors, standing over 38 m high.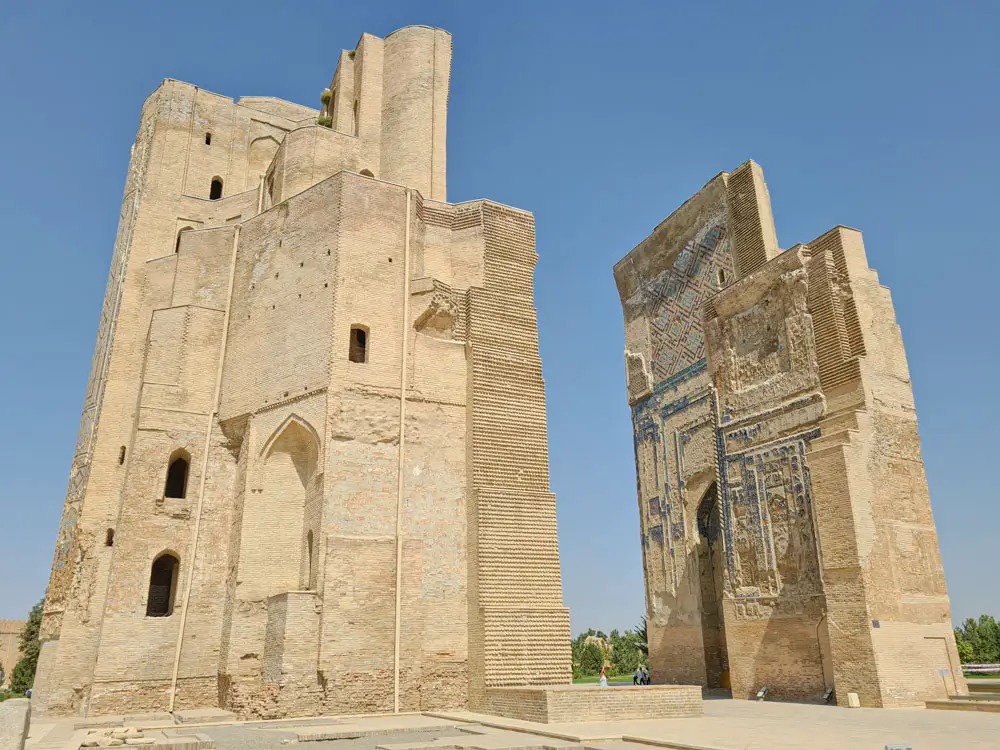 Amir Timur decided to built in his home town the most magnificent and gorgeous palace. Construction of the castle began in 1380 and lasted 24 years until 1404. Unfortunately, he died soon after it was finished.
A model of the majestic Ak-Saray Palace can be seen at the Ulugh Beg Observatory in Samarkand, where there is a small museum.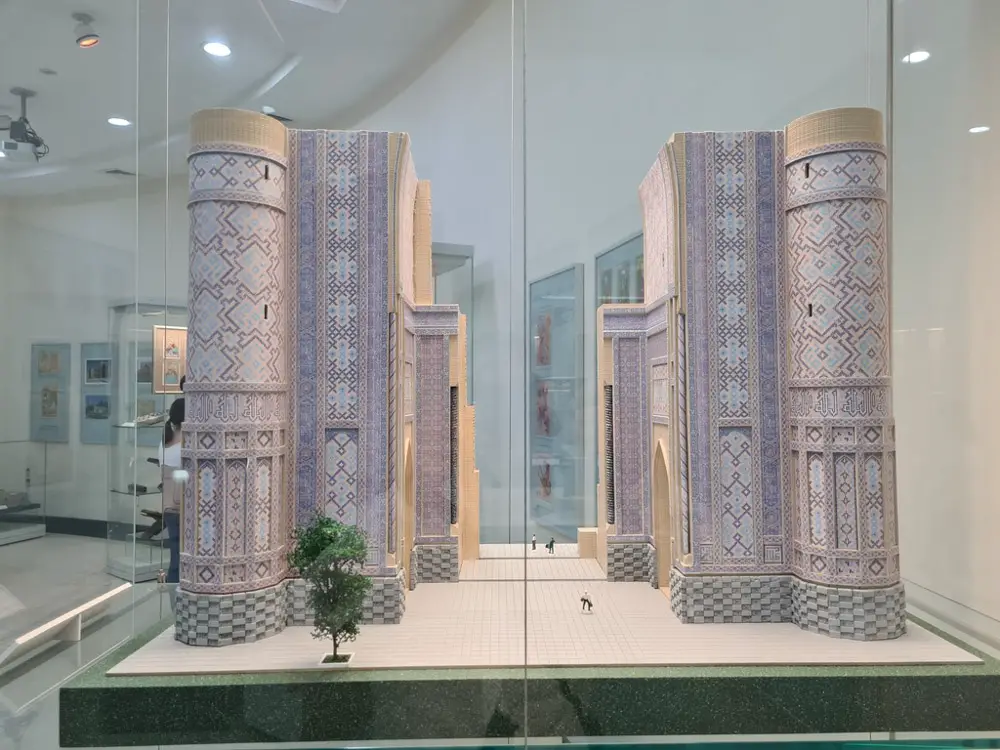 Sadly, the whole centre of Shakhrisabz has been turned into one enormous park with beautiful gardens, lawn, fountains, complimented with mostly empty shops.
In the middle of the complex you will see a large statue of Amir Timur stands proudly in front.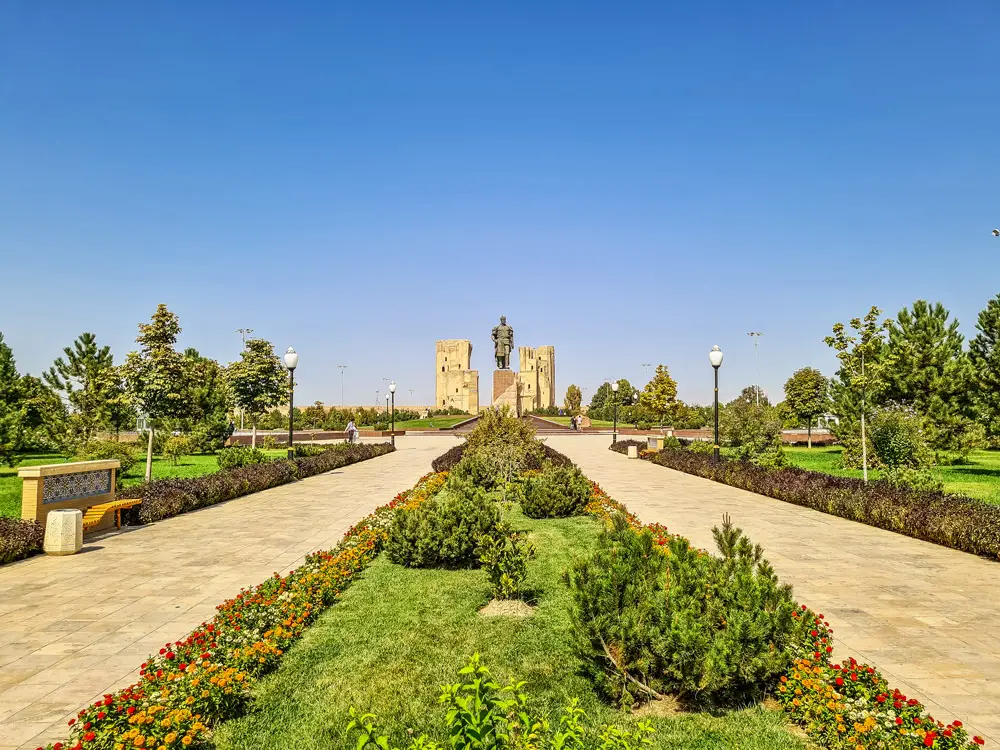 Medrese Chubin – Amir Timur Museum
If you continue past the Timur statue, you'll find a small museum in the park complex. Actually, this is the renovated Chubin Madrasah which houses the Amir Timur Museum. The museum is also known as the Shakhrisabz Museum of History and Material Culture.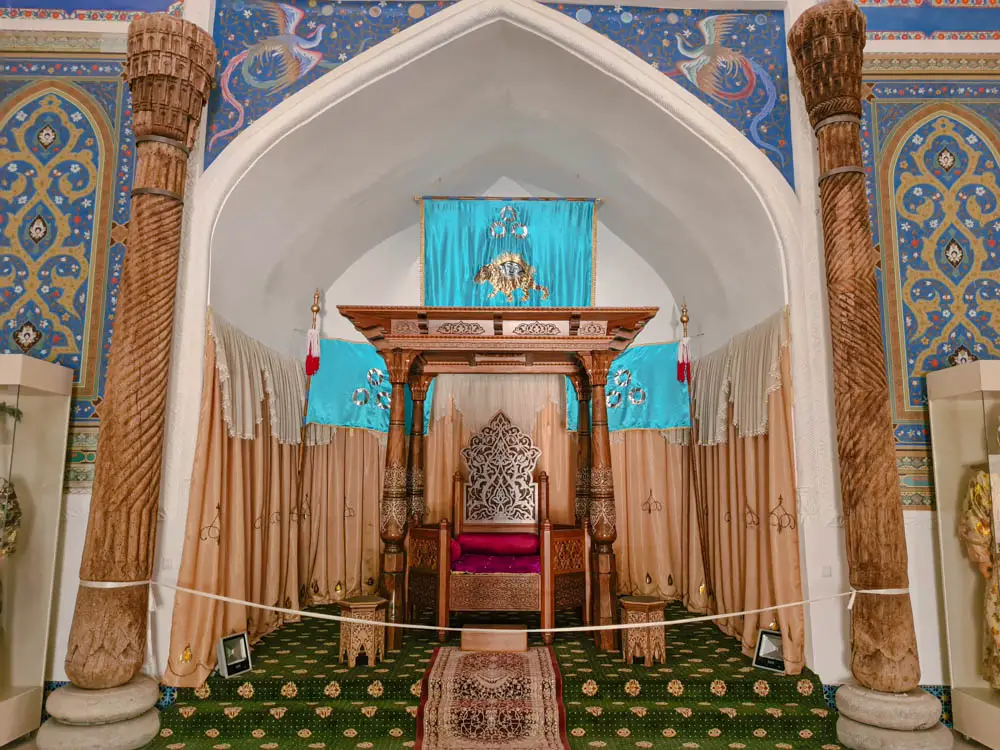 The museum exposition contains archaeological, ethnographic, numismatic collections, and a several paintings.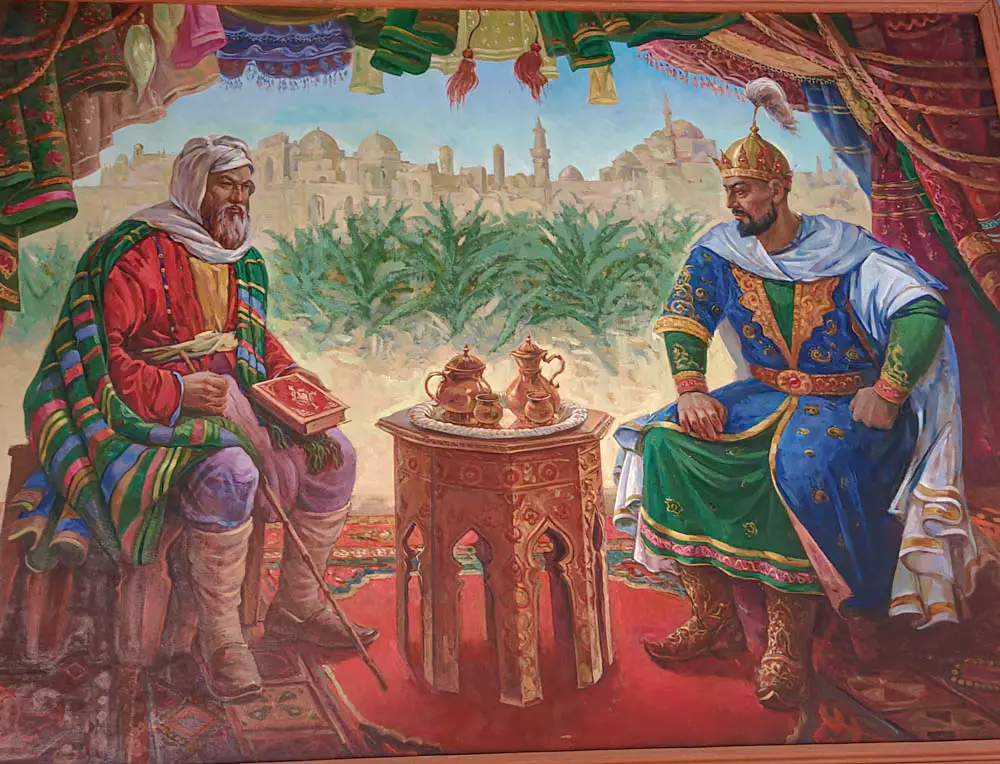 Dorut Tilovat Complex
Dorut Tilovat is a memorial complex, which includes two mausoleums and a mosque. It is well preserved and has a beautiful façade with turquoise domes, typical of Islamic architecture of the period. It was built in 1370 in honor of the religious Sheikh Shamsiddin Kulola. He was the spiritual mentor of Timur's father Amir Taraghai, as well as Timur himself.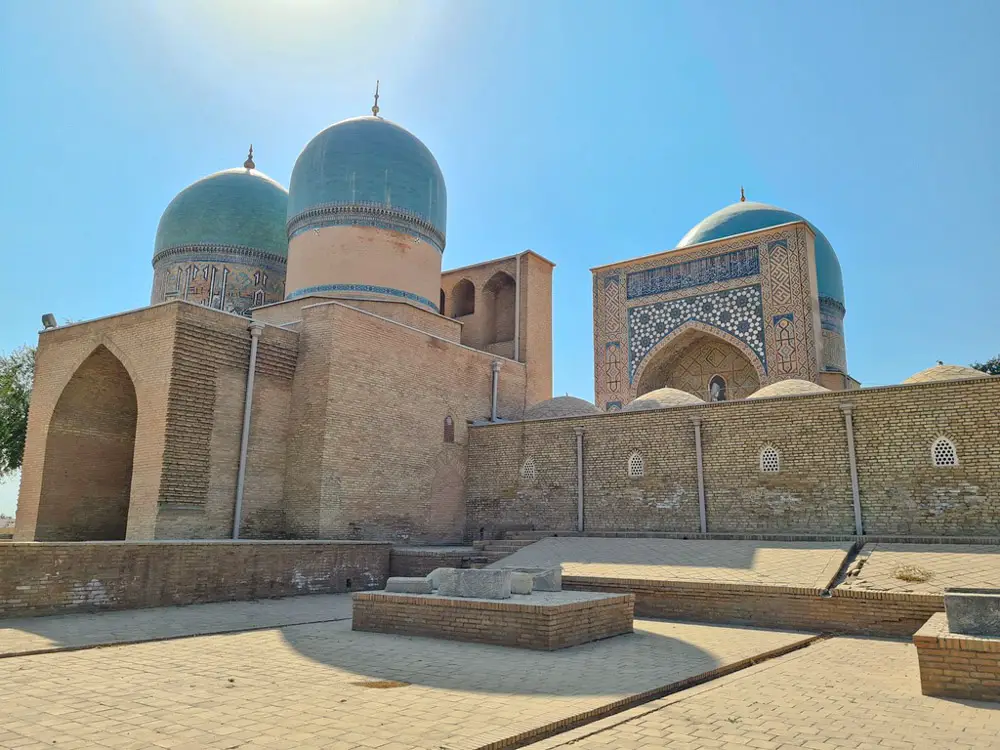 Kok Gumbaz Mosque
The Kok Gumbaz Mosque was constructed in 1435 by Timur's grandson, Ulugh Beg, in honor of his father. It is known as the Friday Mosque of Shakhrisabz. It is exquisitely decorated with various ornaments, figures and the traditional blue-green tiles. It is one of the biggest attractions in Shakhrisabz that you should not miss.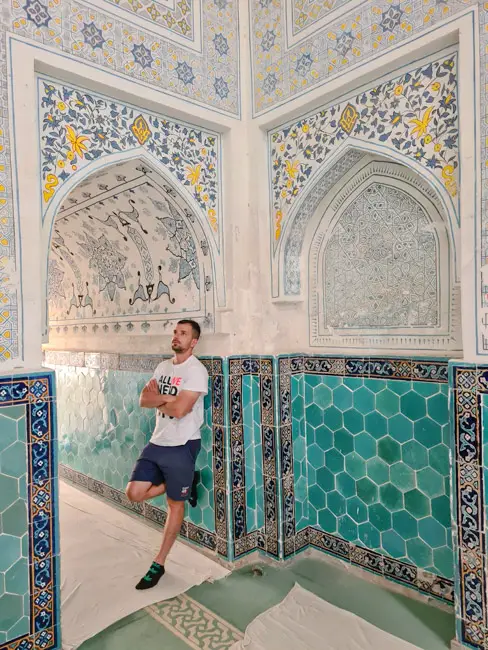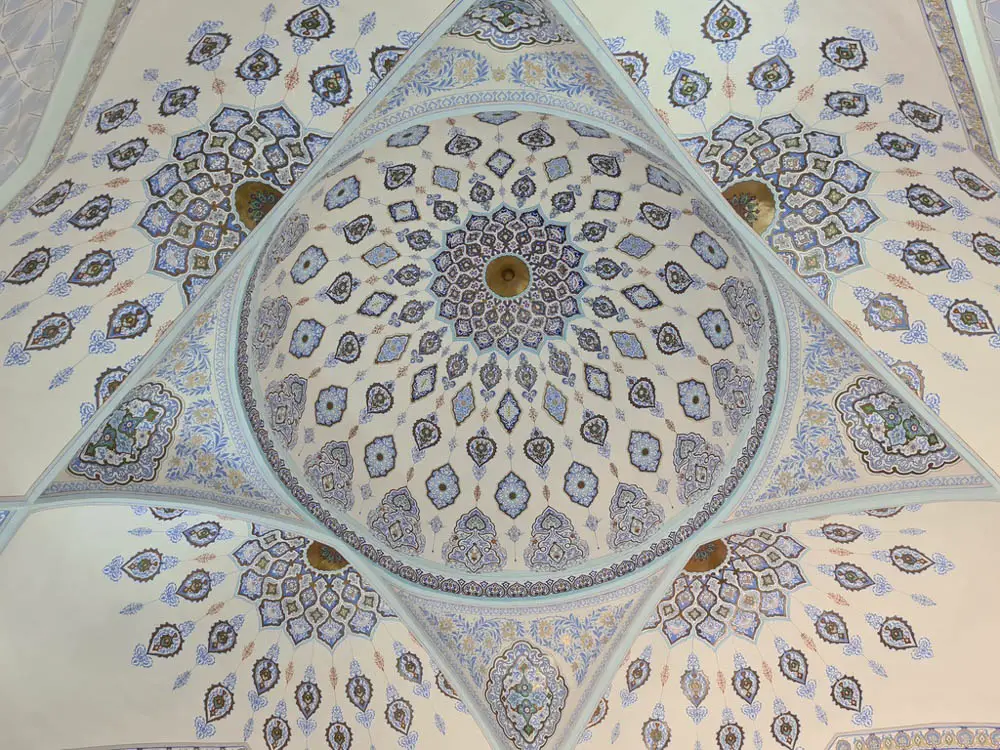 Dor-Us Siyadat Complex
The Dor-Us Siyadat memorial complex was intended to be a necropolis for the whole Timurid dynasty. It was built after the death of Timur's eldest son Jakhongir in 1376.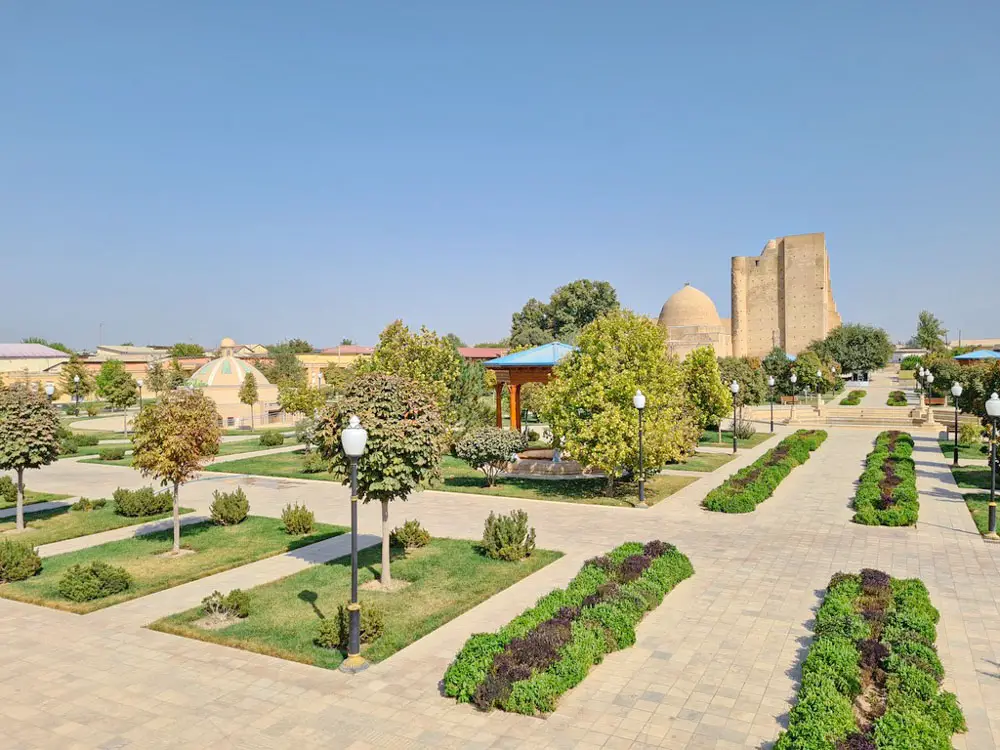 Timur's second son, Umarshaykh, was killed in a siege in Iran in 1393, was also buried in the complex, in the Omar Sheikh Mausoleum. The tomb intended for Amir Timur remained empty, because he was buried in Gur-Emir in Samarkand.
How to get from Samarkand to Shakhrisabz?
The only way to get from Samarkand to Shakhrisabz is by car. The journey takes around 2 hours one way. I highly recommend taking a taxi with private driver who will take you there, wait and pick you up at the parking lot on the other side. The price is usually negotiable, we paid 400,000 UZS.
Is Shakhrisabz worth visiting?
Shakhrisabz is an excellent day trip from Samarkand, taking you over mountain passes with beautiful panoramic views. In my opinion Shakhrisabz is worth visiting if you have more days in Samarkand, otherwise, you can skip it in favour of another place.