Last Updated on 08.09.2023 by Iliyan
Bogotá is often skipped by tourists remains in the shadow of Medellin, Salento, Cartagena and other destinations. However, these days more and more travellers are coming to Bogotá, exploring the city and the best things to do. The capital of Colombia offers an interesting mix of everything to its visitors – from towering skyscrapers to cobbled streets and colonial buildings, vibrant street art culture, beautiful green mountains, incredible cultural riches, heritage, and friendly locals. Below you can find out the best and unique things to do in Bogotá, Colombia.
How to Get to City Center From Bogotá Airport?
If you are flying to Bogotá, you are probably wondering how to get from the airport to the city center. Bogotá International Airport (BOG), also known as El Dorado International Airport, is located 15 kilometres from La Candelaria. There are a few options to get to the city. You can take an airport taxi, inDrive (similar to Uber), private transfer or bus. The journey takes around 40 minutes to 60 minutes depending on the traffic.
Bus
The cheapest and safest way from Bogotá airport to the city center is by bus TransMilenio. Firstly, you need to take the Alimentador (feeder – free green bus) from any of the two airport terminals. It is free and it links the airport with Estacion de El Dorado, where Transmilenio buses are located. A single ride to the city center is of 2,400 COP. The payment method for this bus line is by Tullave card, but you need a Tullave card, which can be purchase in the SITP counters in the Arrivals Hall. You will pay a one-off fee of 5,000 COP and you can top up the card with any amount. Take a Transmilenio bus line no.1 (red) until the last station Universidades, which is located in La Candelaria.
Taxi
Taking a taxi from Bogotá airport to La Candelaria is easy and comfortable. The official authorised taxi service at El Dorado Airport is Taxi Imperial. However, it is recommended to order a taxi via inDrive or any other taxi app. The fare to city center should be around 65,000 COP.
InDrive
InDrive is one of the best options for transportation in all of Colombia. It works like Uber, and you have to register with a local number. Then you enter the address and the amount you are willing to pay. If the price you offer is low, drivers will offer you a higher price. The amount you are expected to pay from the airport to La Candelaria is between 20,000 – 30,000 COP.
Unique Things to Do in Bogotá
As one of the largest cities in South America, Bogotá is a huge metropolis with almost 11 million inhabitants. The city is an interesting mix of towering skyscrapers, cobblestone streets, colonial architecture, gorgeous street art, green mountains, incredible cultural heritage, etc. Due to the presence of many universities and libraries, it is sometimes referred to as the "Athens of South America". In the following lines, you will find out the unique things to do in Bogotá.
Stroll Through La Candelaria (Barrio La Candelaria)
La Candelaria is the most iconic, colourful and charming neighbourhood in Bogotá. It was Bogota's first neighbourhood, founded in 1539, and it is the equivalent to the Old City in other cities.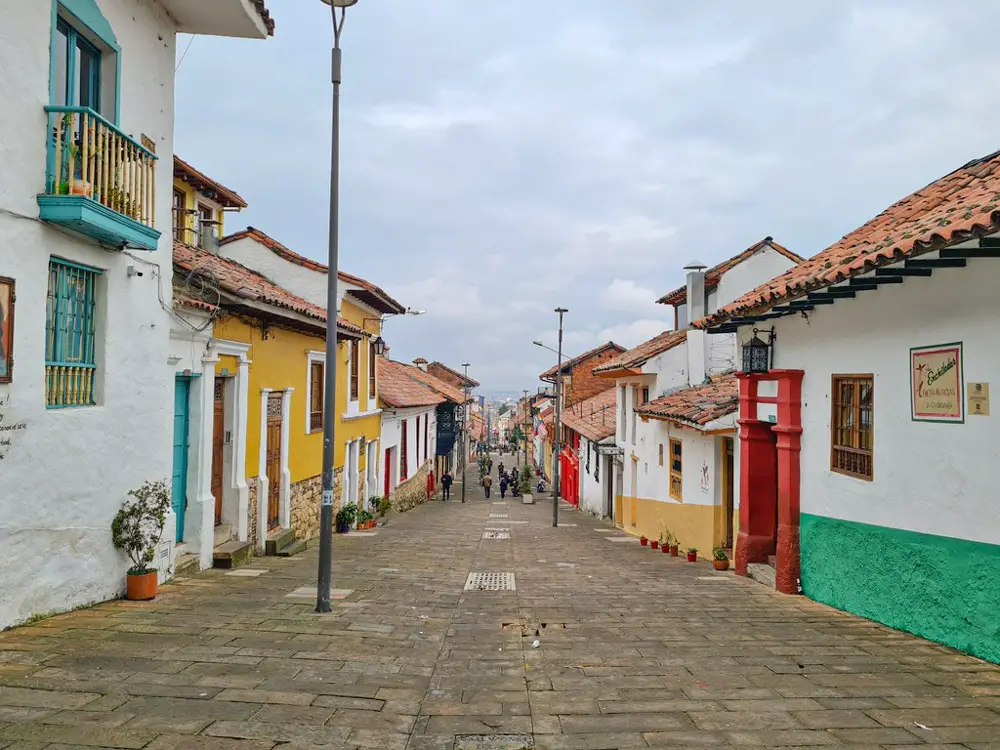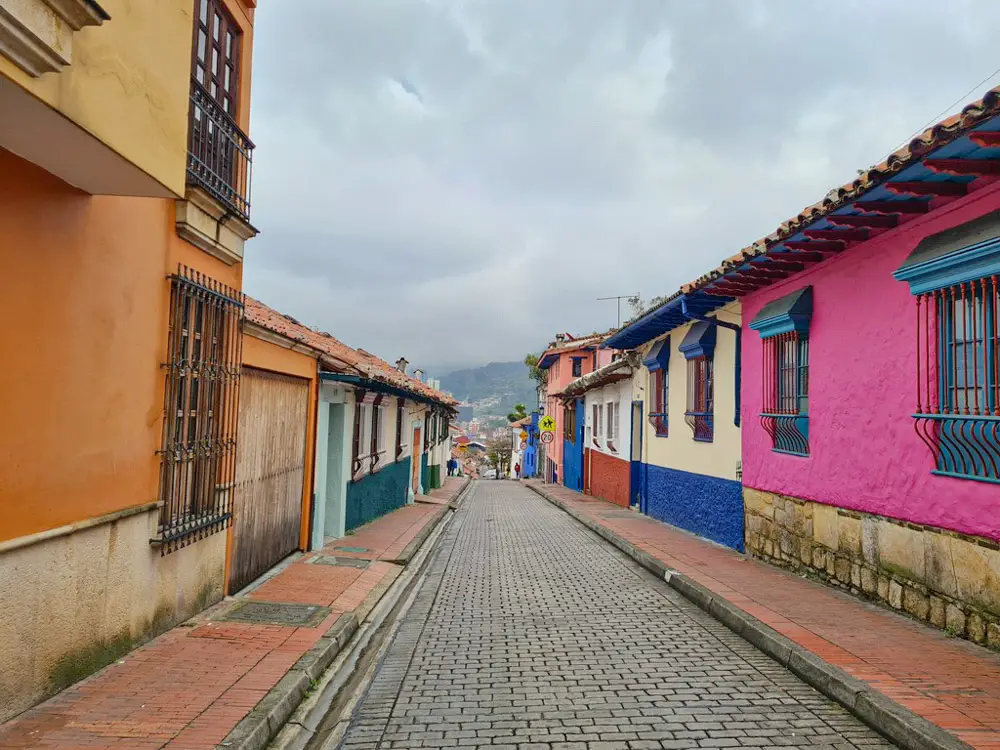 La Candelaria is home to many historical and cultural sights. Almost all of the attractions are located here. The architecture of the old houses and buildings has Spanish Colonial, Baroque and art deco styles. The impressive main square, Plaza Bolívar, makes a good orientation point.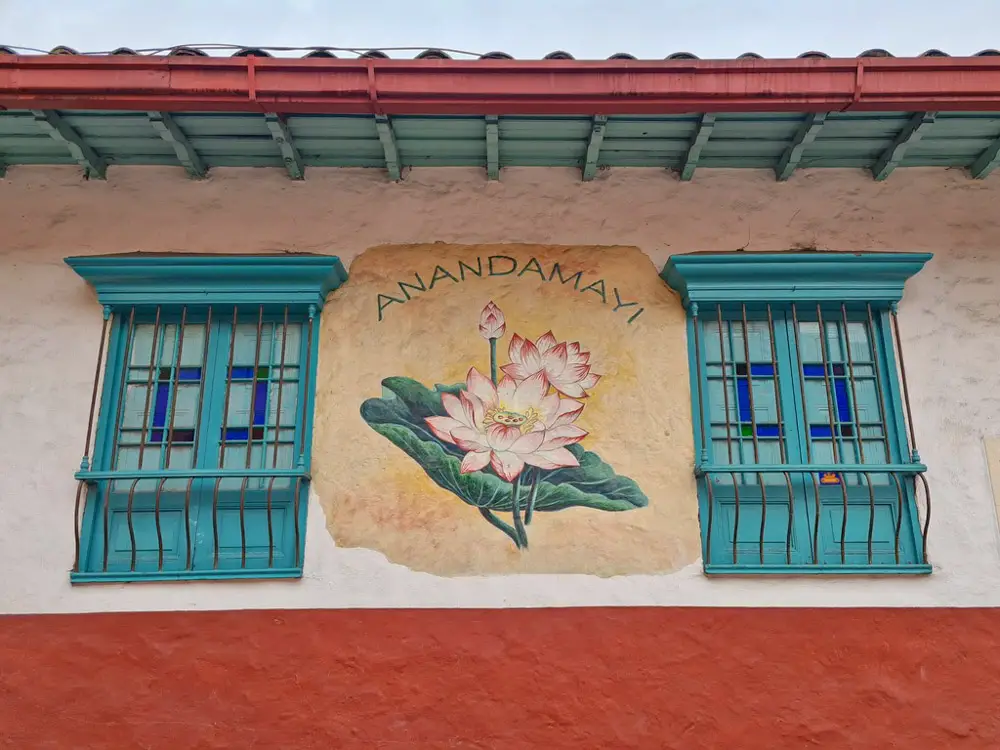 Plaza Bolívar
Plaza de Bolivar is a main square in the historic heart of Bogotá. It is surrounded by historic buildings and a church that are a part of the city history. In the middle of the square is a statue of Simon Bolivar, who was the liberator of South America. Around it are the Primatial Cathedral of Bogotá, the Palace of Justice; the Palacio Liévano (seat of the Mayor's Office of Bogotá); the Capitolio Nacional (seat of the Congress of Colombia), the Chapel del Sagrario and the Archbishop's Palace. The architecture has Spanish Colonial, Baroque and art deco styles.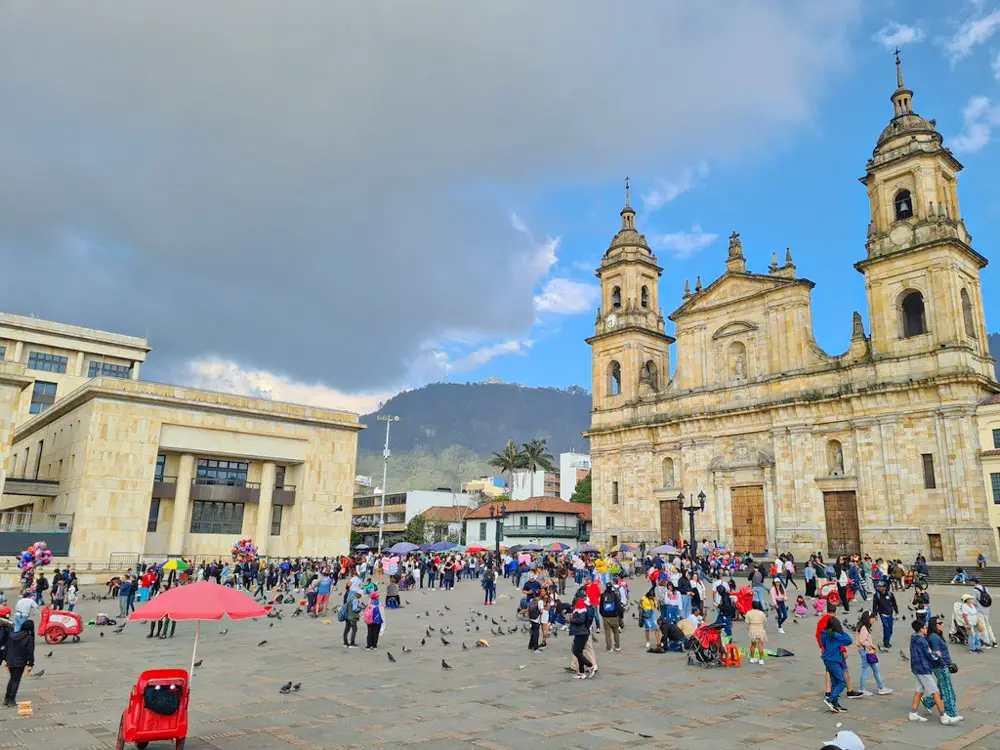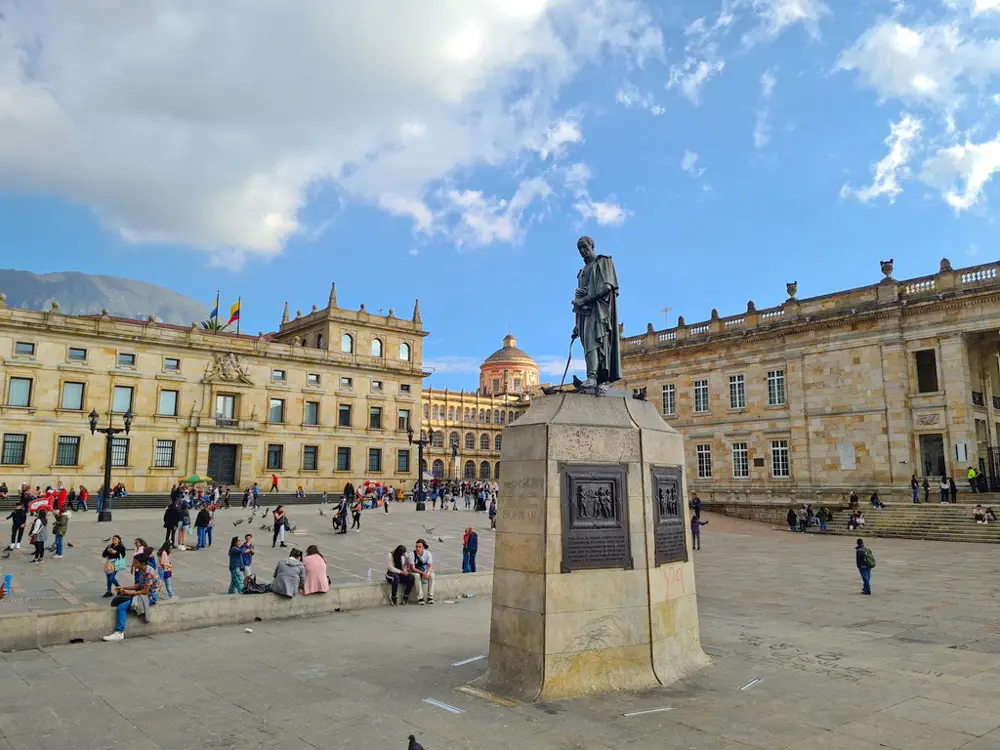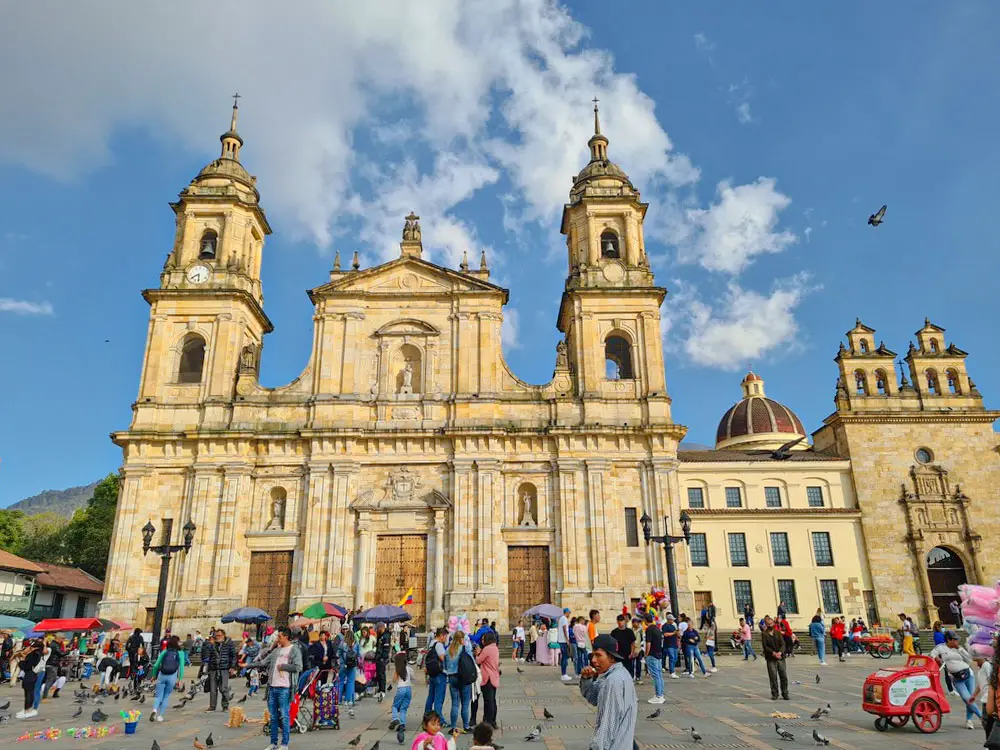 Gold Museum (Museo del Oro)
Visiting the Gold Museum is one of the best things to do in Bogotá, Colombia. It is the most stunning museum in the city, and it is home to more than 55,000 pieces of gold and other pre-Columbian artefacts. There are three floors filled with exhibits. Apart of the gold, there's also plenty of pottery, stone, shell, wood and textile objects. The highlight is the famous Muisca golden raft, which represents the ceremony of the legend of El Dorado.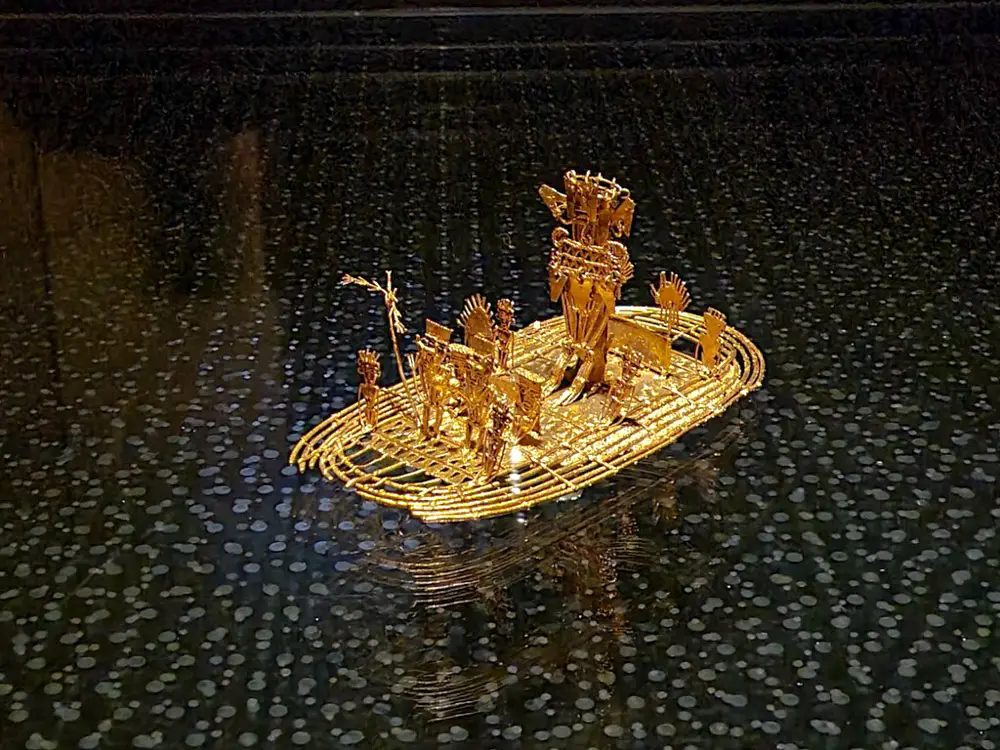 The Gold Museum is superb and is a must see when in Bogotá. You'll need two hours to explore it. It is open from Tuesday-Saturday from 9 am – 6 pm and Sunday from 10 am – 4 pm. Admission fee is 4,000 pesos ($1.25), and the museum is free on Sundays.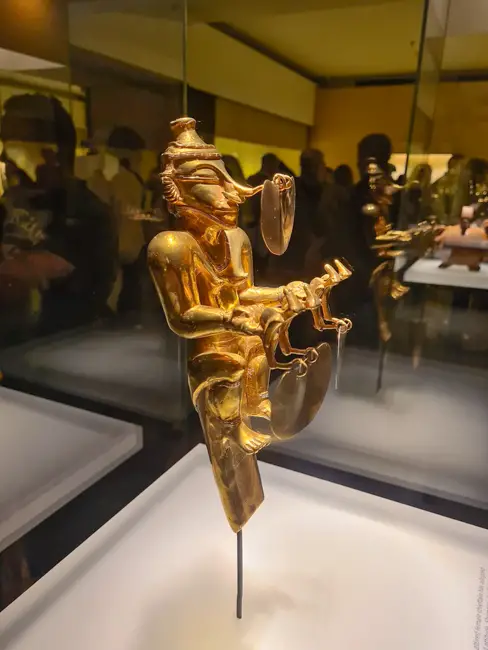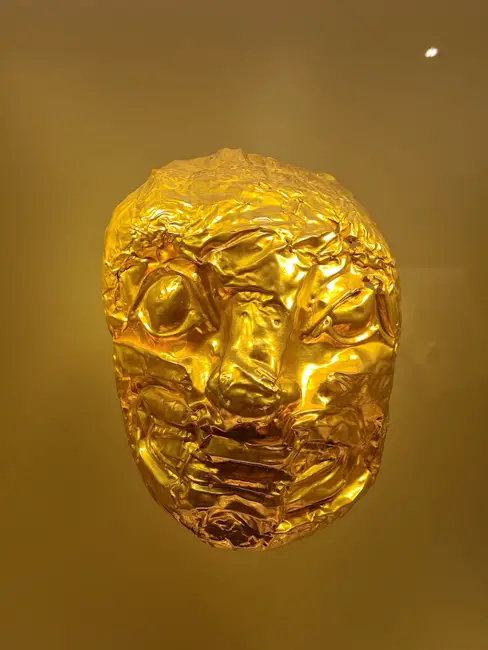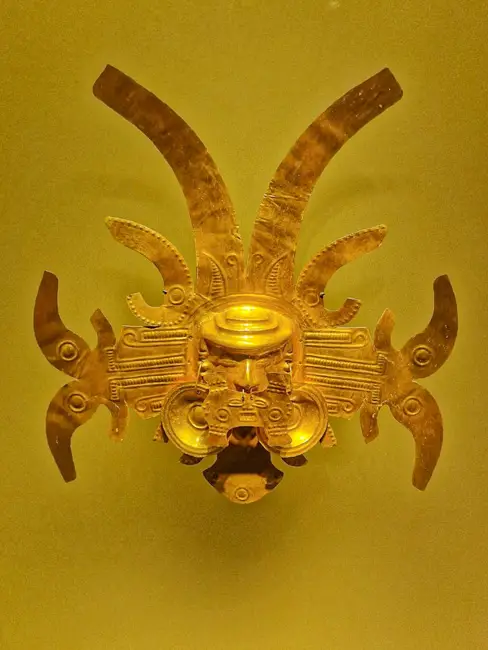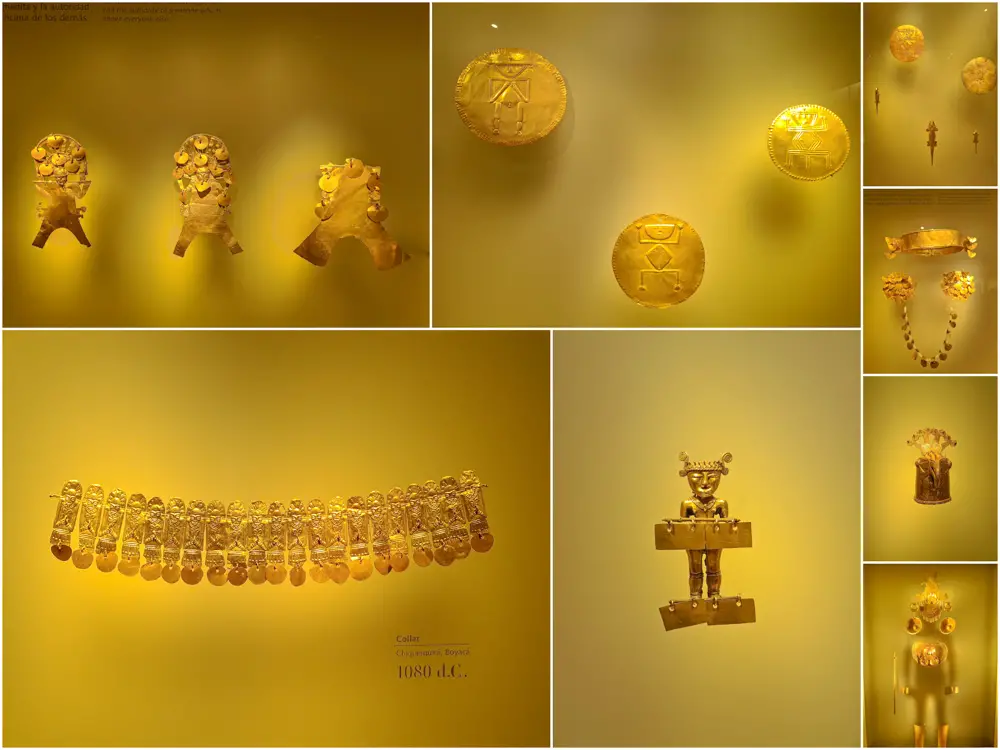 Botero Museum (Museo Botero)
The Botero Museum is one of the most popular things to do in Bogotá. Located in the beautiful La Candelaria neighbourhood in close proximity to other important landmarks like the Luis Ángel Arango Library and the Gold Museum of Bogotá. This art gallery is named after Colombian artist Fernando Botero. The museum was established in the year 2000 and consists 123 works of Fernando Botero and 85 of other artists for a total of 208 works of art. Botero is famous for his characters' shape. His style shows people and objects in large rounded figures. His version of the Mona Lisa is just brilliant. Admission to this museum is free.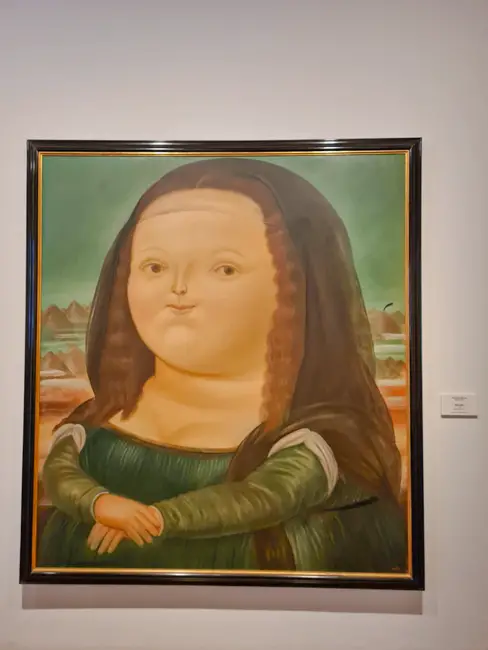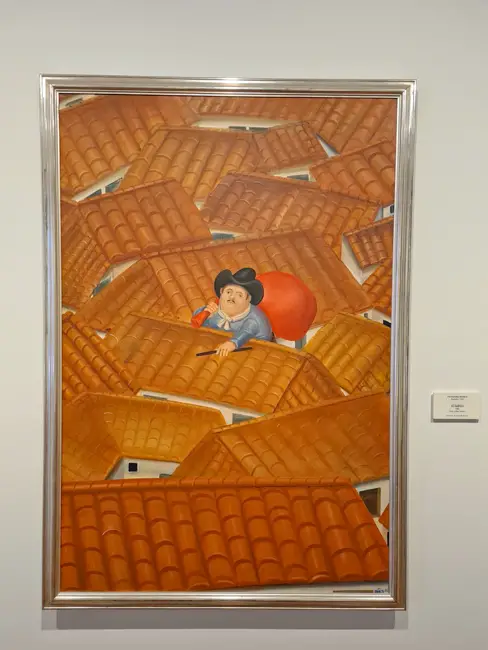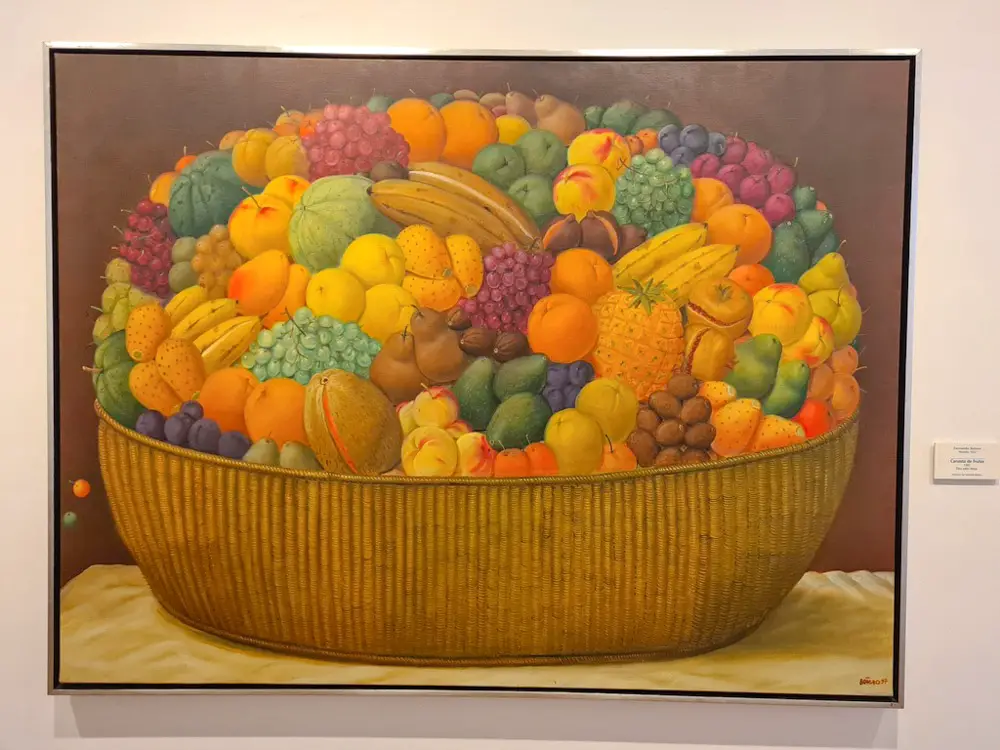 Santuario Nuestra Señora del Carmen
Santuario Nuestra Señora del Carmen is located in the colourful neighbourhood of La Candelaria. The church was built in Gothic style, decorated with Byzantine and Arabic motifs. The exterior is beautifully decorated with red and white horizontal stripes, standing out among the other cathedrals in Bogotá.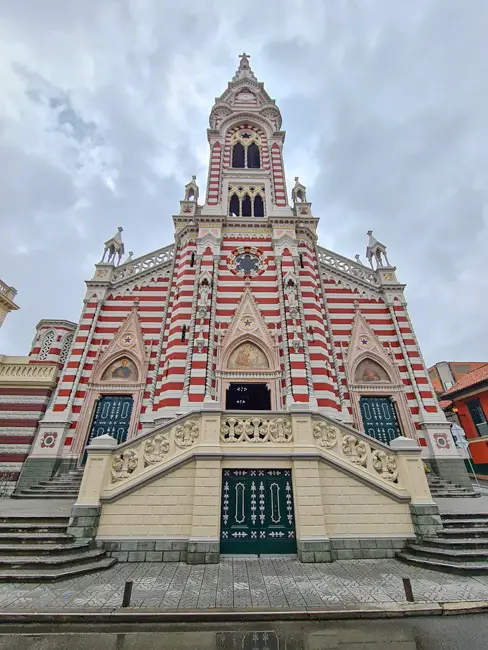 Sample Exotic Fruit at Plaza de Mercado de Paloquemao
The market is fascinating! It is very colourful, full of fruit and vegetables that you don't see anywhere else in the world. There are big sections selling meat and fish as well as spices and herbs, and even some beautiful flowers. It is the perfect place where you can get a glimpse of Colombian authenticity. The Paloquemao market is divided into sections: flowers; fruit and vegetables; meat and fish. The market is open every day of the week, but I recommended you to get there early in the morning. It is located about 30 min. walking from the main square Plaza Bolívar.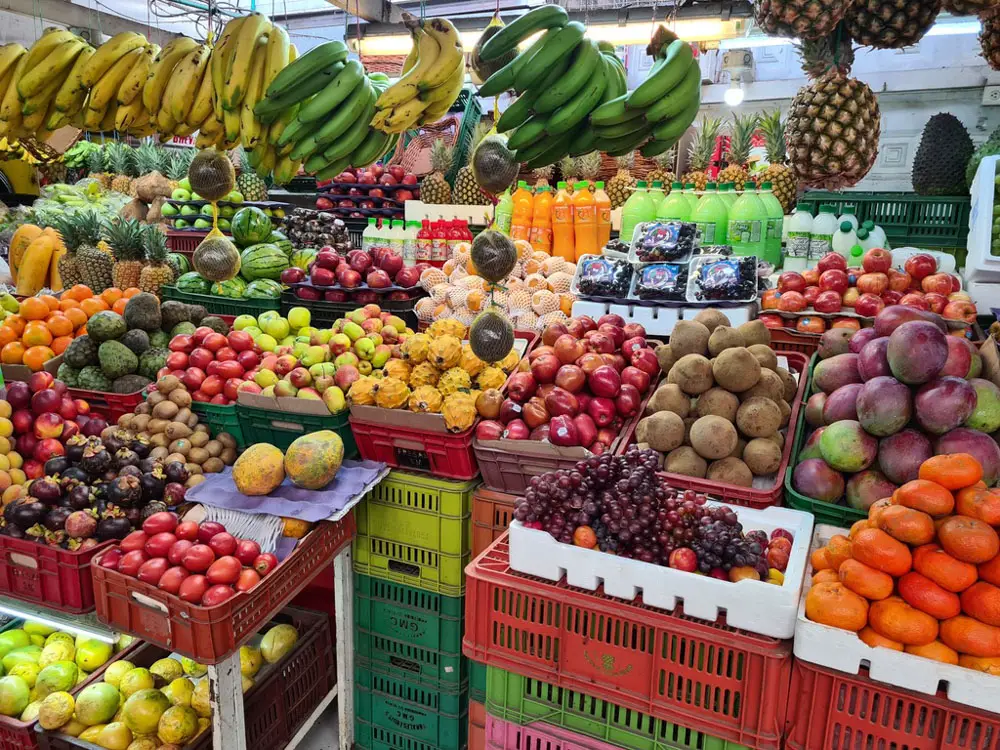 Take a Graffiti Tour
Whether you're a fan of street art or not, you will be amazed by the mural in the city. Bogotá is well known for its incredible street art. Colourful and evocative street art is literally on every corner here. A lot of artists come from all over the world to paint the buildings. Take a graffiti tour through the famous cobblestone La Candelaria district. You will learn more about the artists themselves and you will hear interesting stories about the history of graffiti in Bogotá.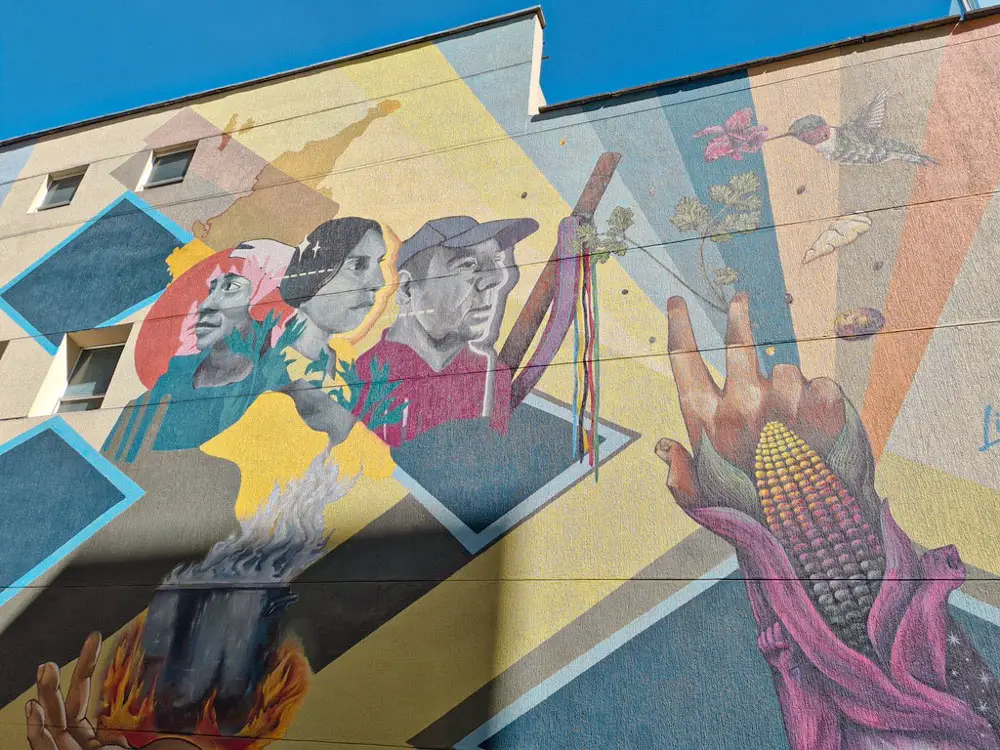 Many of the murals are stories related to political, social and life topics, some of which serve as a form of protest.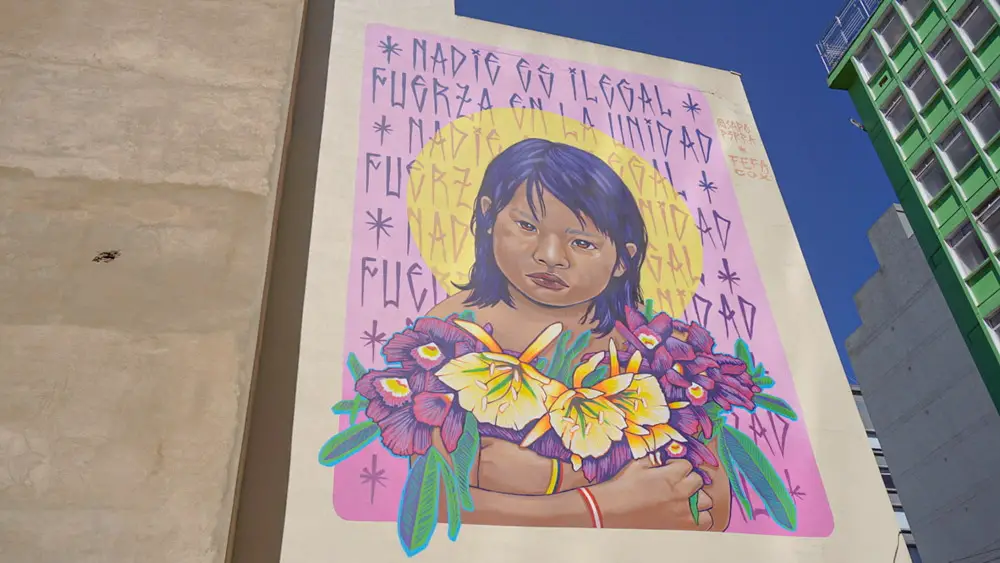 You could choose a tour company to book a free tour with or a private graffiti walking tour. I highly recommend Capital Graffiti Tours.
Relax in Simón Bolívar Park (Parque Metropolitano Simon Bolivar)
If you are tired of visiting museums, this is a great place to take some time off to relax. The Simón Bolívar Metropolitan Park, known as the Simón Bolívar Park, is one of the largest urban parks in the world with over 1000 acres of greenery, lakes, walking and biking paths, and activities for everyone.
Get a Panoramic View Over Bogotá From Monserrate Mountain (Cerro de Monserrate)
Monserrate Mountain is a must visit in Bogotá. It rises to 3,152 meters (10,341 ft) above the sea level. From here, you'll get some incredible panoramic views of the city and will realize how vast and how crowded Bogotá is.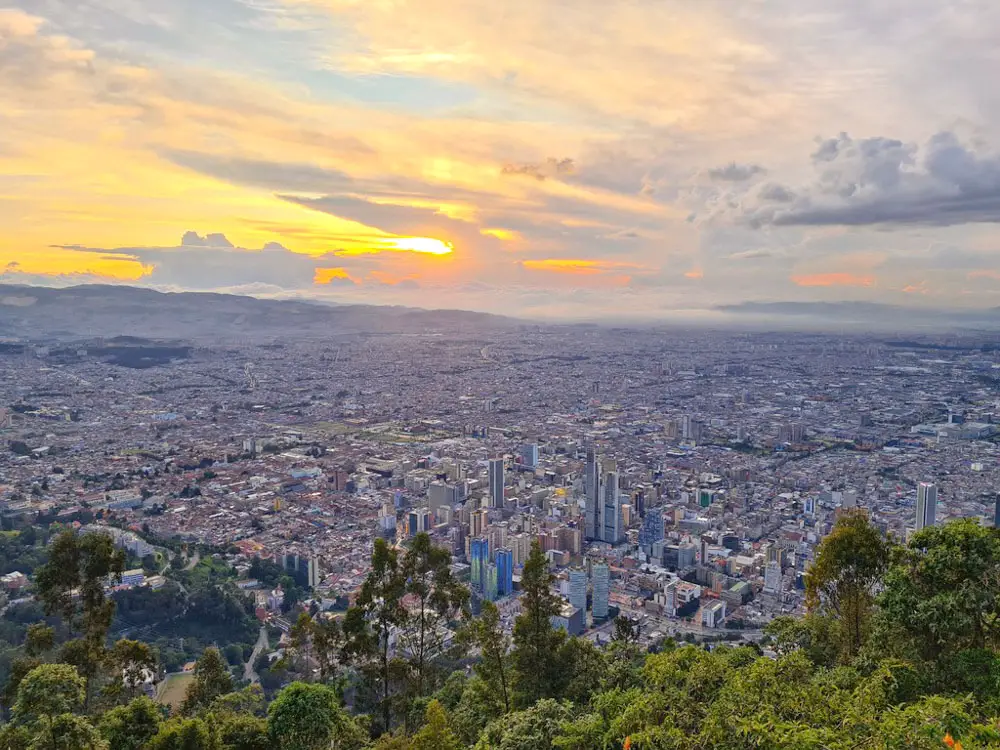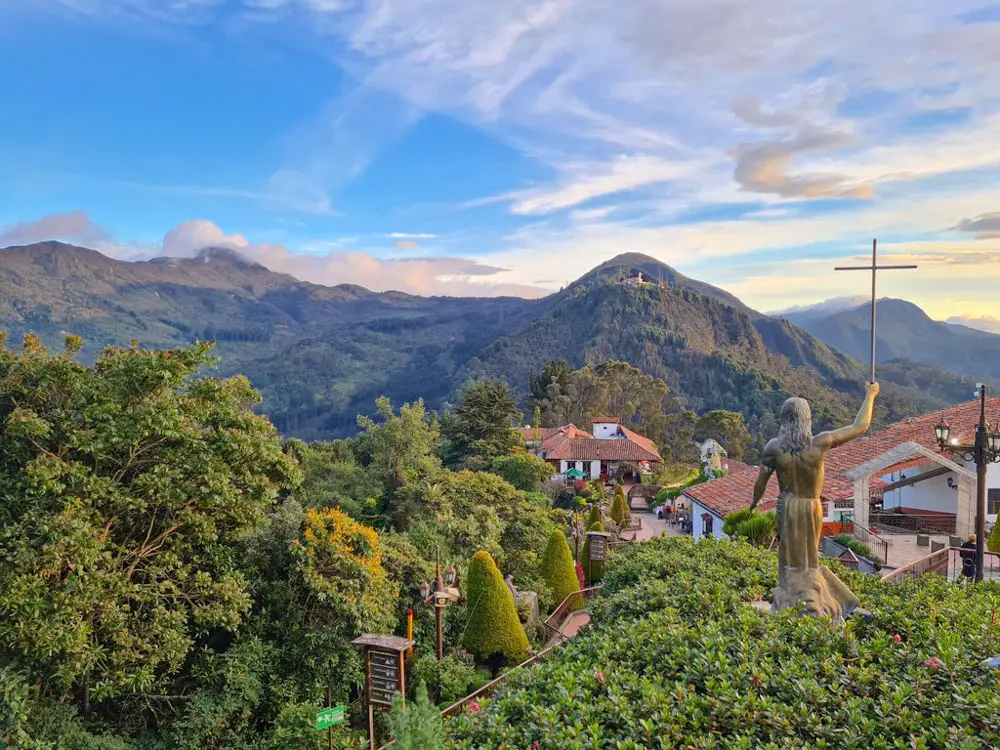 On top of the mountain there is a church (built in the 17th century) with a shrine, devoted to El Señor Caído – The Fallen Lord. In addition to the church, there are a bunch of stalls selling souvenirs and a few restaurants.
You can either take a cable car, a funicular, or walk up to the top. A popular choice is taking one up and the other down. The cable car costs 12,000 COP on Sundays or 27,000 COP during the week for a round-trip ride.
Tip: Make sure you visit the place on a good the day.
Things to Do Near Bogotá
Bogotá is not one of the most popular tourist destinations, but if you have more days I highly recommend some great natural attractions.
Explore Cascada la Chorrera – The Highest Waterfall in Colombia
La Chorrera waterfall is one of the greatest natural attractions in Colombia. It is the highest waterfall in Colombia at 590 meters and the sixth highest in South America. The waterfall is located just an hour and a half bus ride from Bogotá. It is not very popular among foreign tourists, but it is one of the favourite places for local residents.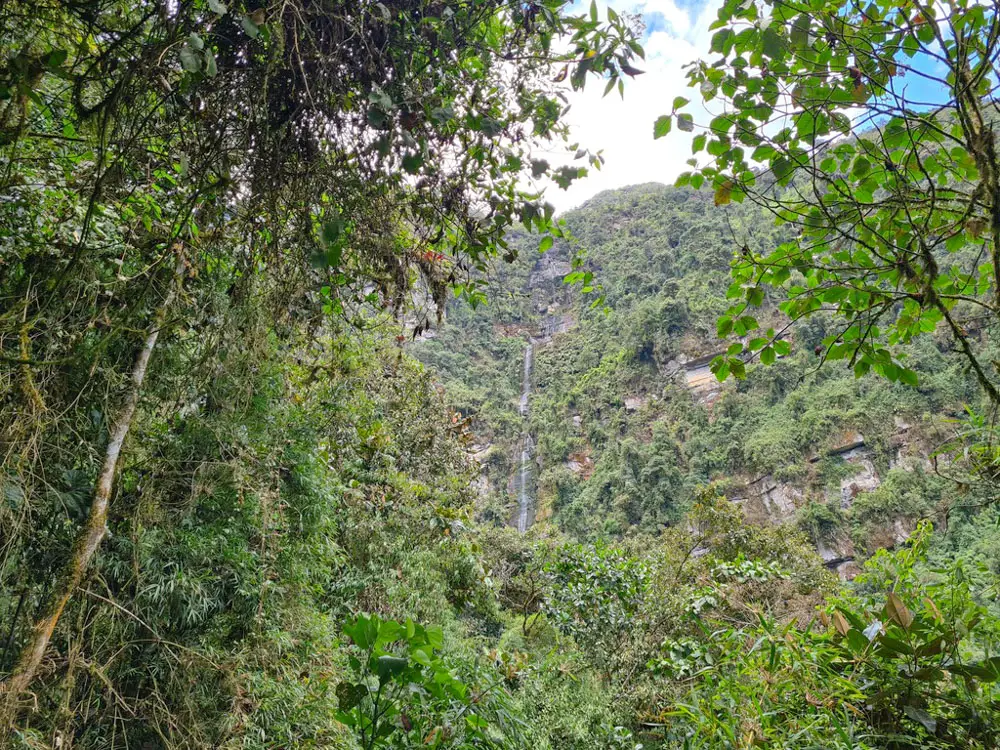 You can visit the falls for one day trip, but you should catch a bus early in the morning to have enough time to explore the national park.
Lake Guatavita (Laguna de Guatavita)
Laguna Guatavita is one of the most interesting places near Bogotá, because it is where the legend of El Dorado starts. Once sacred to the local Muisca tribe, this place now is a popular tourist attraction located 75 km from Bogotá. It is a perfect place for a day trip from Bogotá, especially for those who want a break from the big city.
Where to Eat In Bogotá?
There are hundreds of places to eat in Bogotá, but when in La Candelaria I highly recommend visiting the following three restaurants:
Puerta Falsa
Puerta Falsa is a real jewel in the heart of Bogotá. This iconic restaurant was founded in 1816 and offers some of the most typical local dishes. Don't forget to try tamales, as well as hot chocolate with Almojabana, bread with butter and cheese (Chocolate Completo, Almojabana, pan con mantequilla y queso). Anthony Bourdain ate here and claims they have the best tamales in the world.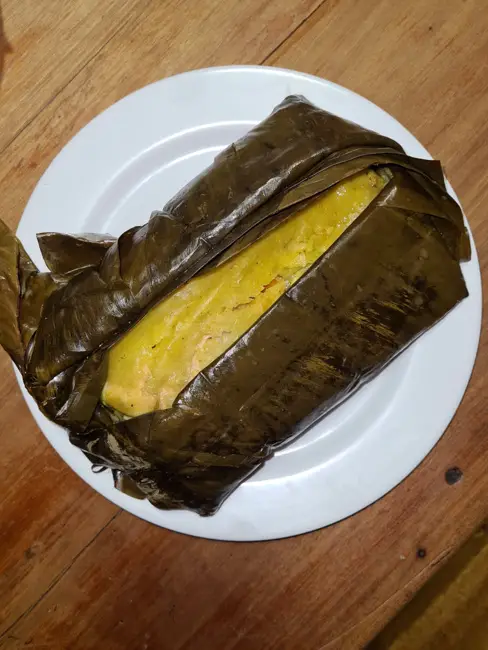 La Puerta de la Catedral
Puerta de la Catedral is located in the colourful neighbourhood of La Candelaria in a house with over 300 years of history. The restaurant offers traditional Colombian cuisine, including the most typical dish in Colombia – Ajiaco. It is soup with chicken, potatoes, herbs and corn, served with rice and avocado.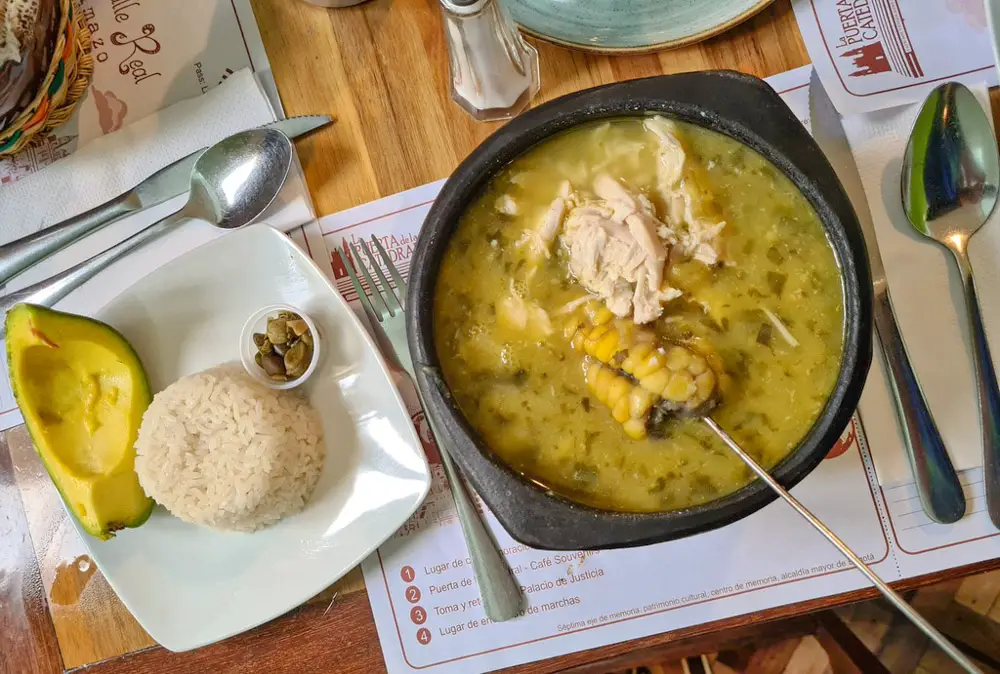 Madre (Pizzería Madre)
Pizzería Madre is another great place to eat in Bogotá. The interior has a very modern industrial style. The food is delicious and the service excellent. There is a large selection of salads and pasta options, in addition to many types of pizza.
Best Places to Stay in Bogotá
Bogotá is a huge city, so finding the best place to stay is essential. Some of the most preferred and safe neighborhoods are La Candelaria, Chapinero and Zona Rosa.
La Candelaria is Bogotá's old quarter with a wonderful colonial heritage. This part of the city is among the most favorite of all tourists because of its location next to the most popular attractions.
Another great place to stay is Zona Rosa. It is known as the beating heart of Bogotá, because of its vibrant nightlife. A large number of shops, cafes, restaurants and night clubs are located in the area.
Chapinero is located in the north of the city and is one of the more affluent districts in Bogotá, mostly inhabited by upper class residents. It is home to exceptional restaurants and night clubs. Here is also the famous zone G (Zona G), assuming that the letter "G" comes from the word gourmet. If you are a food lover of international cuisine, here you can try French, Peruvian, Chinese, Spanish, etc. Chapinero is also a favourite spot among the LGBTQ community as locals calling it Chapigay.