Last Updated on 09.06.2020 by Iliyan
If you have 2 days in Singapore and you are wondering what to do, places to visit and where to sleep, this is the guide for you. Read this post for the perfect 2 days in Singapore itinerary.
Singapore is one of Asia's most popular destinations, but also is one of the most modern. It's а city-state, and home to some impressive feats of architecture, green parks, some of best food in the world, exciting attractions, and an interesting mix of cultures. Most people spend a few days exploring the city during a stopover, since the Changi Airport is a high point for destinations throughout Asia. If you're visiting Singapore for the first time, 2 days is probably the optimal period of time. So here's my 2-days in Singapore itinerary for this beautiful country in Southeast Asia. But first…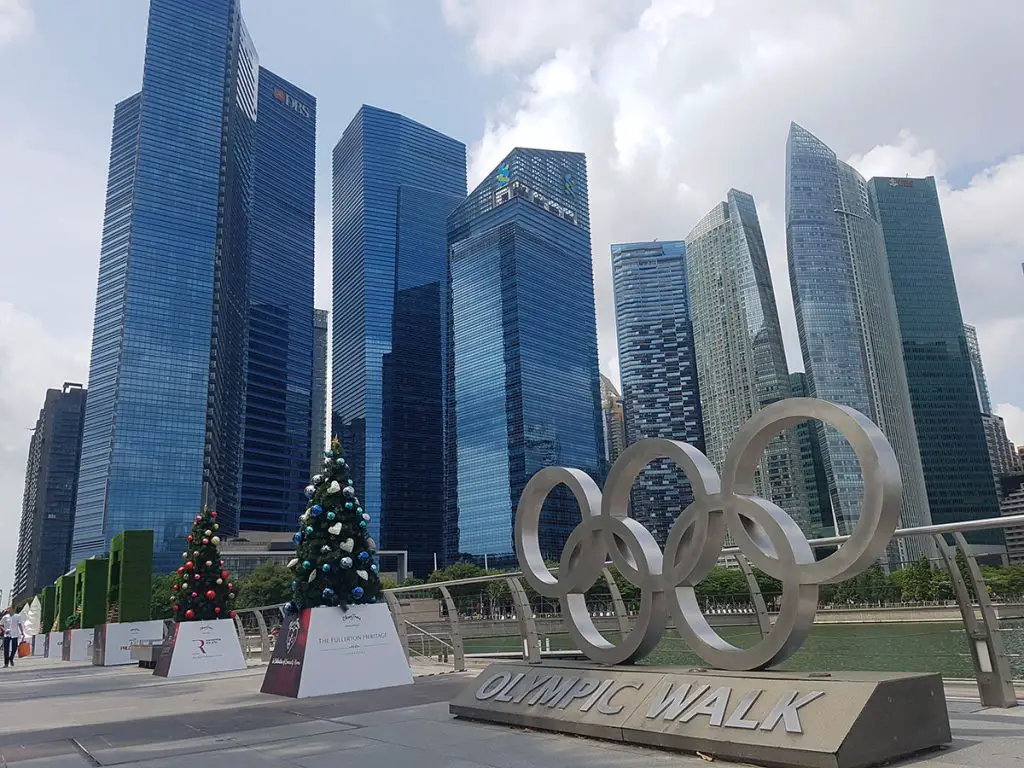 Facts about Singapore
Singapore is one of the most globalized cities in the world. The Chinese are the largest ethnic group in Singapore, but the country is also home to Malaysians, Indians, Americans, and Europeans. The official languages are English, Malay, Mandarin, and Tamil. Singapore is hot and humid all year round.
Singapore has some unique laws. Selling chewing gum is illegal. Drug traffickers are punished by death. Also, the alcohol cannot be purchased past 10:30 p.m.
Getting Around Singapore
It's easy to get around thanks to its well-connected transport system. You can use the MRT, buses, or cabs within Singapore. The Mass Rapid Transit (MRT) is the fastest and cheapest way to get around Singapore. Most areas within the city centre are well-covered by trains.
You can buy a standard ticket. It costs the single journey fare + S$ 0.10 (€ 0.06) deposit. Each time you want to take a train, you need to top up the Standard Ticket. It can be re-used up to 6 times within 30 days. A Standard Ticket can be purchased from any General Ticketing Machine at all stations. After you pay for a journey, you need to travel on that day. It can't be used on other days. You can request for the refund within 3 days from the date of purchase from Passenger Service Centre in any MRT station.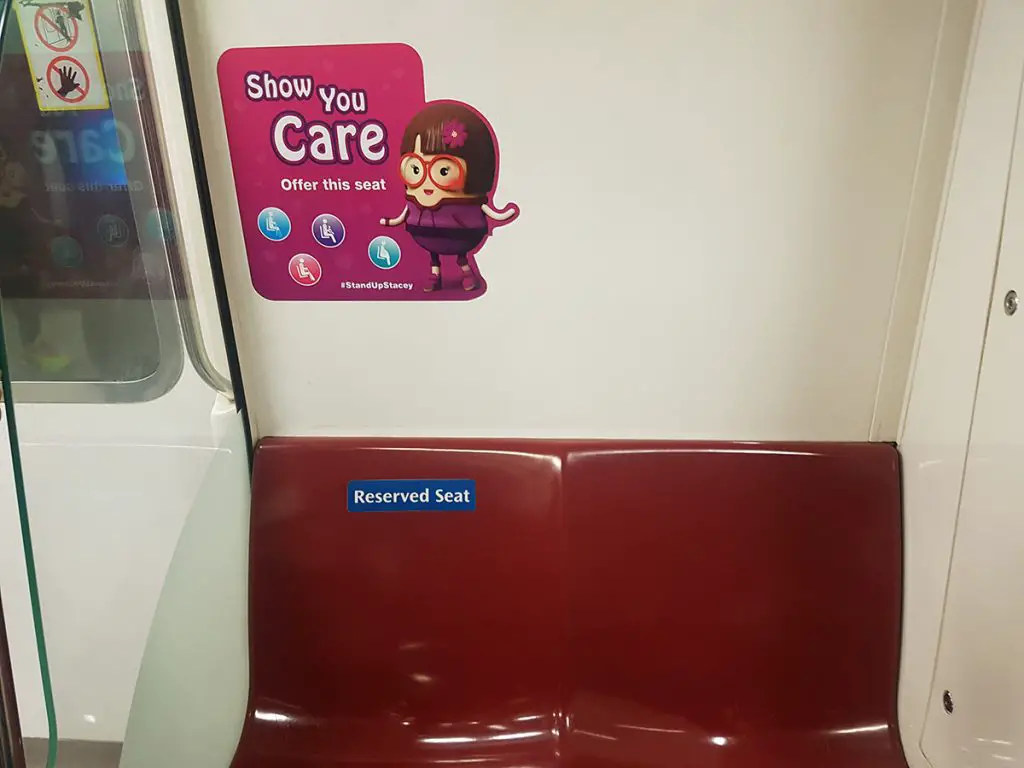 The Singapore Tourist Pass is a great deal and will give you unlimited rides for public buses and train services. A one-day pass costs S$ 10 (€ 6.62), a two-day pass costs S$ 16 (€ 10.60), or you can get a three-day pass for – S$ 20 (€ 13.25). More information can be found on the website – www.thesingaporetouristpass.com.sg
Taxis in Singapore are clean, comfortable and affordable. They are more expensive during peak periods. Always pay cash, because payment by credit/debit card incurs a 10% surcharge. Here, everything is regulated and there is no way for bargaining or getting scammed.
The app works just like Uber.
2 Days in Singapore Itinerary: Day 1
Planning to spend 2 days in the country? Here is my 2 days Singapore itinerary. You really can see the main sights, but you need to be very organised.
The Gardens by the Bay
This is probably one of the first things in your bucket list for Singapore. The Gardens by the Bay are possibly the most iconic attraction in Singapore. It is one of my favourite places in the city and I'd highly recommend visiting if you have time. It has an exceptional wow factor. This creative and stunning display of flowers and plants goes far beyond your standard botanical garden. The Gardens by the bay consists of three parts: Bay South Garden, Bay Central Garden, and Bay East Garden.
You need to go along during daytime to start your visit look around the trees and the domes. You cannot miss the Supertrees – 25 to 50-metre-tall vertical gardens that collect rainwater, generate solar power and act as venting ducts for the park's conservatories. Then you need to wait until sundown when the domes light up and time it so you get a spot by the trees ready for the light show outside. Best views of the light show is led down on the floor or wooden benching if you can find a spot. It is very popular. The light show is one of the best things to do in Singapore. It lasts about 12 to 15 mins and is synchronised to music.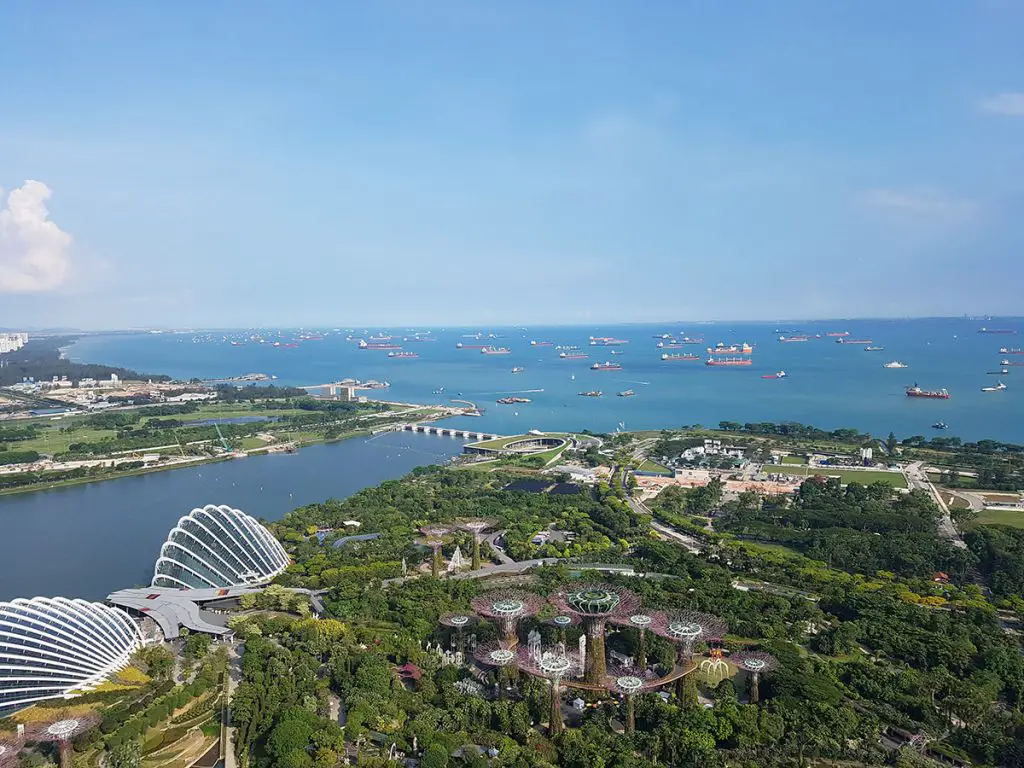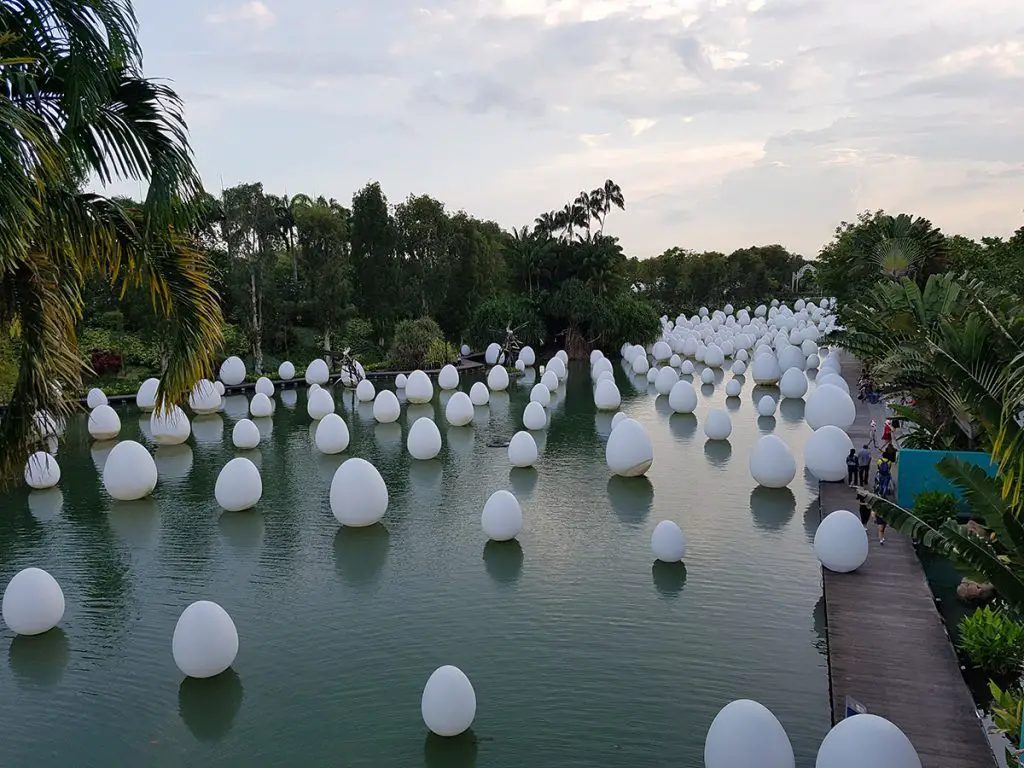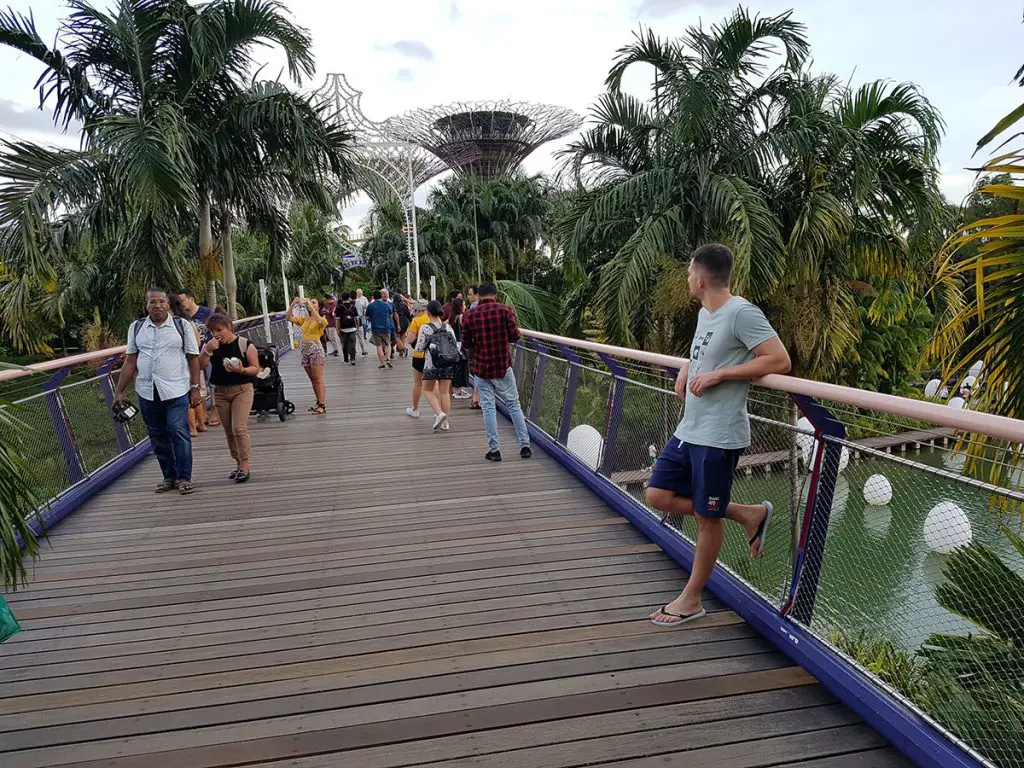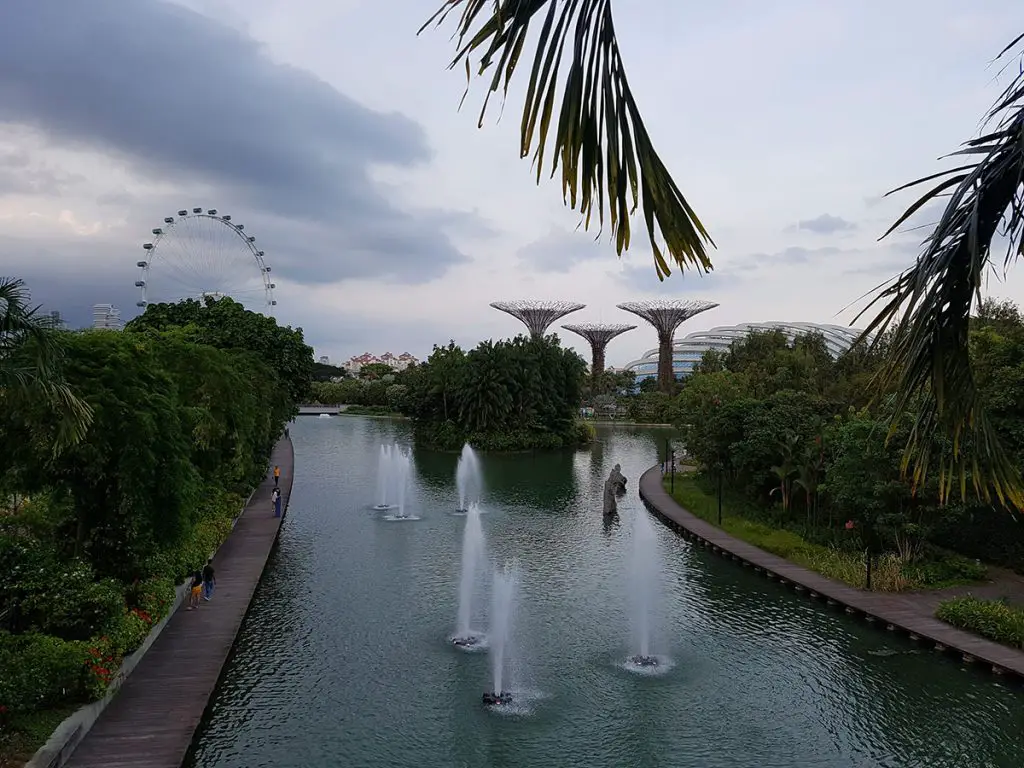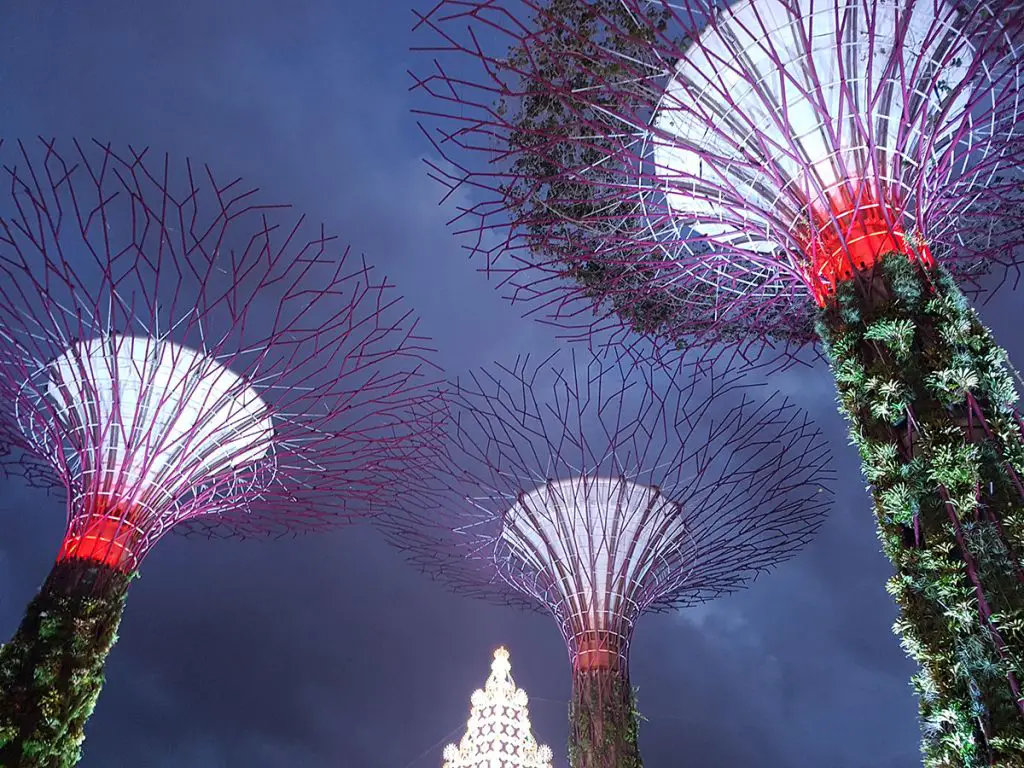 Meet the Famous Merlion
The mythical Merlion is the official mascot of Singapore. Depicted as a mythical creature with a lion's head and the body of a fish. It is located at the waterfront at Merlion Park.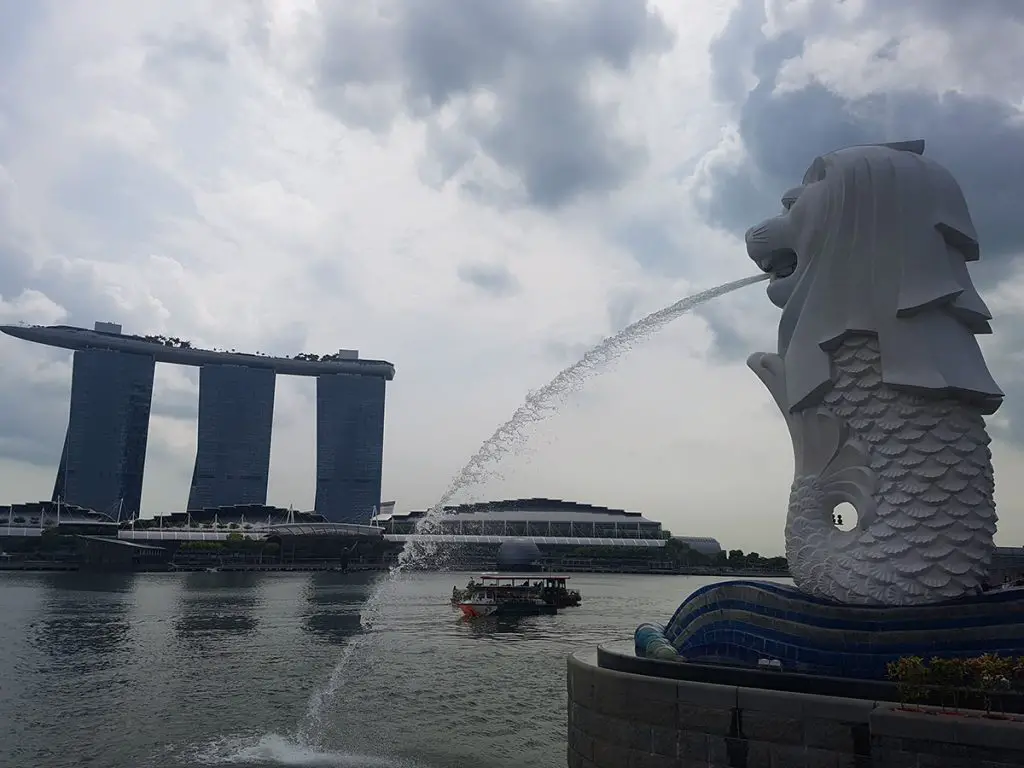 Chinatown
Take a walk through Singapore's Chinatown. No visit to Singapore is complete without a visit to this amazing place. It is a sharp contrast to the rest of the city and clashes with the typical infrastructure of Singapore with low rise buildings. The overall architecture of Chinatown's combined different elements of Victorian Architecture and Baroque Architecture. The small, colorful streets with shops spilling out onto the sidewalk and the enthusiastic sellers make for an exciting walk through the area. It is fantastic for shopping if you are looking for cheap goods. Also, Chinatown provides lots of delicious cheap eats. There are beautiful religious buildings like Masjid Jemane Chulia, The Buddha Tooth Relic Temple and Sri Mariamman Temple.
Spectra Light and Water Show
It's a must see when visiting Singapore. The laser show is a great sight to see, and even better that there is no charge to see the show. The music and lights over the water is wonderful to watch. I would recommend the 9 p.m. show which was a lot less crowded than the 8 p.m. show. Grab a seat on the deck and enjoy the show if you're in Marina Bay!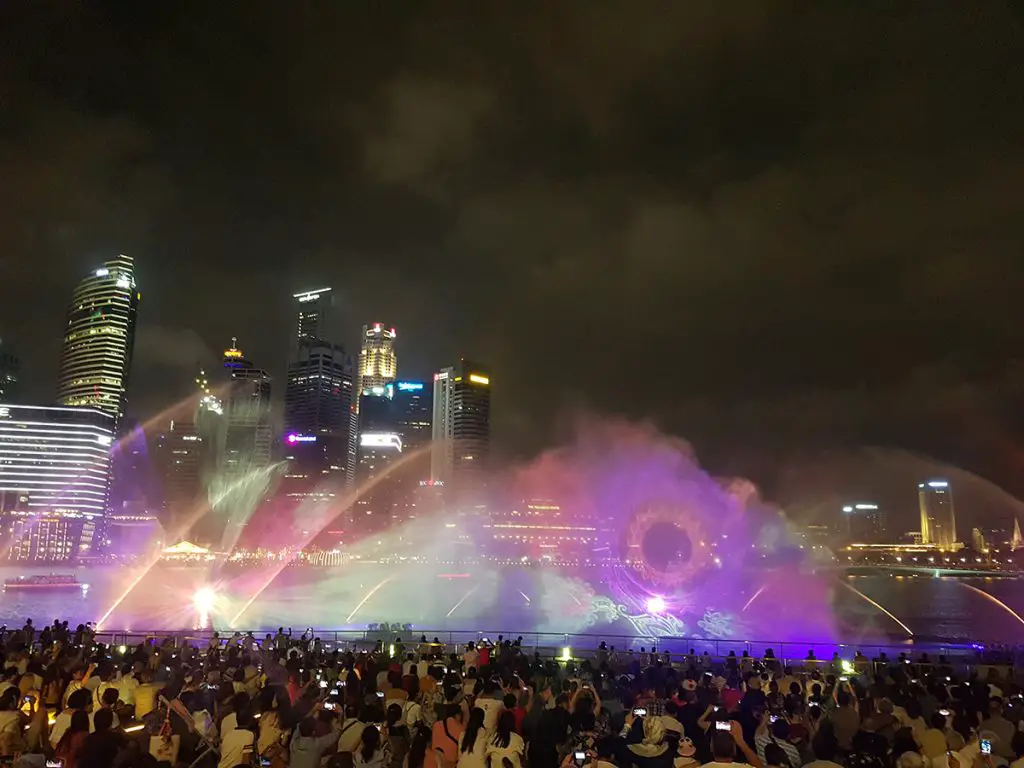 Stay at Marina Bay Sands
Staying at Marina Bay Sands will cost you a lot, but if you've got the money its worth it. The views from the infinity pool are breathtaking.
2 Days in Singapore Itinerary: Day 2
Singapore Botanic Gardens
The Singapore Botanic Gardens is the only tropical garden in the world to be honoured as a UNESCO World Heritage Site. The garden has great variety of trees, bushes and plants, and with serene forest trails. They are immaculately maintained and the staff always friendly and helpful. Entry is Free.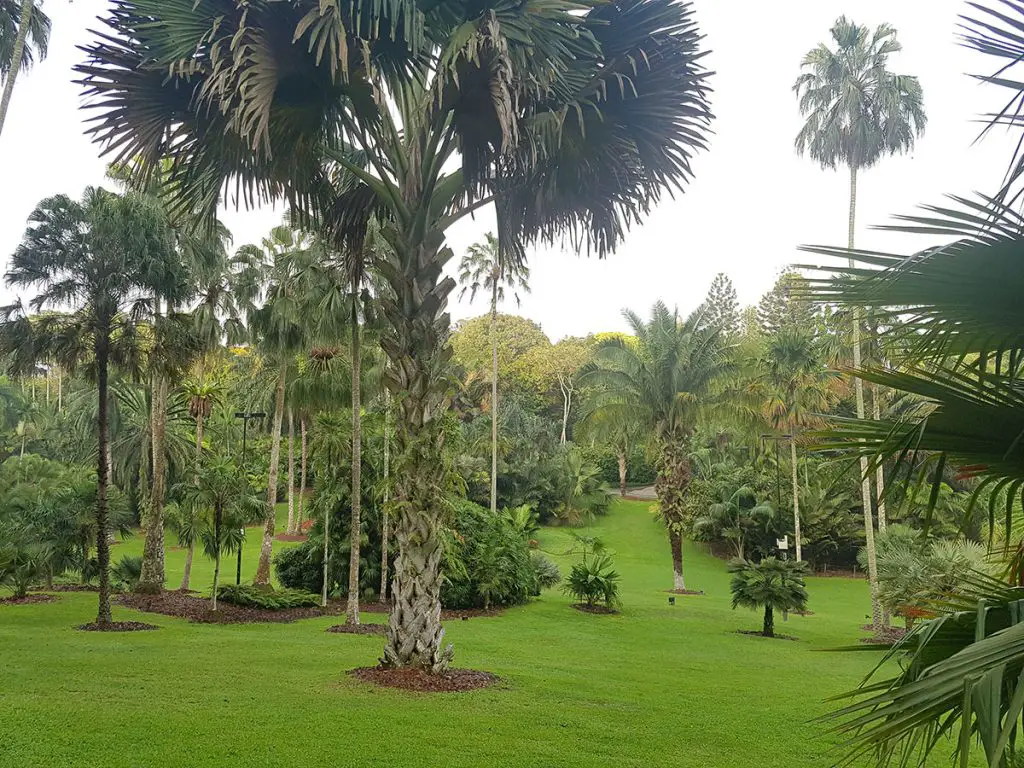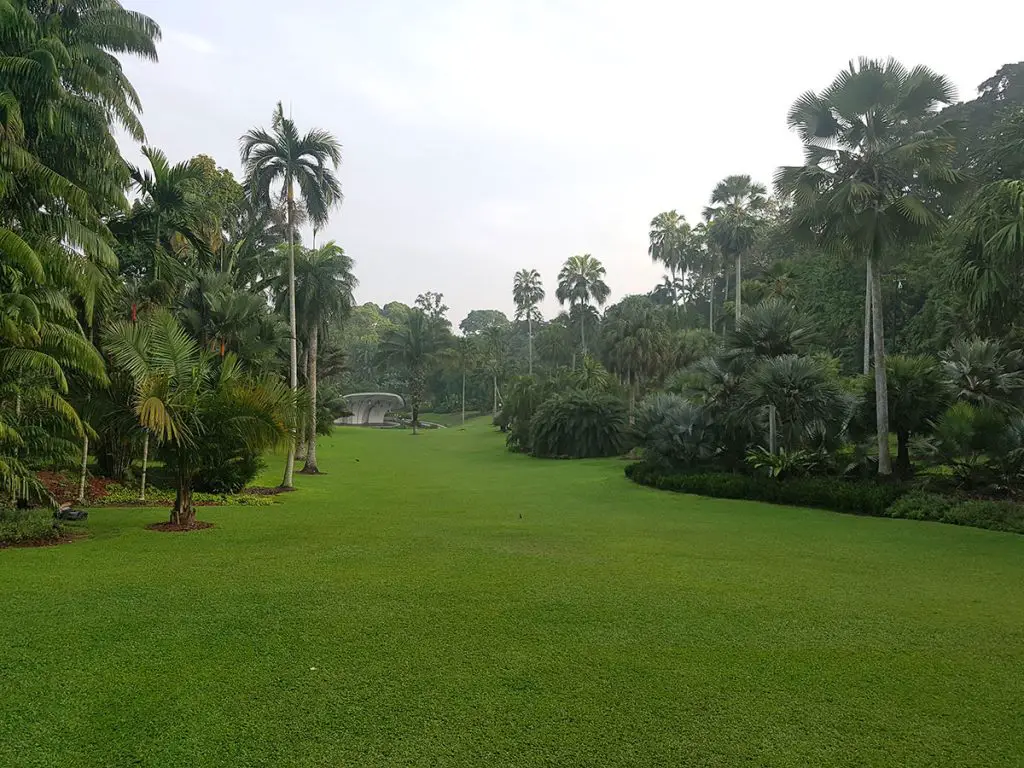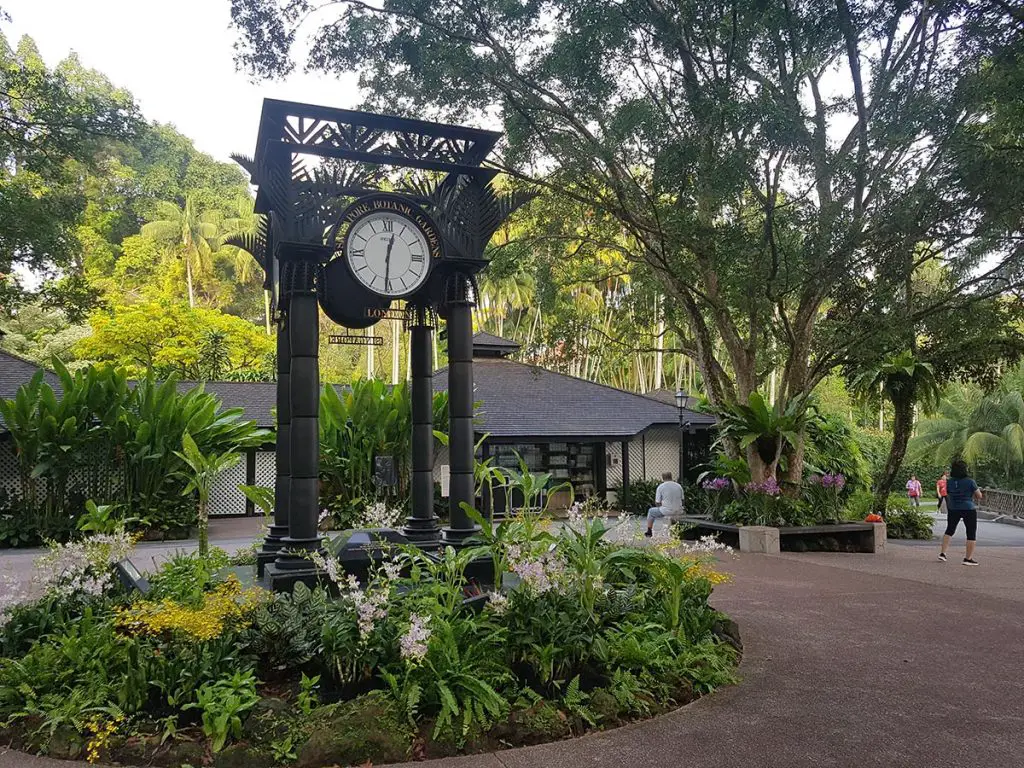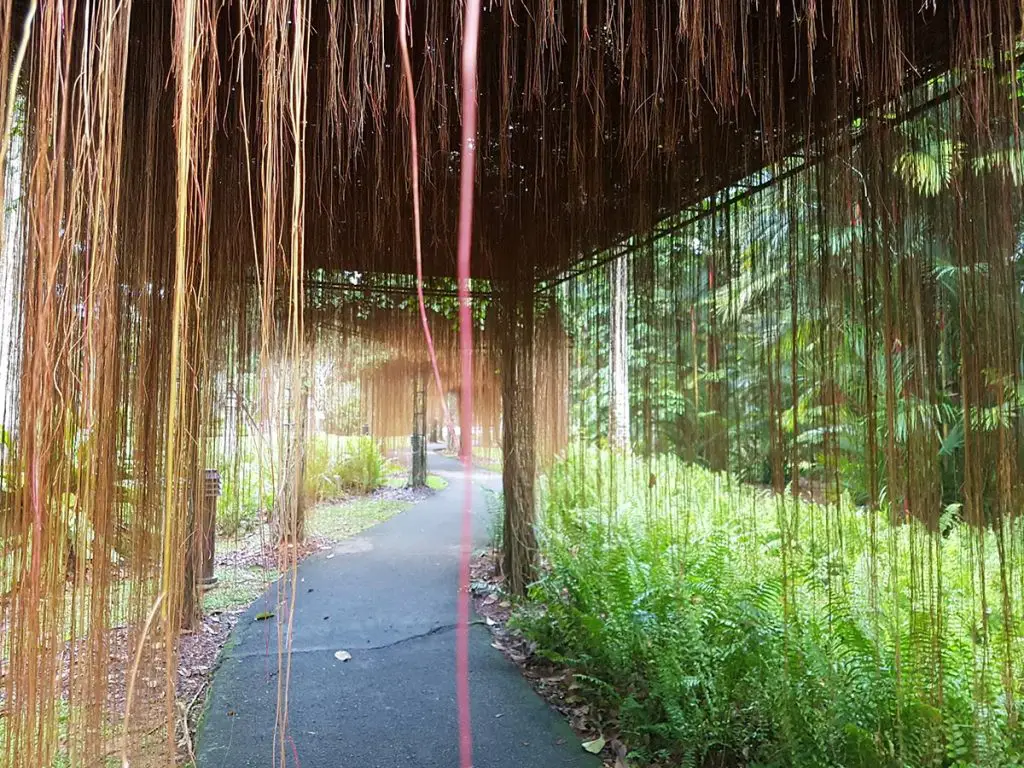 Orchard road
Orchard road is a shoppers heaven with lots of malls, branded stores and small independent shops, there are lots of places to get food and drink. There is nothing you cannot buy in this area. Just be aware to not expect bargains as some of the stores can be pricey.
Little India
The city has plenty of ethnic neighborhoods but the most charming is Little India which is located within the city center. Little India is exactly what you would expect on a visit to a busy India. There are a number of markets, the streets are loud, and there's Indian cuisine being sold on every street. The heart of Little India is Serangoon Road. It is full of people, shops, restaurants and some famous Hindu temples. Not to be missed in this area are the Sri Veeramakaliamman and Sri Vadapathira Kaliamman temples. The Sri Veeramakaliamman Temple is dedicated to the Hindu goddess Kali. It's one of the city's oldest temples and became a focal point for the Indian community and with its colourful and complicated statues, the temple remains one of the most spectacular in Singapore.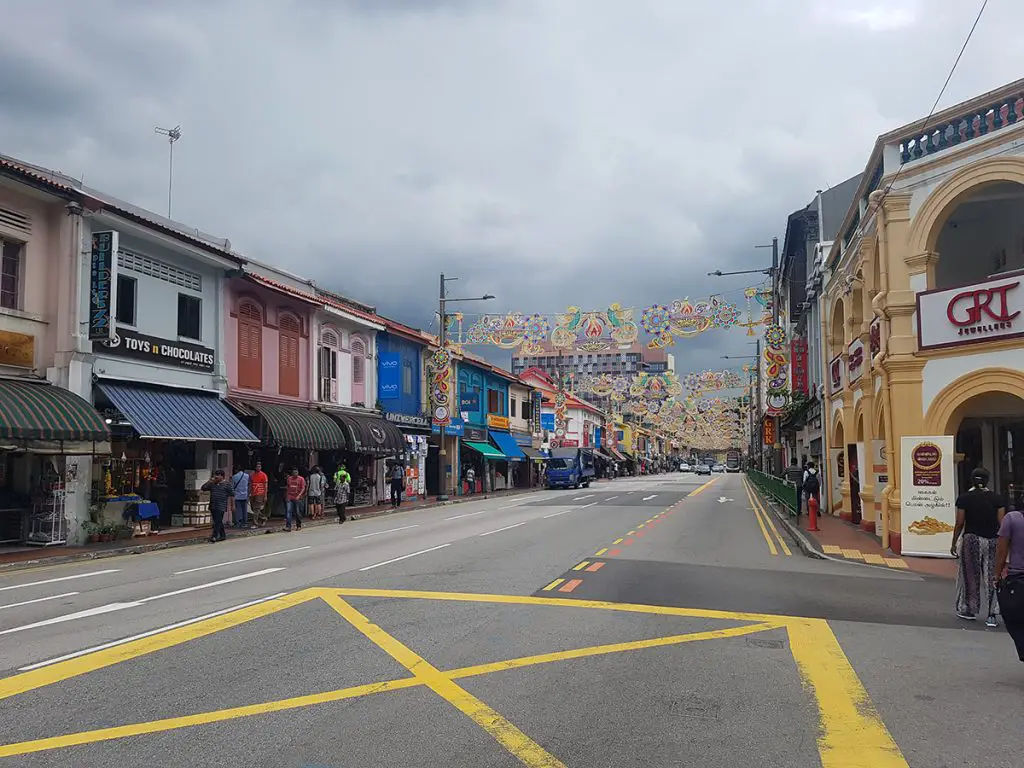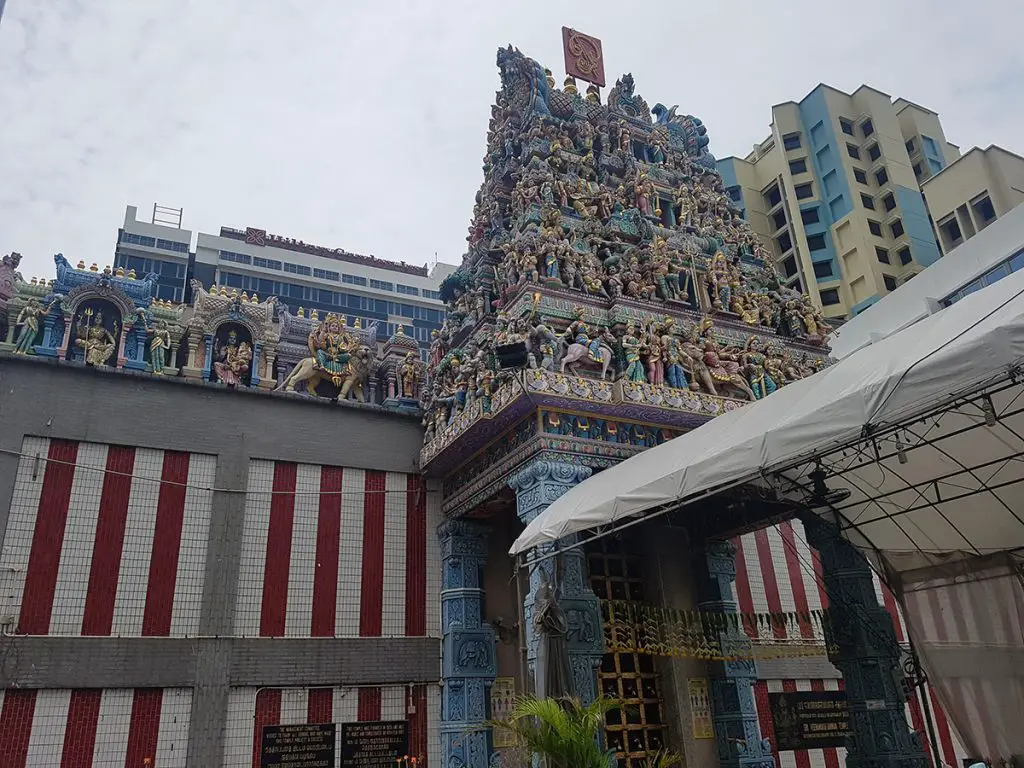 Walk Bugis Street Market
Bugis Street Market is one of the biggest, and probably cheapest places to come shopping in the whole of Singapore. There is anything and everything you need here! Clothes, spices, shoes, food! 
Singapore flyer wheel
A great way of seeing a 360 view of the city. Ride the Singapore Flyer at night for a spectacular night view of Asia's largest observation wheel. Absolutely a must visit place for all the tourists. You can sit back and enjoy some of the finest views of all amazing landmarks of Singapore. The flyer moves at very slow speed and it takes 35-40 minutes for one complete rotation. As with most popular tourist attractions I'd recommend arriving early to avoid the queues. The fare is S$ 33 (€ 21.91).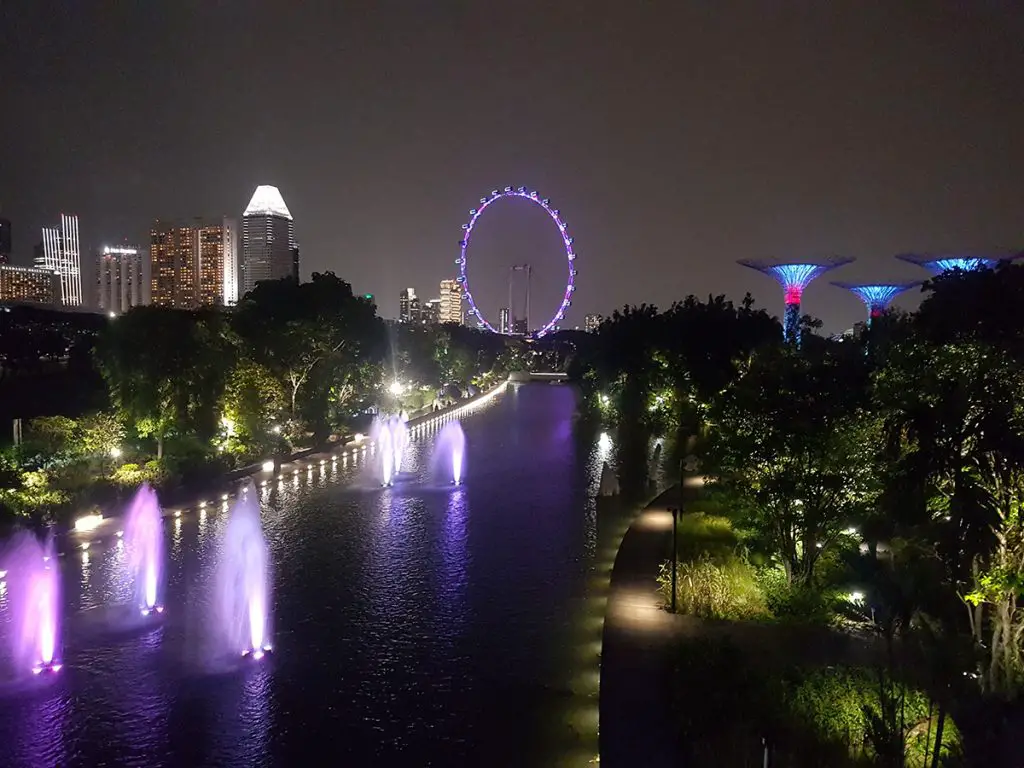 How long to spend in Singapore?
I'd say between 2 and 4 days in Singapore is the right amount of time. If you're into the night life, fancy restaurants and shopping, and are willing to spend a ton of money, you might be able to enjoy yourself far more.
Where to Stay in Singapore?
Luxury Hotels
The Marina Bay Sands is an ultramodern hotel, a building that looks like it comes from the future. It consists of three giant towers and a platform that houses an infinity pool, observation deck, and restaurant. The roof, which you can pay to access has a Sky Park with an incredible view of the city. Only those staying at the hotel can gain access to the pool.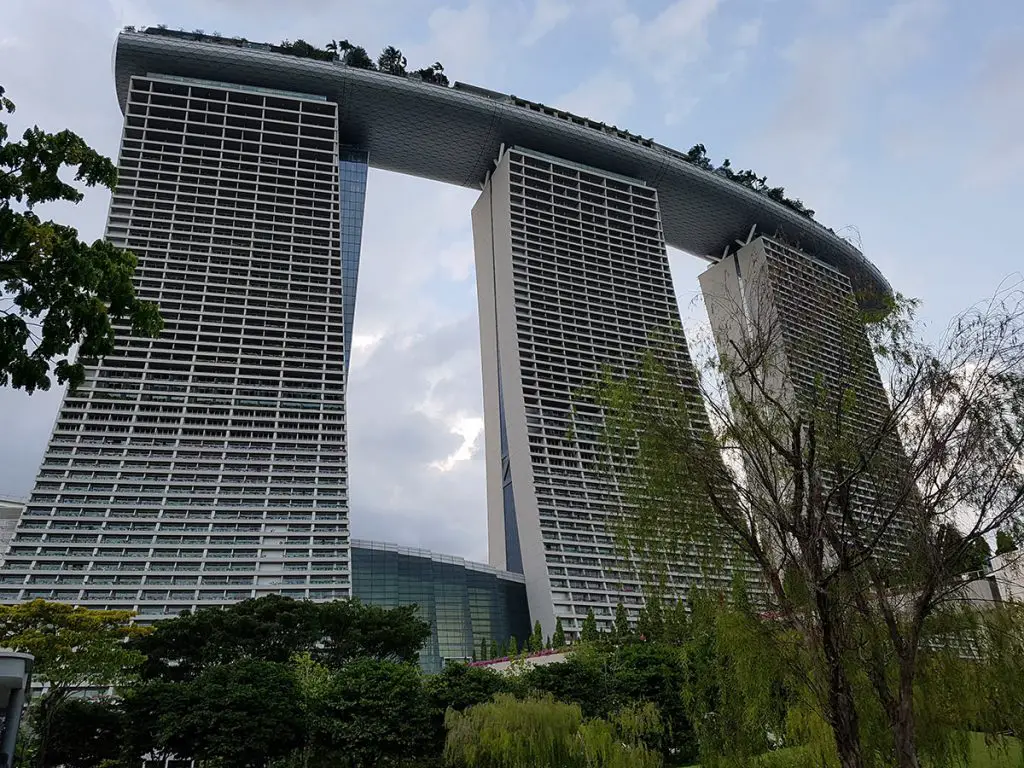 The Fullerton offers luxury rooms with top facilities & services. It is known as one of Singapore's most luxurious hotel. The five-star hotel is Colonial in style and very historic.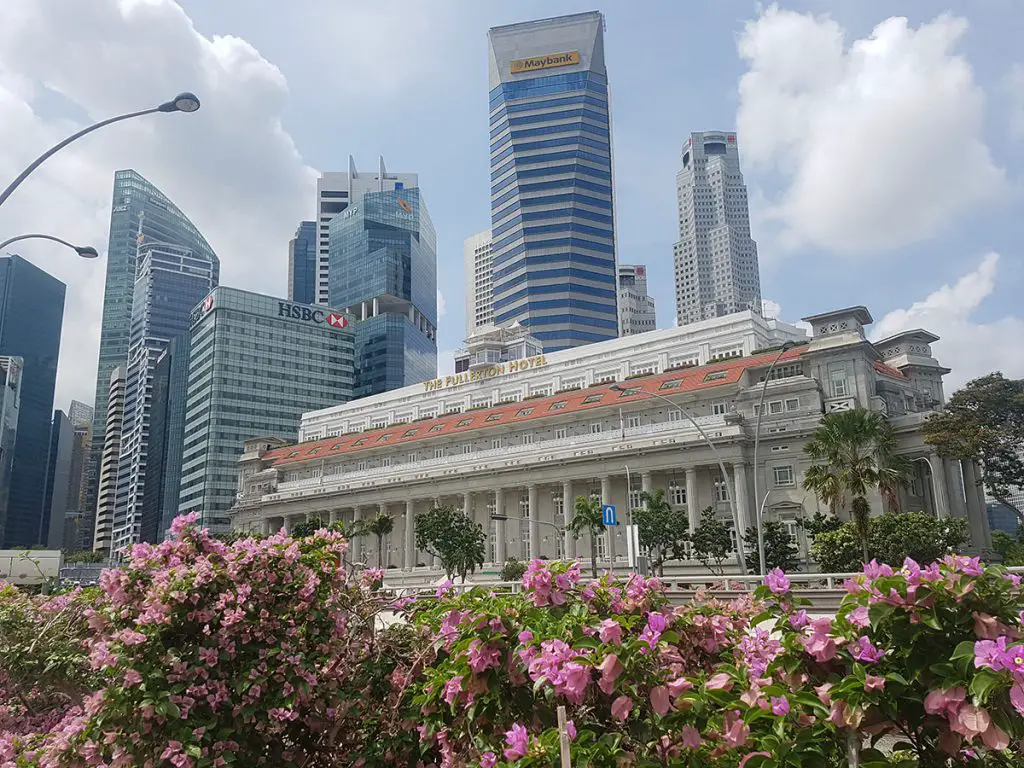 This iconic hotel was declared a National Monument in 1987. It is a colonial-style luxury hotel in Singapore. It was named after British statesman Sir Thomas Stamford Raffles, the founder of Singapore. No visit to Singapore is complete without at least a walk past and photo opportunity.
Mid-range
The Holiday Inn Singapore Orchard City Centre is a lovely hotel in a very central location just off Orchard Road. It is a good choice in the mid-range category. The hotel has all the facilities you would want, including a rooftop pool.
Budget
I am very glad that I have chosen this hostel for my stay in Singapore. The staff are always there and they genuinely care about their guests. The location of the hostel is very much accessible. Prices are super affordable.