Last Updated on 13.02.2020 by Iliyan
Everything You Need to Know About El Nido Island Hopping in Palawan, Philippines
El Nido Island Hopping are the biggest attraction in El Nido, Palawan. There are 4 tours to choose from: Tour A, Tour B, Tour C, and Tour D. Each tour offers different places, but all of the tour boats follow the same schedule. The most popular tours are by far A and C. Bear in mind, that some companies combine tours A & B or C & D so you only do the highlights of each tour.
Tour A
Tour A is one of the best island hopping tours in El Nido. It includes two lagoons at Miniloc Island (Small Lagoon or Big Lagoon and Secret Lagoon), Shimizu Island and Seven Commandos Beach.
Big Lagoon or Small Lagoon
Around the Small Lagoon at Miniloc island you will see the jagged karst landscapes. The Big Lagoon is another glorious lagoon. It characterized by stunningly deep blue water with smaller lagoons on the sides. You will see how dramatic the cliffs and landscape are in El Nido. Kayak rental is PHP 250 (€ 4.42) for single, and PHP 300 (€ 5.31) for two person kayak.
N.B! Nowadays, it's only possible to do either Big or Small Lagoon, due to new municipal rules. Each has a PHP 200 (€ 3.54) entry fee.
This lagoon is not very secret and very overcrowded. To get to it, you need to swim under a limestone cave which is not shallow. Once you climb through the hole in the rocks you reach the Secret Lagoon which is surrounded by tall limestone. The water is not clear like in the other places.
Shimizu Island is generally known for its snorkeling and seeing corals, but also features a small white sand beach with striking limestone rocks. The corals and sea life underneath is amazing.
It's a long beautiful, white sand beach with some stalls where you can buy a drink (smoothies, juice, beers, halo-halo). Also, there are a couple of volleyball nets set up along the beach.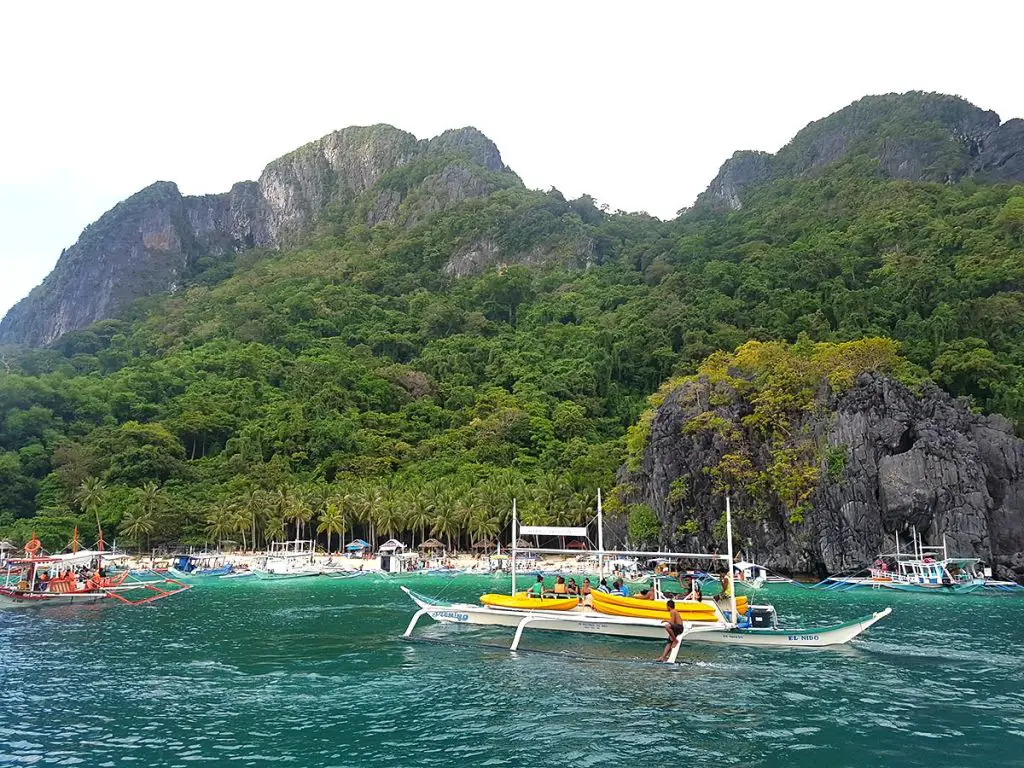 Costs: PHP 1200 (≈ € 21.70)
Tour B
El Nido Island Hopping includes Snake Island, Pinagbuyutan Island, Entalula beach, and Cudugnon Cave. You will enjoy white sand beaches, snorkeling, visiting a cave and discover a very unique sandbar in the middle of the sea.
It's called Snake Island for a reason. It is an epic spot. It is home to a sandbar that juts out into the sea like a giant serpent, connecting two parts of the land.
Pinagbuyutan Island has enormous limestone mountains and rock formations. There's nothing more than a coconut trees on this island.
On Entalula beach you will discover a long white beach sand borded with tropical vegetations.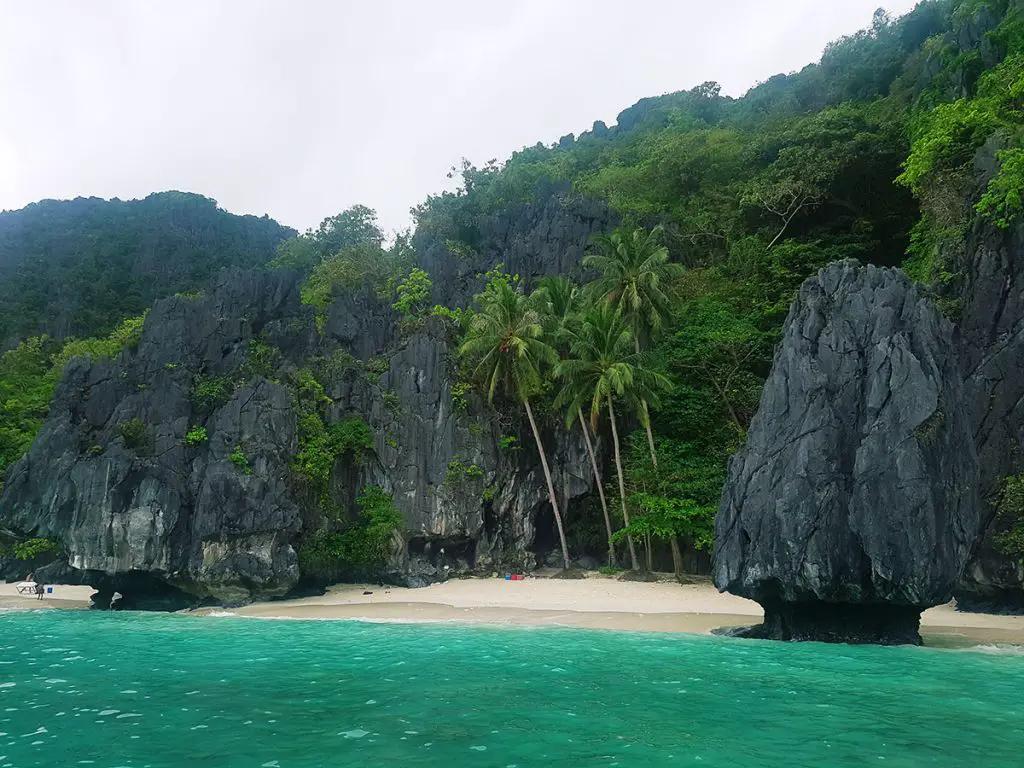 The Cudugnon Cave has amazing rock formations and it is very important archeological site because of the bones and artifacts found there.
Costs: PHP 1300 (≈ € 23.50)
Tour C
Tour C is the second most popular of all El Nido Tours. It will take you on a journey to beautiful islands, beaches and snorkeling spots. Also, it provides the opportunity to see sea turtles. Discover Hidden and Secret Beach, Matinloc Shrine, Helicopter Island.
The first island on the tour is the famous Helicopter Island. The traditional name is Dilumacad Island and is a 20 minutes out from El Nido. It's also known as Helicopter Island due to its helicopter-like shape when viewed from a distance. The island is home to a long white sand beach, beautiful turquoise coloured water, limestone cliffs, and rocks by the beach.
Matinloc Shrine is a former location of a Catholic monastery which has since been abandoned unfortunately. It is hidden at the foot of towering karst cliffs on the western coast of Matinloc Island. Urban legends say that this island holds a lot of mystery.
Hidden Beach is a nice little cove hiding behind the karst limestone cliffs. Your boat will drop you at the entrance and you wade through the water until you make your way into the cove after about 200 m. But when you get to this place you will be rewarded how amazing this place is. This area is simply paradise and the water is crystal clear.
Secret beach is the best stop of the tour. It is only accessible by swimming underwater through a narrow hole. It's pretty cool to sit on the beach completely enclosed by the rock formations.
Costs: PHP 1400 (≈ € 25.30)
Tour D
The tour will take you on a journey through ones of the most beautiful beaches in Palawan. It is perfect for beach lovers who want to avoid the majority of the crowds. Tour D includes the popular Cadlao Lagoon and a few beautiful beaches.
Cadlao Island is the largest island of the Bacuit archipelago and home to gorgeous beaches and limestone cliffs. However, Cadlao Lagoon is surrounded by spectacular limestone rock formation with deep emerald waters. It is a perfect place for snorkeling and swimming, because is filled with corals and an abundance of fish.
Paradise Beach is a stretch of powdery white sand lined by coconut trees and pure clear water.
Explore the sea life around Pasandigan beach with snorkeling. It is another great diving place with awesome corrals and white sand beaches.
Costs: PHP 1500 (≈ € 27.10)
El Nido Island Hopping – Private Tours
The best way to explore El Nido's Bacuit Bay is by private boat. Is it worth booking a private tour? You can avoid all tourists, combine the places and create your own tour by doing this, but it's a much more expensive option. You choose how long to spend at each place, and you won't have a big group with you.
If you're planning to do a private tour in El Nido you can expect prices from PHP 7000 to 9000 (≈ € 126.50-162.80)