Last Updated on 23.02.2020 by Iliyan
Coron is the third-largest island in the Calamian Islands in northern Palawan in the Philippines, but also refers to nearby Coron town. It is the largest town on Busuanga island where the airport is located. The town itself is small and used as a port to do Island Hopping tours. Coron is often listed as one of the top tourist places not only in the Philippines, but also in the world. Coron is more than just a pretty tropical paradise, and it is best known for world-class WWII-era wreck diving. It offers stunning limestone formations surrounded by pristine white beaches and clear jade-green sweet water lakes in its center.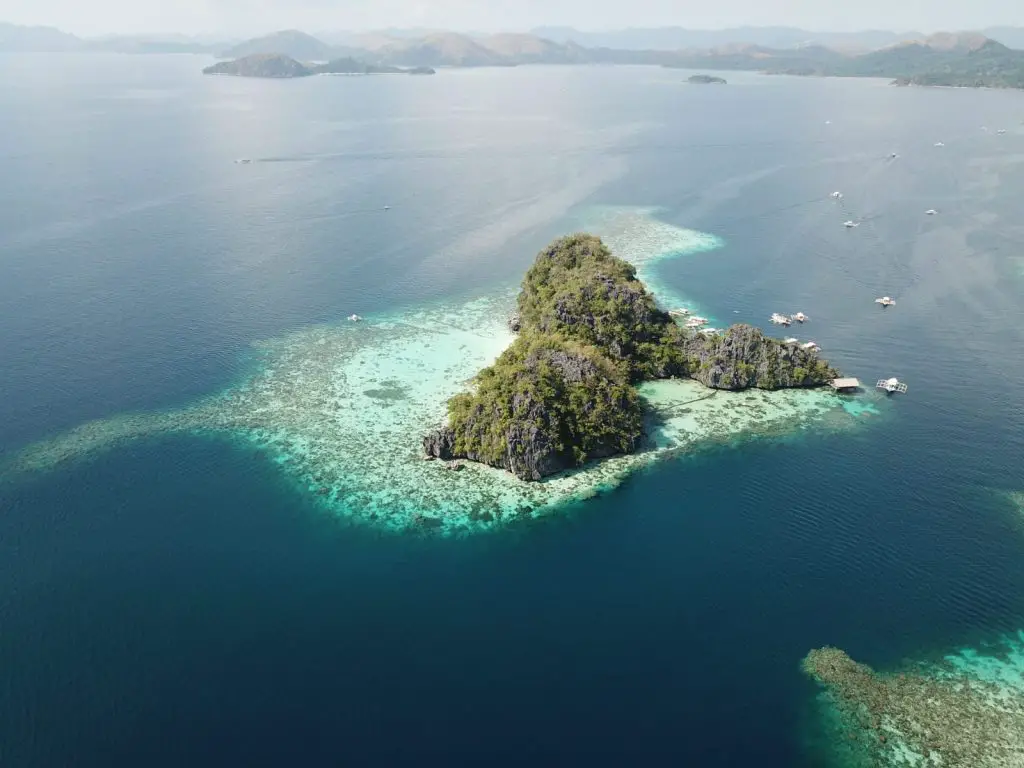 How to Get to Coron, Palawan?
Coron is easily reachable in two ways: by flights and by ferry.
The airport that serves Coron is called Francisco B. Reyes Airport, formerly Busuanga Airport (IATA: USU). Major local airlines such as Philippine Airlines, Skyjet, Air Juan and Cebu Pacific, have daily flights to Busuanga. The airport is only 40 minutes ride to Coron town and all of the van drivers know the flight schedules and they will be waiting to take passengers to the town. The ride costs PHP 150 (€ 2.73) per person.
You can opt to take a ferry going to Coron's main pier, Uson Island Public Pier. There are daily trips to Coron from El Nido by a fast boat. It takes around 4.30 hours and the price is PHP 1815 (€ 32.43).
2Go Travel offers voyage from Puerto Princesa and Manila to Coron. The ferry from Manila leaves every Friday only at 7 p.m., arriving at 6 a.m. the following day. The journey from Puerto Princesa to Coron takes 11 hours and the ferry leaves every Sunday.
There is a boat that regularly depart from San Jose, Mindoro to Coron several times a week. The trip will take 5 hours.
Getting around
Coron is a very small town and you can get around in tricycles. They are the main type of transportation in downtown Coron. Fare is PHP 10 (≈ € 0.20) per person within the town proper. It can be more expensive when going to the port or farther. Another option is to rent a scooter. If you want to discover nearby islands you can hire a private boat or join a group tour. 
What to Do in Coron?
Palawan has endless beautiful and breathtaking places you can visit. The Coron Island Hopping tours are incredibly popular. They are one of the main things to do in Coron. You will join other travelers to see some of the top sightseeings in the Palawan nearby. Both Tour A and Tour B are equally epic with free-diving, snorkeling, and incredible lagoons of Coron Island. They both include lunch. There are also other tours, but there are not so popular.
Some islands and islets have magnificent beaches and some have amazing snorkeling and diving off of them. If you have only one day, pick a Coron Super Ultimate Tour and explore on a boat the stunning islands nearby. Visit Kayangan Lake, Barracuda Lake, Twin Lagoon, and Banol Beach. The price for Coron Super Ultimate Tour is around PHP 1200-1500 (≈ € 22-28) per person for a shared boat. You can get a private boat for PHP 2700 (≈ € 50.00), so you can avoid the groups. On top of that, every place that you visit charges an entrance fee.
Kayangan Lake
Kayangan Lake and the nearby viewpoint are one of the most amazing places in all of the Philippines. It is known with its gorgeous emerald waters surrounded by towering karst formations, and holds the title "cleanest lake in the Philippines".
It is only accessible via a short 300-step hike. The hike to the top also leads to a viewpoint that has a beautiful view over the boat docks. The breathtaking view from the top of the hill, where you'll find a queue for the viewing platform, is absolutely worth it. The views are fabulous and the lake itself beautiful.
Don't forget to bring your mask and snorkel as you will see some amazing underworld rock formations.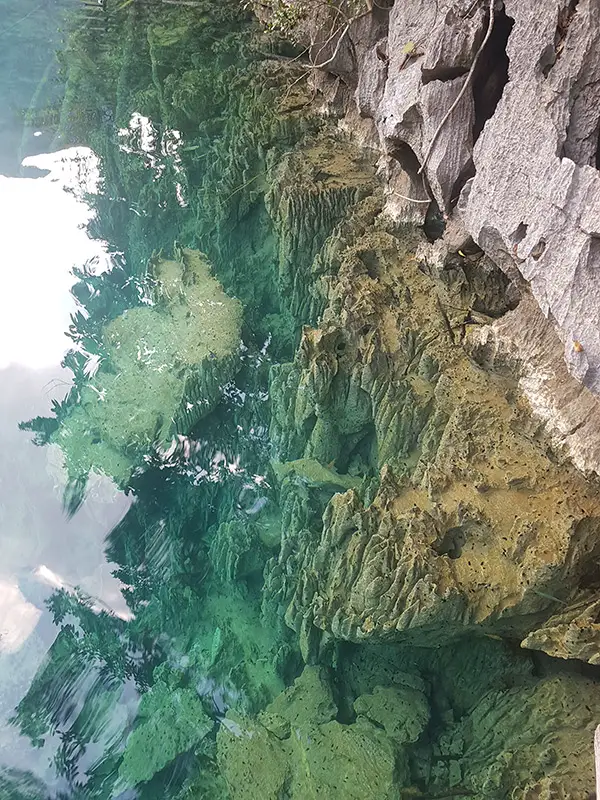 Twin Lagoon
This is one of the most popular destinations for Island Hopping in Coron and every tour boat goes there. Undoubtedly, Twin Lagoon is one of the most beautiful places to see because of its breathtaking scenery. The nature is just mind blowing.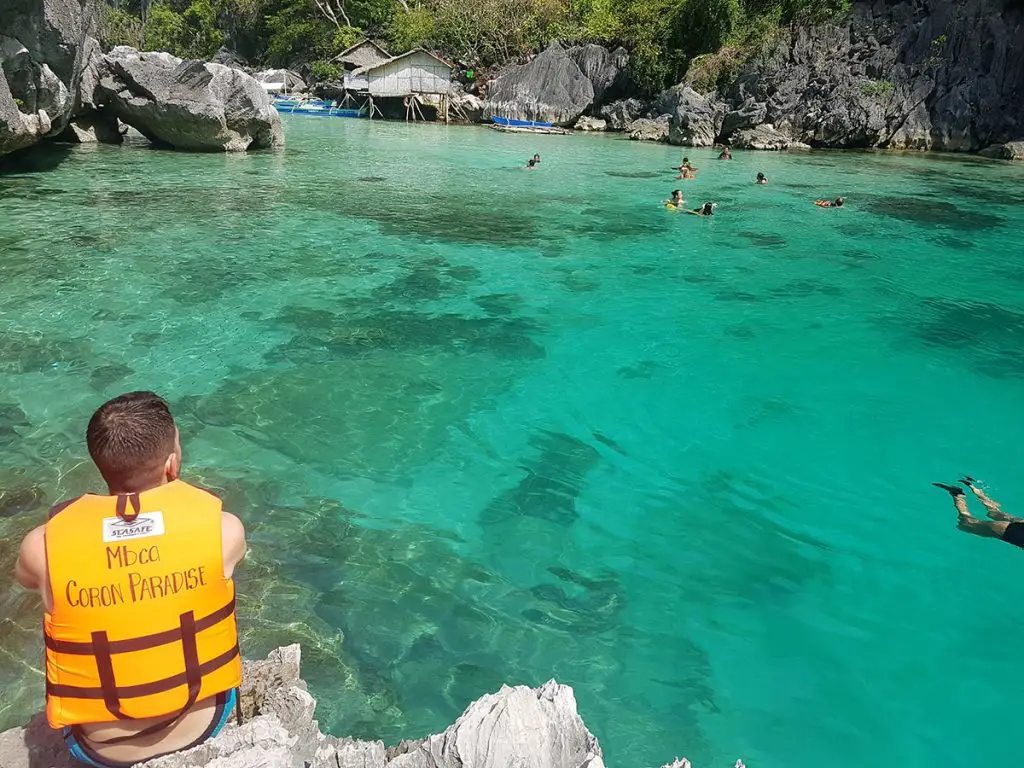 Barracuda Lake
This lake is so scenic and clear, and you can see the underwater mountains. It is surrounded by limestone cliffs located at the north end of Coron Island. When you get to this lake you have to climb some wooden steps to get over the rock formations before you get to the lake itself. It is a great swimming and diving spot, but can get a bit crowded at times.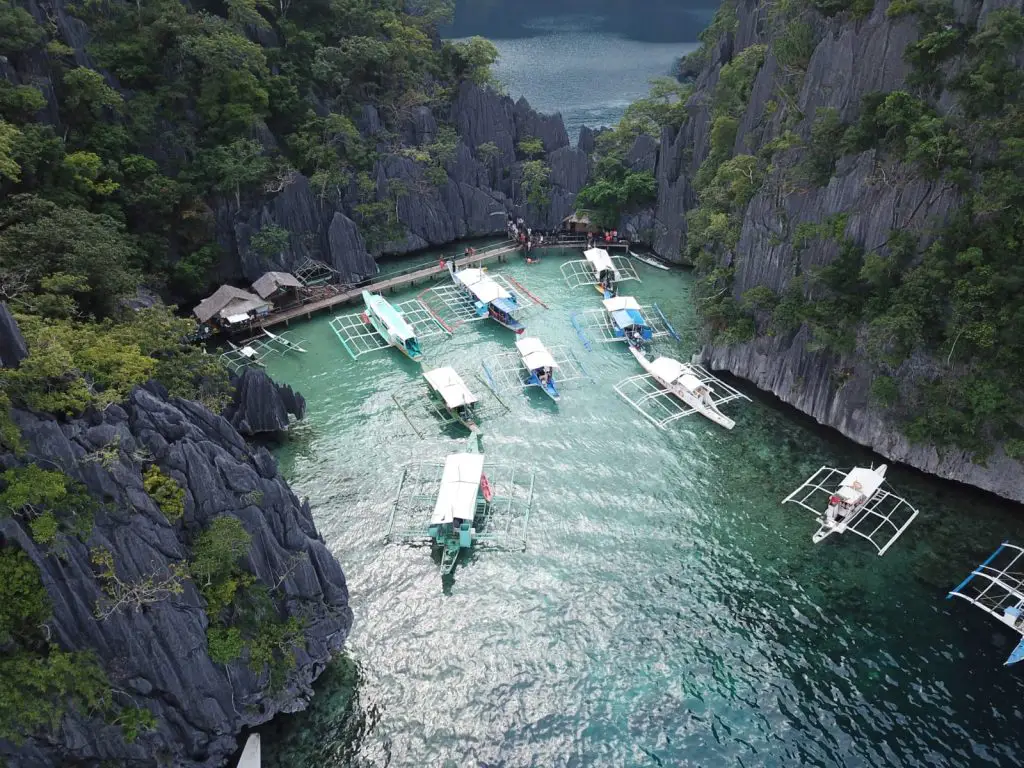 Mt. Tapyas
Mount Tapyas is the most popular viewpoint in Coron Town, Busuanga, with a height of 210 meters. To get there you need to climb 721 steps, but once you reach the top the view is stunning. There is no entrance fee for Mt Tapyas and you can visit it whenever you want.
Malcapuya Beach
About 90 minutes' boat ride from Coron Town is the stunning Malcapuya Beach. It is one of the most idyllic islands near Coron, and it is a real paradise for those who want to enjoy the bright blue and green waters with white sands. To get to this beach you can take a day tour visiting this place, including the nearby Banana Island and the Bulog Dos sandbar.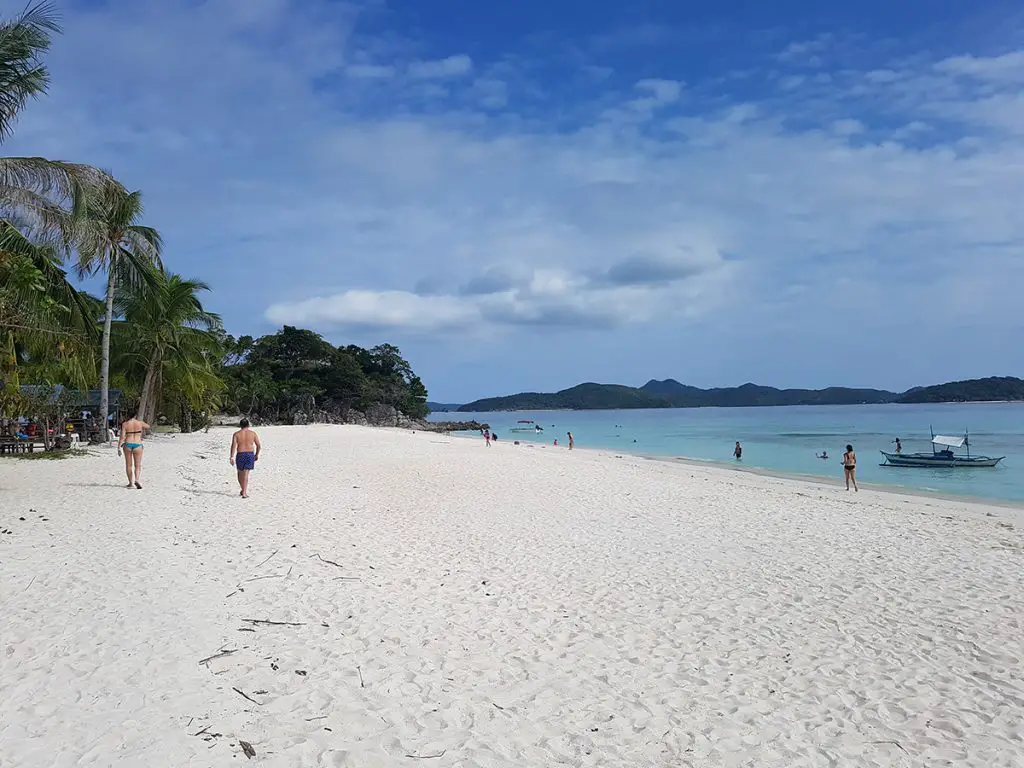 Where to Stay in Coron?
Accomodation in Coron are available for every kind of budget. The best place to stay is in the town.
Luxury Hotels
The hotel is an oasis of modern luxury and provides beautiful ocean views. It offers spacious rooms and suites.
This 4-star resort includes a fitness centre and outdoor pool. It is 1.8 km from Mount Tapyas and 2.5 km from Coron Town Proper.
Mid-range
Located in the heart of the town. The hotel features an outdoor swimming pool, restaurant, and a 24-hour reception.
Budget
Good location, on the main street of Coron Town. The rooms are exceptionally clean. The owner is a great and offers to help with everything with a smile.
When to Visit Coron, Palawan?
Palawan has two seasons – a dry season from December to May, and a rainy season from June to November. The best time to visit Palawan is during the dry season. Coming in February and March will mean you get almost no chance of rain. You can expect more rains from July to November, even these months tend to have a few days of sunshine.