After the amazing unforgettable experience in Vietnam the time came for a change of scenery so I headed for Siem Reap in Cambodia. This time my trip was shaping up to be a long and exhausting one.
Route: Phú Quốc – Hà Tiên – Phnom Penh – Siem Reap
From the island's port of Phu Quoc I boarded on a ferry, which took me to Ha Tien, Vietnam. The city is located on the west coast of the Giang Thanh River, whose waters to the north effectively shape the border between Vietnam and Cambodia. Ha Tien is a popular transit point from Phu Quoc island's beaches to Cambodia's coast. A representative of the company, from which I had bought a ticket was waiting for us there. We gathered a group of about 15 people and we were all handed application forms for a tourist visa.
A visa for Cambodia
The price of a tourist visa for Bulgarians – $35
You have to pay an extra $2 for a document, proving that you have been vaccinated against yellow fever
Website to apply for an electronic visa – e.visa
In general the vaccine is not mandatory, but there was no way to get a visa without this yellow piece of paper. In this case the company's representative just gave us a document with a stamp attesting we were vaccinated.
After a short break we headed for the border on a minibus. It left us at the border checkpoint and from then on each one of us had to cross to the other side individually on foot. The procedure for getting a visa itself is very easy. I handed in my papers and in a few minutes my visa was attached to my passport.
Cambodia
I went to the other side, on Cambodian territory, and I waited for the others. After we gathered, we got on another minibus and we took off.
We were informed that the bus was going to Sihanoukville and it would stop on the main road, so that everyone travelling for Phnom Penh could get off and get on another bus. That is how it went. We got on the bus and we headed for the capital of Kingdom Cambodia. We went through small villages, located on the road in which people visibly lived very poorly. Their houses were weird wooden shacks that have no analogue, built and raised upon tall stakes, which protect them from floods or snakes.
On one of the stops on the way a local woman was selling pre-cut pineapple in packages worth $1. It was the most delicious pineapple I had ever had.
Phnom Penh
We arrived in Phnom Penh in the late afternoon and the bus stopped in a place that only the driver knew. I had a little over 4 hours to find out where the bus for Siem Reap left from. I had written down the address in advance and I decided to get there on foot, even though I asked a few locals and they told me it was far.
The traffic in the streets was indescribable – chaotic and without any rules. The sidewalks were occupied with parked motors and mopeds or by tables and chairs for eating. The sellers had set up improvised stalls and were selling a large variety of fruits and vegetables. Prices everywhere were in American dollars, the local riels were only used for change. The people looked friendly, smiling and were trying to sell us anything that could be sold. After a short stroll on the streets of the capital I managed to find a street food "restaurant" and I decided to try the local food on a common table with 7-8 more people and as expected I was the biggest attraction. The main part of the menu here is rice. And there was no actual menu – I just pointed to the plate of the person sitting next to me.
After dinner I got on my way to the agency's office from where I had to take the bus. After numerous times asking locals for directions I kept hitting a wall and in the end I got lost. I ended up in a neighborhood where, not only was the light scarce but there were no street signs and the names of the streets were not indicated anywhere. After about half an hour I found a pharmacy and luckily the pharmacist spoke English, so with our efforts combined I managed to get a Tuk Tuk taxi. The problem was the driver himself was illiterate so the guy from the pharmacy had to give him a detailed explanation of where I needed to go and how I needed to get there. We agreed on a price and we took off. I had about 2 hours and I even had time to drink a cold beer from the local supermarket. The bus left on schedule and I had to arrive at Siem Reap early the next morning.
Siem Reap
I arrived at 05.30 o'clock at Siem Reap. The bus left us right in front of the office of an agency. I managed to find where the hostel was and I headed there on foot as the distance was not very big. The city is relatively small and is a popular tourist destination, as it is an exit point for Angkor Wat.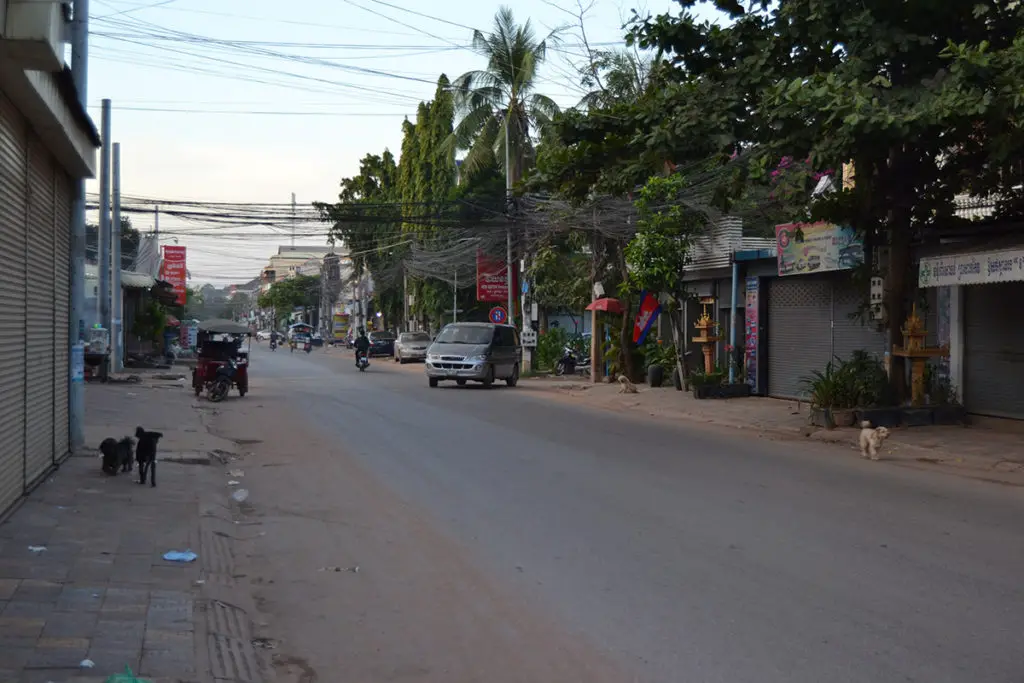 Early morning I witnessed the city wake up and it was very surprising to me seeing students sweeping the streets and the sidewalks before class, when passing by a local school. They were like a well-organized legion – some swept, others were cleaning dust off the fence, a third group collected the piles of rubbish. All of them were wearing uniforms – tidy and ironed.
Deep in thought about how children were raised I continued on my way. It struck me that almost every second or third house was converted into a hotel/hostel/guest house. It appeared as almost the whole population was working in tourism.
Following a small street I came across an interesting temple in a park by accident. There were a few pagodas and many statues of people.
The hostel in which I was going to stay, was located near the old market area, where the heart of the city lies. This is the most popular market and it is visited by tourists and locals alike. The difference is that foreigners buy mainly souvenirs, while the locals come here for the spices and the ingredients that are widely applicable in traditional Cambodian cuisine. After I got accommodated I got a map and I went to look around the city. The hostel looked decent and the price was only $5 per night. The city itself is nothing special and does not have many landmarks. Everyone comes only for Angkor Wat. There is a beautiful temple complex located near the old market and the river.
 Wat Preah Prom Rath
I came across this temple by accident after a walk near the river. There are beautiful colorful buildings, gardens and modern statues. The main hall is decorated with numerous murals, depicting different aspects of Buddha's life. I found out, surprisingly, that this temple is over 500 years old. The entrance is free, but you can leave donations.
In the late afternoon we made a deal with a driver to take us to Angkor Wat in an attempt to see the sunset. We really liked the man and we made an agreement with him to be our guide in the next all day tour at the complex. The majority of tourists go and buy a ticket in advance after 17.00 o'clock, which is valid for the next day and that way you can go directly for the sunrise the next day. That's what we did as well. The ticket for 1 day cost $20, and for 3 – $40. Unfortunately we managed to get just a glimpse of the setting sun and after it got dark we headed back for the city, where we looked around the evening madness of the famous Pub Street. There are many bars and venues located on this street, where many foreigners visit, led by the sings promising cheap beer.
Useful information:
---